In Brief: Grizzly G0505 Planer Review
The Grizzly Industrial G0505 12-1/2" 2 HP Benchtop Planer includes a 2HP motor and a 12.5-inch bed. This machine weighs in at just 78 pounds, making it a good portable solution for small to medium jobs. Designed for home hobbyist use, this benchtop planer comes with a durable table and a solid, sturdy base.
With residential customers in mind, the Grizzly Industrial company supplies a wide variety of machinery, equipment, power tools, accessories, and much more.
This company works to bring high-quality items to home hobbyists, DIYers, and small commercial shops as well.
The Grizzly Industrial G0505 planer comes with everything you need to start using it right away.
Beginners enjoy working with this machine because of its simple controls, while more advanced users find a way to enhance their skills further while operating it.
Key Specifications of the Grizzly Industrial G0505
The Grizzly Industrial G0505 planer features convenient benchtop functionality perfect for residential use.
This machine comes with a built-in 2HP motor and a 12.5-inch bed, making it ideal for almost all home hobbyist purposes.
Check out the Grizzly Industrial G0505 in action here –
Read the long list of Grizzly Industrial G0505 specs below:
Parameters
Details
Model No/Name

G0505
Type

Benchtop
Power (HP)

2HP
Bed Size (in.)

12.5
Table Size (l x b)

24 x 12.5
Knife Adjustments

1
Cutting Depth (in.)

3/32
Dust Collection

Yes
Weight (lbs.)

78
Warranty

1 year
Other Features
Reversible knives
On/off toggle switch
Top-mounted rollers
Accessories
Power cable
Wrench
Knife setting jig
Unique Features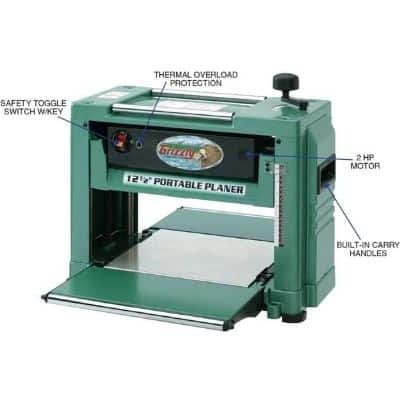 Top-mounted rollers and reversible knives make this machine a long-lasting, convenient, easy-to-use solution for residential purposes. It also includes thermal overload protection, which keeps the machine operating safely.
Reversible Knives
With two built-in reversible knives, this machine's cutting capabilities last twice as long.
When the knives wear out on one side, simply reverse them and use the other side to extend their longevity and reduce the number of knives you need too.
Thermal Overload Protection
The planer includes thermal overload protection that keeps you safe and ensures your projects run smoothly, too.
If the machine reaches a dangerously high temperature internally, it shuts off automatically.
Top-Mounted Rollers
The top-mounted rollers built into this convenient machine work as board return rollers when you finish a pass.
This feature reduces the amount of time you need to spend on a project and makes operating the machine that much more convenient for you.
Power and Performance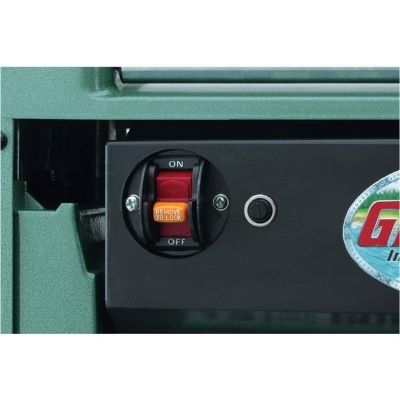 Despite its portable size, this machine includes enough power to cut through a variety of wood types and conditions.
It features a 2HP motor that tackles household tasks with no trouble and includes reliable inner components designed to support this powerful operation.
The machine's performance stands out among many of its competitors.
Customers of all skill levels have no trouble creating professional results when they use this high-performance machine. As a residential benchtop planer, it works wonderfully.
Ease of Usage
This machine includes a simple hand crank and basic controls. With all the controls mounted on the front and top of the planer, customers have no trouble finding the right settings and making adjustments while working.
This machine ensures beginner woodworkers can operate it easily. It provides an excellent entry-level solution for customers with no prior experience.
At the same time, experienced users find it easy to create precision cuts with this machine.
Ease of Maintenance, Repairs & Warranty
For replacement parts, check the Grizzly Industrial company web site.
The site includes a parts lookup function that allows you to input the model number or part number and search based on this information to find the right part.
Check the machine for loose bolts or wings and tighten as needed. Check often for dull or damaged knives or other signs of wear and replace worn or broken parts as needed.
Keep the planer clean by vacuuming as needed and dusting off with a dry, soft cloth.
The Grizzly Industrial company provides a one-year limited warranty on this machine.
The warranty does not cover misuse, incorrect installation or setup, or user error, and it also excludes problems caused by normal wear and tear of the machine.
The warranty does cover repair and replacement for all other problems. To qualify for this warranty, you must register your product with the company.
The instruction manual includes a warranty registration card, but you can also register online.
For more warranty information, contact Grizzly Industrial at 1-800-523-4777.
Price of the Grizzly Industrial G0505
The Grizzly Industrial G0505 planer includes basic functionality and simple controls. It does not come with a lot of extras but does include double-sided blades that last longer than their counterparts.
This machine features heavy-duty construction and reliable components.
Because the machine includes few extras and comes from a lesser-known brand name, the price remains lower than some competitors.
However, it lands in the middle of the benchtop residential planer price range and offers an average price point.
The machine provides plenty of value for its cost.
Pros and Cons of the Grizzly Industrial G0505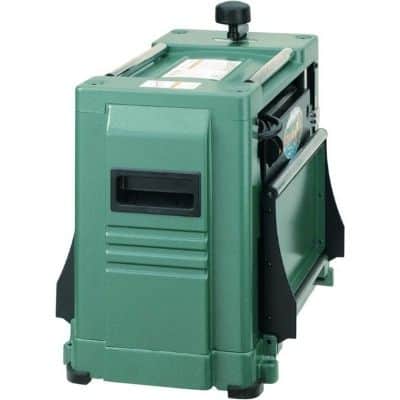 Pros
Works well on small to medium tasks
Allows easy adjustments for precision operation
Keeps maintenance quick and easy
Prevents beginners from cutting too deep
Cons
Some customers find this machine wears out quicker than others
Blades may nick easily
Who Should Buy the Grizzly Industrial G0505?
The Grizzly Industrial G0505 planer features a user-friendly interface and controls that make woodworking jobs quick and easy.
The machine handles a variety of materials and can repurpose old wood with damaged surfaces as well.
This machine works best for residential customers of any skill level. It does not include enough power for everyday use in a commercial setting but fits in well as a weekend planer for DIYers and home hobbyists.
Our Recommendation
The Grizzly Industrial G0505 planer provides entry-level woodworking functionality and gives users plenty of room to grow with it.
Featuring high-quality components and exceptional cutting capability, this machine works well for home use.
We recommend this product for beginning residential users who want to learn woodworking skills on a simple, lightweight machine.
We also recommend it for any home user who needs a small machine for simple cutting tasks.
Last update on 2023-10-01 / Affiliate links / Images from Amazon Product Advertising API