In Brief: Hitachi M12V2 Router Review
The Hitachi M12V2 Plunge Router features a powerful 3-1/4 HP motor with a soft start function and provides a wide speed range to suit a variety of needs. This machine converts quickly to table use and back again depending on how you plan to operate it. It includes multiple accessories such as gauges, adapters, and more so you can use it right out of the box.
The Hitachi company owns and operates the power tool production branch known as Metabo.
This name change reflects the company's commitment to constantly move forward and provide up-to-date innovations throughout all its products.
The Hitachi M12V2, now known as the Metabo HPT M12V2, comes with everything you need to set it up and start using it out of the box.
It features a finely adjustable speed and a soft start motor that reduces torque.
Key Specifications of the Hitachi M12V2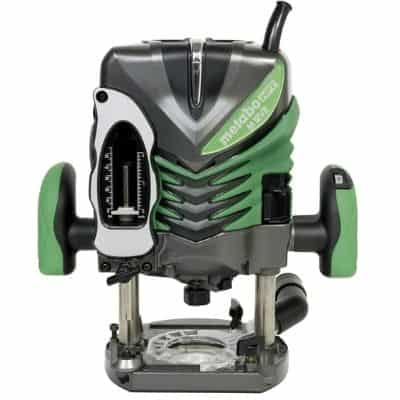 The Hitachi M12V2 router provides impressive speed with fine control between 8000 and 22000 rpm. This plunge router comes with a power cord and operates smoothly when cutting through hardwood.
Check out the Hitachi M12V2 in action here :
Read the long list of Hitachi M12V2 specs below :
Specification
Model Number/Name
Metabo HPT M12V2
Powered By

Corded
Speed (rpm)
8000 to 22000
Brushless Motor
No
Power (hp)
3-1/4
Base Dimension
14.1 x 13.3 x 10.2 in.
Weight (lbs)
13.9
Base Type
Fixed
Plunge Stroke
2-9/16"
Unique Features
Quick & fine adjustment
Soft start
Slide switch

Accessories
Straight gauge
Centering gauge
Dust adapter
Guide bar
Wing bolt
Wrench

Top Features to Look For
The Hitachi M12V2 router features a 15amp soft start motor, an electronic variable speed dial, and quick conversion to table use and back again.
15Amp Soft Start Motor
This machine comes with a 15amp soft start motor that cuts through hardwood with no trouble and cuts down on torque while starting.
Electronic Variable Speed Dial
The built-in speed dial provides convenient electronic control that allows you to adjust and fine-tune the machine's rpms without having to look away from your work.
Quick Conversion
When you need to use this machine on a table, it converts quickly in just a few short minutes.
Power and Performance
With a 15amp motor that provides up to 3-1/4 HP of power, this packs a lot of punch into a small, compact size.
It handles hardwood easily and comes with an updated collect chuck to firmly secure your bit while operating the machine, too.
This product performs smoothly and finishes projects with ease.
Thanks to its variable speed dial, it provides simple and efficient adjustments that prevent the user from needing to remove their hands from their work.
Ease of Usage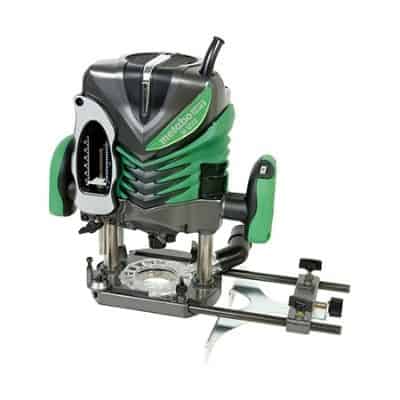 This product makes it easy to adjust the machine in a variety of ways depending on how you need to use it.
For example, you can convert it to table use or you can change the bits as needed. Additionally, it comes with a dust guide to keep you and your work protected.
The ease of use does not stop there. The product features a comfortable, ergonomic style with a handle that does not cause hand exhaustion with frequent use.
It also features durable, covered handles that cut back on slipping and keep you safer, too.
Ease of Maintenance, Repairs & Warranty
The Hitachi company's new website under the Metabo brand name offers some replacement parts for purchase. These parts mostly include expendables.
However, the company will also assist in finding replacement parts as needed when you contact them by phone.
Customers should perform routine maintenance on this machine. Before this, turn off the machine and unplug it from its power source.
Inspect the screws and tighten them immediately at least once a month. Ensure the motor remains dry and undamaged.
Replace the motor immediately if it shows signs of damage or if it gets wet with either oil or water.
Customers should take this machine to a licensed repair technician once a year or so, depending on how frequently the machine sees use.
Only a professional should handle the service and repairs on this machine.
The Metabo line provides a warranty on this machine. This warranty lasts five years and covers repair and replacement as long as the machine remains untampered with and shows no signs of user error.
Additionally, some expendables receive a 30-day warranty for replacement through the company.
For more warranty information, contact the Metabo branch of the Hitachi company via their customer service phone line at 800-406-7337.
Price of the Hitachi M12V2
The Hitachi M12V2 comes in at an average price range when compared to other, similar routers on the market.
Since it comes from a well-known brand name, this price remains lower than many popular name-brand competitors.
The machine features plenty of functions that make it operate well and ensure it works nicely for both beginners and experienced users. It comes with enough extras to get you started on its arrival as well.
As such, it provides a high value for its low price point.
Pros and cons of the Hitachi M12V2
Pros
Controls remain easy to access during work
Operation remains smooth, safe, and quiet
Enclosed switch prevents dust buildup
Durable, long-lasting design with reliable components
Cons
Some customers dislike the packaging
Some buyers find the machine too heavy
Who Should Buy the Hitachi M12V2 ?
The Hitachi M12V2 plunge router provides exceptional performance for customers of any skill level.
With that said, however, it works best for those who have at least some experience working with routers, and especially with plunge routers.
Beginners may find learning on this machine simple, but its fine controls provide more adjustment options for intermediate to advanced users.
Additionally, the machine provides an excellent choice for those who enjoy purchasing Hitachi brand products, despite its rebranding.
Our Recommendation
The Hitachi M12V2 comes ready for use and works in a variety of ways.
It allows users to control their projects and outcomes with finesse and offers a wide range of possibilities perfect for almost any skill level.
We recommend this machine for anyone looking for a router they can use to complete almost any household or residential project.
We also recommend it for customers who want a long-lasting router to use for years to come.