In Brief: Honda HSS1332AT Snow Blower Review
The Honda HSS1332AT, two-stage, gas powered, is an excellently crafted and perfectly designed snow blower. With a large clearing width of 32 inches, a throw distance of 56 feet, and a snow depth of 21.7 inches, it will effortlessly clean up your yard in a breeze. You will enjoy using this snow blower due to all the many great features it possesses.
With its headquarters located in Alpharetta, Georgia, Honda Power Equipment is committed to creating life-improving products.
From generators to lawn mowers, pumps to snow blowers, and trillers to trimmers, they have been consistent in ensuring that all their products actually add value to the lives of consumers.
The HSS1332AT is one such life-improving piece of equipment from Honda Power Equipment.
Beautifully and carefully designed, it brings you an excellent advantage when cleaning off your driveways after a heavy snowfall.
Key Specifications Of the Honda HSS1332AT
It has a very wide clearing width of 32 inches, which allows it to easily take up a large mass of snow with each pass, resulting in quick performance.
The snow blower is suitable for use on very large driveways and walkways and will get them cleaned in very little time.
Having a large snow depth capacity, it is able to easily penetrate thick layers of snow as deep as 21 inches, providing you with a perfectly cleared yard in record time.
With a full 1.5-gallon tank of gasoline, you can work for a long stretch of time without having to refill, as the fuel consumption is highly optimized.
The ergonomics of the snow blower are excellent and ensure you are comfortable while working and free from sore muscles afterward.
Click here to watch a video about this snow blower :
Here is the long list of specs of Honda Power Equipment HSS1332AT :
Specification

Model Number / Name

HSS1332AT
Powered By
Gas

Engine Power
389cc
Stages

Two-stage
Clearing Width 

32 inches
Ideal for how many inches of snow
21.7 inches
Warranty
3-year residential and commercial
Weight

276 pounds
Start Mechanism
Recoil
Other Features
Up to 56 feet of snow throwing distance
Unique Features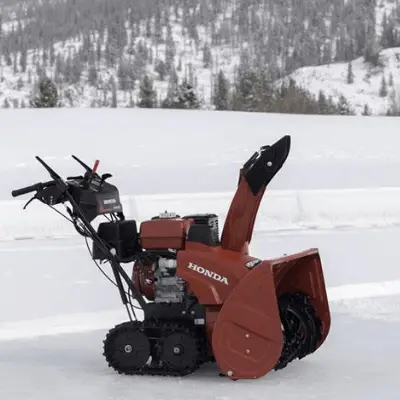 There are many features that set this snow blower apart from others. We will be looking at a few of them here.
Amazing Throwing Distance
With the aid of impellers that spin at high revolutions, this dual-stage snow blower is able to throw snow a farther distance than most of its counterparts. This impeller speed also makes it possible to throw the snow faster than most competitors.
The large diameter of the impeller aids in the quick removal of snow.
Excellent Track Drive System
The track drive system incorporated in this snow blower makes for easy traction and excellent control as it drives easily through almost all snow conditions.
Low-temperature rubber tires, which are very pliable and have excellent gripping cleats, provide proper balance.
No matter how bad the snow condition, you have a sturdy platform, and you can conveniently battle heavily packed snow.
Joystick Chute Control
An all-electric joystick used for the chute control makes it easy for you to adjust the snow distance in whatever direction you choose.
With about 198 degrees of rotation available, the 4-directional joystick chute control ensures quicker and more efficient snow clearing.
Please watch the following video for more information on the features :
Power and Snow Clearing Capability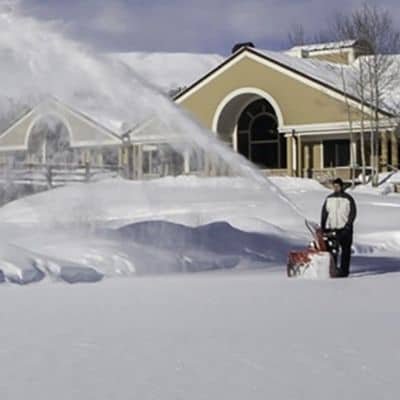 This snow blower is adequately powered by a 389cc Honda GX OHV engine, which makes it strong enough to quickly and easily drive through thick layers of snow to get you a neatly cleared yard.
All it requires is an adequate level of gasoline to keep it running smoothly.
With a large clearing width of 32 inches, an amazing throw distance of 56 feet, and a snow depth capacity of 21 inches, you can be sure that this powerhouse snow blower will give you a perfectly clean and snow-free walkway in only a few minutes.
Ease Of Use
The snow blower, though operating a recoil start mechanism, is easily started with just a single pull. This is true even in extreme weather conditions.
It can be easily controlled and maneuvered while in use or even when switched off due to the fingertip steering design.
All controls are conveniently placed within the reach of the operator, making it very easy and convenient to use this piece of equipment.
Ease Of Maintenance, Repairs, & Warranty
The parts and accessories of this snow blower are readily available on the market and can easily be changed or fixed on demand. However, it is expected that regular checks on the oil and filters are carried out.
The snow blower comes with a three-year warranty for both residential and commercial use, so you don't have much reason to worry if there are any factory defects. Simply contact Honda Power Equipment via the following address :
American Honda Power Equipment Division
4900 Marconi Dr.
Alpharetta, GA 30005-8847
Alternatively, you can call Customer Relations at 770-497-6400 or fax 678-339-2519.
Price Of the Honda HSS1332AT
Though the price is on the high end, the value and features offered by this snow blower are more than enough justification for buying it, especially if you are within a high snowfall region.
Pros and cons Of the Honda HSS1332AT
Let's take a look at the advantages and disadvantages of this snow blower.
Pros
Very fast and efficient
Ice-breaking capability
Suitable for all snow types
Easily clears thick snow
Cons
Requires additional accessories
Relatively expensive
Who Should Buy the Honda HSS1332AT ?
If you live in an area that is excessively prone to heavy snowfall, then this snow blower is a must-have for you.
It is also suitable for business owners who live in areas of high-density snowfall.
Our Recommendation
With its great clearing width, amazing throwing distance, and excellent snow depth capacity, this snow blower from Honda Power Equipment is a perfect choice for you, especially if you live in an area that has very high levels of snowfall.
With the strength it provides, the time it saves you, and all the other great features that come with it, you can be sure to enjoy it for a very long time.
Last update on 2023-09-28 / Affiliate links / Images from Amazon Product Advertising API