In Brief: Jet 708457DXK JJ-6CSDX Jointer Review
The Jet708457DXK is a woodworking machine designed for removing twists as well as wraps from wood surfaces. This jointer has a powerful motor that produces 1HP of energy for running through heavy woods. The cutter head creates a smooth surface on woods, making it easier to glue together. This Jointer from Jet tools is designed for woodworkers who need to produce smooth wood for designing home fixtures.
Jet tools produce the Jet 708457DXK. The company has its headquarters in La Vergne, Tennessee, United States.
The brand specializes in manufacturing woodworking machines and power tools that guarantee depth during operation.
True to the company's reputation, the Jet 708457DXK comes with a powerful motor that allows it to complete tasks in less time.
Key Specifications of the Jet 708457DXK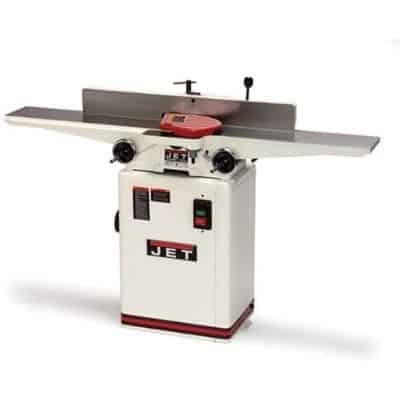 This Jointer from Jet tools runs on electricity.
As such, it has to be plugged into a power outlet for it to run. In a way, it has limited reach, but you don't have to worry about this since you will be working from a spot.
The motor that comes with the jointer produces 230-volt 1-phase power. This is enough for the jointer to work on both soft and hardwood at a stretch.
Even though the jointer is bulky, it has a compact design. You won't need a lot of storage space for it if you decide to use it at home.
For more information about the features, check out this video :
Read the long list of Jet 708457DXK specs here :
Specification
Model No / name
708457DXK
Type
Closed stand
Power (hp)
1
Bed size (in)
6-inches
Table Size (LxB)
55-3/4 x 7-3/8
Knife adjustments (no)
3
Cutting depth (in)
6-1/16 x 1/2
Dust collection (y/n)
Yes
Weight (lbs)
256
Warranty
5-years
Other Features
1. One-push start button
2. Dust collection box
3. 1/2 inches rabbeting capacity

Unique Features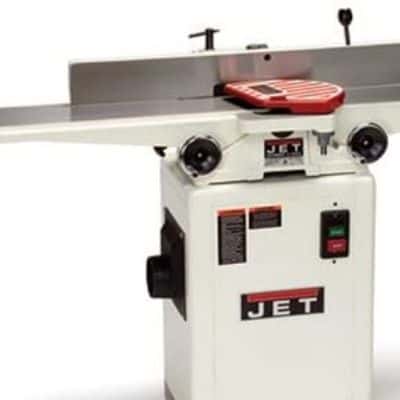 There are some impressive features this jointer possesses.
Some of which will allow you to complete more woodwork projects with less fuss. Read on to find out these features.
Quick Set Knives
The Jet 708457DXK comes with a set of already-installed knives on the cutter blade. The knives are perfectly made to smoothen wood surfaces of up to 6-inches.
With this, you will need little or no adjustment.
Even better, the knives have a quick-change system. This way, you can easily fix another knife incase the blade of old ones become blunt.
Dust Chute
It's bound to get a bit messy when working on wood. Specks of dust are bound to fly off. This is the advantage premium jointers have overhand planers.
The Jet 708457DXK, in particular, features a dust chute. This is where the remains of woods being worked on are collected.
Power and Performance
The Jet 708457DXK has a motor that produces 1 hp of energy. The motor produces enough power for the jointer to work on woods of different thicknesses at a stretch.
You can use it on mahogany, walnut, or pine without the engine stuttering midway.
The jointer is quite heavy, but you won't need to worry about transportation since it will be rooted to a spot.
Also, this jointer is powered by electricity and not the battery. What this means is that it minimizes recurring costs, and the one-push button provides an easy start.
Overall, the performance of the Jet 708457DXK suits its price tag. You can use it to smoothen both the face and edges of wood with great precision.
It creates a straight and smooth surface during tedious woodworking projects.
Ease Of Usage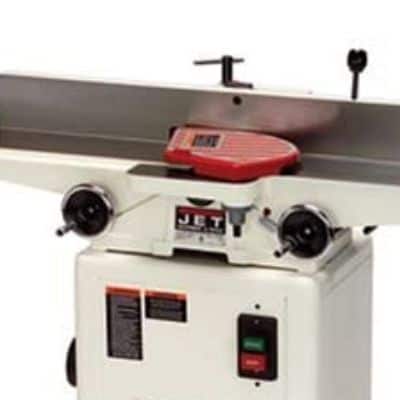 Being perfect with a hand planer doesn't mean you will instantly become good with a jointer.
A jointer operation is much more advanced and would require a few practices under an expert's watchful eyes.
Also, the tables of the jointer have to be adjusted depending on the size of the wood. Luckily, the tables come with a mounted wheel that allows adjusting their height easily.
Overall this jointer isn't hard to operate. Once you know all the nitty-gritty involved, it only takes a few efforts before you start operating like a professional.
Ease Of Maintenance, Repairs, & Warranty
The manufacturers recommend the proper maintenance of blades and screws.
The blades should be cleaned with a solvent to eliminate any particle which might cause friction. Also, there's no need to use the blades when it gets dull.
The screws, on the other hand, should be lubricated with a light coat of grease. The same applies to the outfeed gibs to allow free movement of the tables.
Jet tools, including the Jet 708457DXK, are covered by a 5-year warranty. This means if one or more parts of this tool become faulty and need professional repair, you can reach out to the company's technical team.
The 5- year warranty period only applies to household use ; commercial users only get a 2-year warranty.
Price Of the Jet 708457DXK Jointer
This Jointer from Jet tools has a high price tag.
Compared to smoothing woods with a hand planer, this is a better alternative.
Not only is it easier to smoothen the wood surface with this, but it also gives better precision and takes fewer hours to get the job done.
Also, each of its parts is covered by a 5-year warranty. This is an indication that you will be using it for a very long time.
Pros and cons of the Jet 708457DXK Jointer
It's hard to imagine any area this tool is lacking. However, there are a few loopholes we've observed while using the tool, and we've mentioned them below.
Pros
Easy to use
One-push button for easy start
Runs on electricity, minimizing recurring cost
Chute box for collecting wood chip
Cons
Blades get blunt easily
6-inch bed relatively small for professional use
Who Should Buy the Jet 708457DXK ?
If you're just getting started with woodworking, our bet is that you won't need this jointer. You're better off learning how to use a planer at first.
However, once your hand skill level improves along with your workload, you can consider a jointer.
This is because jointers provide more precision, control, and faster finish.
Our Recommendation
The Jet 708457DXK is quite pricey but is on a different level to planers, which is what makes it even more desirable.
Also, its sturdy design signifies that it's built to last for a long time, but one feature that stands out is the presence of a dust chute. With this, your workplace doesn't get messy with wood chips.