In Brief: Jet 708476 Jointer Review
The Jet 708476 is a quick combination of a jointer and a planer in one machine. It comes with a 4-inches dust chute for collecting specks of dust from both planer and jointer operation. With this, it's easy to keep your workshop clean. Even more impressive is the cutter head's design, which minimizes wood chips flying away as you try to work on a rough surface. This makes it ideal for commercial uses.
The Jet 708476 is manufactured by Jet tools, a company that specializes in the design of woodworking equipment. The brand has its headquarters in La Vergne, Tennessee, United States.
The Jet 708476 is one of the few hybrid machines manufactured by the brand. The aim is to incorporate different functionality into one machine.
Key Specifications of the Jet 708476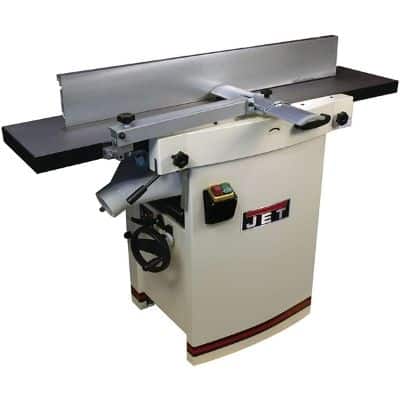 The Jet 708476 is a hybrid machine. As such, it's strictly for professional use. In terms of body design, this machine isn't compact and will take a lot of storage space.
You might want to ensure it's compact enough to pass through the door before buying it.
The Jet 708476 has a parallelogram design. What this means is that the table is kept close to the cutter head for seamless contact and better finish.
While most jointers come with a protruding knife, the cutter head on this Jet machine is helical, minimizing wood chips flying around during operation.
Read the long list of Jet 708476 specs here :
Specification
Model No / name
708476
Type
Open stand
Power (hp)
3
Bed size (in)
12 inches
Table Size (LxB)
55 x 12
Knife type

Helical cutter-head
Cutting depth (in)
2 - 3/4
Dust collection (y/n)
Yes
Weight (lbs)
625
Warranty
5-year
Other Features

1. Magnetic on/off switch
2. Helical cutter-head
3. Large handle for easy adjustment

Unique Features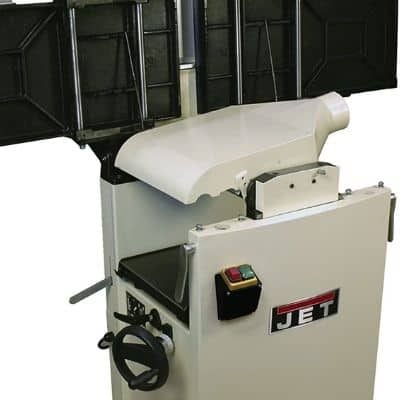 There are some impressive features this jointer possesses. Some of which will allow you to complete more woodwork projects with less fuss. Read on to find out these features.
Magnetic on/off switch
The Jet 708476 depends on an electric start button to come alive, but this switch comes with inbuilt controls.
Apart from turning it on, the switch automatically regulates the engine relative to the machine's operational mode.
The switch prevents startup during a power outage, and it hibernates the machine when you want to switch from jointer to planer mode, and vice versa.
12-inches Working Bed
The jointer uses a 12-inches working bed, but it can accommodate a wood length of up fo 55 inches. Attached is a mounting bed that adjusts the wood to fit on the bed without falling off.
This increases stability and prevents wobbling in the middle of a project.
For more information about the features, check out this video :
Power and Performance
Jet 708476 has a powerful motor that provides the required energy to finish different tasks. Due to the motor, it can switch from one mode to another without a dip in performance.
With a stable supply of 230 volts, be assured that you can use this machine at a stretch.
If you're familiar with jointers, you would know that those who run on the motor provide the best performance.
Not only are they easy to maintain, but they also don't require a lot of technical know-how or specialized training to operate.
Ease of Usage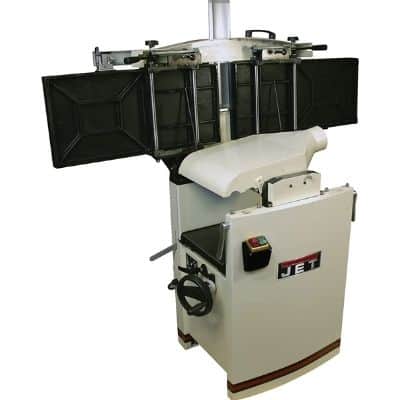 The thought of this machine, combining both a jointer and a planer, might scare you, and you have every right to be if you are not familiar with a jointer's operation.
Fortunately, the fence doesn't have to be removed to switch between both modes. The change is instantaneous.
Be it as it may, it doesn't mean you will instantly become a pro at using it the first time you try. You will struggle a lot if you haven't mastered your hand skill well enough to use a complex tool like a jointer.
Lastly, you will be glad to know that this machine comes with a powerful handle. With it, you can adjust the planer table to achieve more accuracy at work.
Ease of Maintenance, Repairs, & Warranty
It's likely to get messy during woodwork. Chips flying around and dust blowing in your face. This is why the Jet 708476 has a 4-inches dust chute, and where every leftover from a task is stored.
You don't need to carry out intensive cleaning after each project.
The Jet 708476 is covered by a 5-year warranty. The warranty covers defects to body parts on delivery but doesn't extend to faults developed from mishandling.
Lastly, you should always remember that this tool is designed for woodwork projects and should only be used for this purpose.
For this product to serve you for a long time, we advise you to stick to the manufacturers' maintenance regime.
To be on the safer side, always lubricate parts with light grease. At the same time, the blades should be cleaned after every use.
Price of the Jet 708476 Jointer
This isn't an entry-level machine.
It will save you the cost of separately investing in a jointer and planer. Getting this machine allows you to complete more projects on time.
But what's even more impressive is that it improves the quality of your work.
Pros and cons of the Jet 708476
From a glance, this could be the perfect jointer, but there's something with being a jack of all trades – you're master of none.
We've highlighted a few loopholes we noticed from using this machine.
Pros
Can be used for both jointing and planing operation
Magnetic on/off switch
Large handwheel for adjustment
Easy switch from jointer to planner
Helical cutter-head to minimize chips
Built-in dust chute
Cons
Consumes a lot of power
Not ideal for short wood
Who Should Buy the Jet 708476 ?
This jointer is good for commercial jointing and planing operations. It can be used to smoother woods of varying thickness. Oaks, mahogany, pine, or walnut.
It's perfect for lumber with thorns; this is where it performs best.
However, your choice will depend on your pocket size. This is no entry-level jointer. It's designed for professionals, especially those who have piles of wood to work on.
Our Recommendation
We love the fact that Jet 708476 can function as both a jointer and a planer.
We were also impressed with its accuracy as well as ease of use. It is highly recommended for professional woodworkers who need a reliable machine that will take a lot of work off their shoulders.