In Brief: JET J-2550 Drill Press Review
JET J-2550 is a floor model drill press with permanently lubricated ball bearing and 12 spindle speeds. It has a 1HP, 1Ph, and a variable 115/230V motor. It has a drilling capacity of ¾" on cast iron and 5/8″ on mild steel. It is ideal for professionals and other DIY enthusiasts for drilling through various materials, including steel and woods.
The JET manufacturer has an impressive history of quality and standard.
They are notable for manufacturing several high-quality metalworking and woodworking tools for crafts and various industrial processes.
JET J-2550 is a drill press equipped with all necessary features to ensure accuracy, precision, stability, and versatility.
This drill press model's high-quality features and buildup wins it a place among other machines in this class.
Key Specifications of JET J-2550
This drill press model has a 1HP, 1Ph motor with a variable voltage between 115V and 230V. It has an extensive table size with a dimension of 18-11/16" x 16-3/4".
JET J-2550 has impressive speed options. The speed range is between 150-4200RPM; thus, giving you full control over speed operations.
The spindle can travel up to 4-3/4″ with 4″ T-Slot centers. JET J-2550 also drill 20″ to the center of the circle. It can make ¾" drill on cast iron and 5/8″ on mild steel.
The video below shows how to setup and use JET J-2550:
Specifications:
Parameters
Details
Model No

JET J-2550
Motor Details

115/230V
Power (HP)

1
Speed (range) RPM

150 to 4200
Laser

No
Chuck Capacity (in)

5/8"
Drilling Capacity (in)

5/8" on mild steel
¾" on cast iron
Work Table Dimension (inches)

18-11/16" x 16-3/4"
Table Tilt

450
Swing and Stroke (in)

20" & 4-3/4"
Height (in)

67"
Weight (lbs)

304
Digital Speed Reading

No
Work Light

No
Warranty

2 years
Other features
Permanently lubricated ball bearing
Telescoping safety spindle guard
12 spindle speeds
Top Features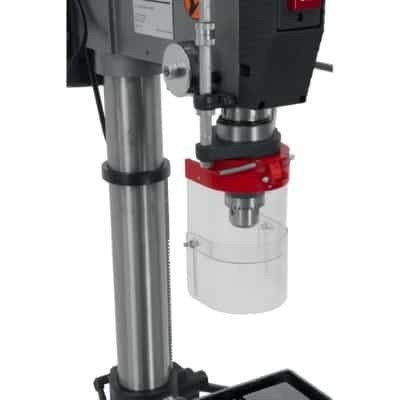 JET J-2550 has several impressive features, which aids its efficiency ad contributes to its standout position.
Permanently lubricated ball bearing
The head casting of JET J-2550 features a permanently lubricated ball bearing spindle assembly.
This lubrication and the use of four heavy-duty ball bearings in an enclosed cast iron head of quill ensure the long life of this power tool.
Telescoping Safety Spindle Guard
Safety is an essential aspect of most crafts. JET J-2550 is one of the drill press models that have users' safety in mind.
The model has a telescoping safety spindle guard to mitigate the possibility of accidents.
12 Spindle Speeds
It is not strange for drill presses to have variable operational speeds, but it is unusual to have 12-speed controls.
JET J-2550 has a variable speed within the range of 150 to 4200RPM, which allows you to optimize each speed for specific applications.
Power and Performance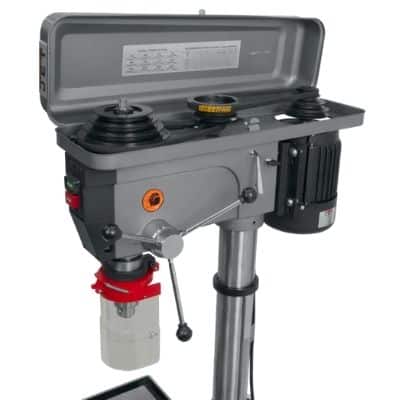 JET J-2550 floor drill press has a fantastic power setup that matches all the applications of the model.
It has an impressive 1HP, 115/230V, and 1Ph motor that delivers enough power to drill through various materials, including cast irons and mild steel.
This motor setup delivers variable speed between the range of 150-4200RPM. This feature allows it to perform both high-speed and low-speed tasks.
The 12 spindle speed stops include 150, 260, 300, 440, 490, 540, 1150, 1550, 1840, 2220, 2950, and 4200RPM.
It can make a spindle travel up to 4-3/4″ for deep hole application. JET J-2550 has the ability to make 20″ drill to the center of circles. It has the drilling capacity of ¾" on cast iron and 5/8″ drilling capacity on mild steel.
Ease of Usage
Several features of JET J-2550 make it easy to use. The inclusion of a large quill permits greater accuracy and precision during drilling operations.
This model's accuracy is enhanced with the inclusion of the accurate depth stop for precise hole depths.
It has a telescoping safety spindle guard that enhances easy operations and ensures users' safety.
It has a large ground steel column for maximum head and table support. Its base dimension also enhances its stability for various operations.
It has a 45 degrees table tilt to both sides of the table for flexible operations. The massive T-slotted production work table provides a suitable surface for various operations.
Ease of Maintenance, Repair, and Warranty
Ease of Maintenance
The maintenance procedures of JET J-2550 include;
Always turn off the machine when it is not in use.
Always clean the machine with soft cloth or brush after use.
Do not place heavy objects on the machine.
Repair
It is very easy to repair the J-2550 because JET offers repair of their products at little or no cost.
The purchaser only needs to take the defective product to an authorized service center.
Warranty
The warranty offers for JET J-2550 includes;
2-year limited warranty
1-year accessory warranty
1-year wear and tear coverage
The warranty applies to products purchased and registered under JET. It also covers products with defects from the manufacturer and not the misuse of the user.
You can get more warranty information here or contact 1-800-274-6846. You can register your drill press on website here.
Price of JET J-2550
The cost of acquiring JET J-2550 is quite expensive. It is one of the most expensive models in the drill press category.
However, it includes several features and specifications that make it offer a high value for money.
Pros and Cons of JET J-2550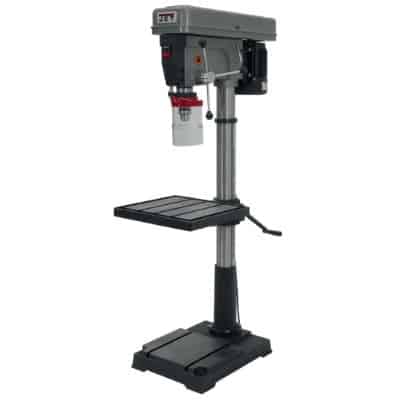 Pros
Easy to use
Impressive drilling ability on cast iron and mild steel
12 spindle stops for variable speed control
Large ground steel for proper support
Enhanced precision and accuracy
Cons
Relatively expensive
Does not include laser or work light
Who Should Buy JET J-2550?
JET J-2550 has enough features that make it suitable for various applications. It is flexible for high and low-speed operations, making it suitable for individuals in various crafts.
Professionals can buy JET J-2550 because of its flexibility, efficiency, and ability to drill through different materials, including metals and wood.
DIY enthusiasts, homeowners, and beginners with a high-budget can also buy JET J-2550 for various personal and industrial applications because of its flexibility and easy to use features.
Our Recommendation
JET J-2550 has impressive drilling ability; therefore, it is highly recommended for professionals in different crafts.
It also offers a great bargain for DIY enthusiasts that crave the service of a drill press model for all scales of application.
Last update on 2023-10-01 / Affiliate links / Images from Amazon Product Advertising API