In Brief: JET JDP-17 Drill Press Review
JDP-17 is an efficient drill press with a hinged belt-and-pulley system and quick release work table. It has a powerful 9amp,115V motor that delivers a variable speed up to 3500RPM. It is flexible with its 900-table tilt; thus, making it suitable for various users, including professionals and beginners. It is used for drilling materials like metals and woods.
JET is one of the prominent tool manufacturers that produce top-rated woodworking and metalworking tools for various professional applications.
The tools are made from high-quality materials to ensure an upheld reputation of the manufacturer.
JDP-17 is one of the top-rated products of JET. The tool is a 17" drill press with efficient and powerful features. It is useful for various drilling purposes and suitable for several users.
Key Specifications of JET JDP-17
The power of this drill press model comes from its 9amp, ¾ peak horsepower motor that ensures powerful drilling outputs. I
t has a chuck capacity of 5/8" and a column diameter of 3-5/32".
The electric motor ensures a variable speed of 210 to 3500RPM. It has a table size with a dimension of 14" x 19". Its swing and spindle travel capacities are 16-7/8" and 5".
The power tool also has a large base size of 20" x 12-5/8" that ensures its stability and rigidity to the ground. It has a table that can tilt to about 90 degrees in both directions.
The video below shows JET JDP-17 in use: 
Specifications:
Pararmeters
Details
Model No

JET JDP-17
Motor Details

115V & 9amp
Power (HP)

¾
Speed (range) RPM

210 to 3500RPM
Laser

Yes
Chuck Capacity (in)

5/8"
Drill Capacity (in)

5/8"
Work Table Dimension (in)

14" x 19"
Table Tilt

900
Swing and Stroke (in)

16-7/8" & 5"
Height (in)

65"
Weight (lbs)

187
Digital Speed Reading

No
Work Light

Yes
Warranty

5 years
Other Features
Hinged Metal Belt-and-Pulley
Crank-operated
Quick Release Work Table
Large working table
Top Features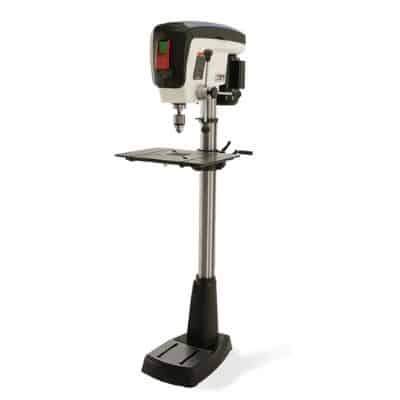 This drill press model has features that keep it running smoothly and they make it unique compared to other drill press models.
Hinged Metal Belt-and-Pulley
The JET JDP-17 uses a hinged belt-and-pulley system to perform drilling operations.
The system gives it a more mechanical advantage when drilling to provide a good result. The hinge belt and pulley cover ensure easy access to the motor mount allowing quick spindle changes.
Crank-operated, Quick Release Work Table
This feature allows easy, smooth work on the table without posing much stress to the user. The worktable can also tilt to about 90 degrees on both sides (left and right).
Power and Performance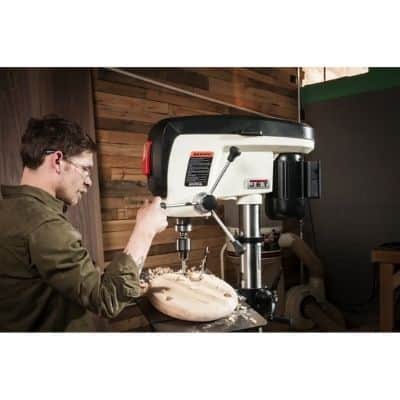 The power of a drill press depends on its motor rating, while the performance is a display of its power, components, and features.
The drill press has a 9amp, 115V motor that ensures powerful drilling through materials with different levels of toughness.
The motor powers the bit to a variable speed of 210 to 3500RPM that allows efficient drilling of different materials.
It also has a 3/4 peak horsepower that ensures high efficiency during drilling activities. The drill press includes a 1 phase motor with 16 spindle speeds.
The drill press has a drilling capacity of 5/8" that ensures it high performance. The drill features a tension spindle return spring that enables repetitive drilling of the same depth.
Ease of Usage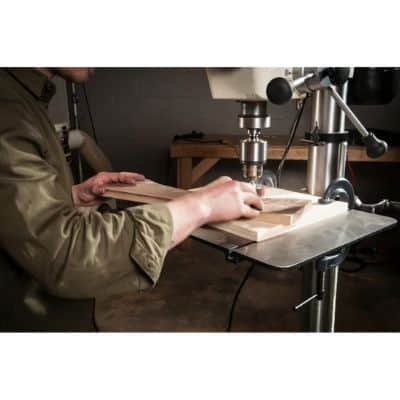 The features and components of the JDP-17 make it easy and convenient to use or operate.
It has a work light that ensures visibility and illumination of the work area, making its use and operation easy and convenient.
It also has a hinged metal belt-and-pulley over that provides easy access to the motor mount allowing quick spindle speed changes.
It also has a quick-release crank table that ensures the comfort of the user during operation.
The worktable glides easily with the aid of a rack and pinion system. The worktable can also tilt from 90 degrees left and right to accommodate the user's needs.
Ease of Maintenance, Repair, and Warranty
Ease of Maintenance
The maintenance procedures of this model include;
Lubricate the gear and rack periodically.
Always run a routine check on the drill press.
Clean the machine from dust and dirt.
Repair
Repairing your drill press should not be a problem because there is a repair offer provided by JET for every of their defective products.
All you have to do is take the damaged product to an authorized service center for repair.
Warranty
The warranty offers for JDP-17 includes;
5-year warranty.
90-day limited warranty.
1-year wear and tear warranty.
The warranty offer applies to only registered products of JET. It also applies to a product with a defect caused by the manufacturer and not caused by the user's mishandling or misuse.
There is more information on the warranty offer here, or you can contact 1-800-274-6846 for more information..
Price of JET JDP-17
JET JDP-17 is a one-of-a-kind drill press with many features that constitute its high efficiency and performance.
The features make it suitable for different drilling purposes.
The tool is expensive, and it is suitable for high-budget buyers. The drill press offers high quality and efficiency, making it worthy of its high price.
Pros and Cons of JET JDP-17
Pros
Highly efficient and easy to use
High-quality materials
Flexible work table for effective applications
Variable speed options
Built-in work light
Cons
You might have to lubricate at intervals, which can be tedious.
The belt cover makes a noise at a specific speed.
Who Should Buy JET JDP-17?
JET JDP-17 is suitable for professionals in different crafts because it is efficient, easy to use and has the ability to work on different types of materials.
Therefore, it offers a good option for professional woodworkers, blacksmiths, and other similar works.
Its ease of usage and flexibility makes it suitable for homeowners, inexperienced users, and other DIY enthusiasts with high budgets.
Our Recommendation
The JDP-17 is highly recommendable for various users because of its efficiency, performance, and ease of usage.
It is one of the best drill press models you can acquire for your heavy-duty tasks. It is worth the try if you need an efficient drill press for long term usage.
Last update on 2023-09-28 / Affiliate links / Images from Amazon Product Advertising API