In Brief: JET – JJ-6HHDX Jointer Review
The Jet – JJ-6HHDX is a 6-inch long bed jointer that is 55 inches long. It features a helical cutter head with extra-long infeed and outfeed tables made of heavy-duty cast iron. This jointer is great for those who want a good quality machine without spending a fortune.
Jet Tools is a part of JPW Industries, a family of tool manufacturing brands that also has Powermatic Tools in its care.
The company is the coming together of recognized brands of power tool manufacturers such as Jet, Wilton, and Powermatic.
Located in Tennessee, US, Jet Tools produces tools such as drill presses, band saws, trollies, lathes, dust collectors, jointers, etc., for woodworking, lifting, metalworking, work-holding projects.
Among these tools is the Jet – JJ-6HHDX, a 6-inch jointer.
Key Specifications of the Jet – JJ-6HHDX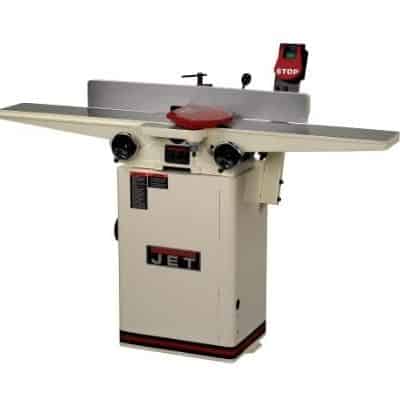 The Jet – JJ-6HHDX is a 6-inch long bed jointer that is 55 inches long. Previous versions of JET's six-inch jointers only had 45-inch tables.
So this gives you an extra 10 inches to work with. The jointer has a really sturdy cast iron cabinet base that comes pre-assembled with the motor already installed.
As we move up the jointer, you notice that this jointer has two large wheels mounted in the front. You can raise and lower the infeed table and outfeed table.
The jointer includes a set of quality push blocks as well as the two cutter removal tools. And it also comes along with five extra cutters.
The infeed and outfeed tables of the jointer came out of the box perfectly aligned.
They are coplanar lengthwise diagonally across the beds and along the cutter head with just minor adjustment needed.
Read the long list of Jet – JJ-6HHDX specs here :
Specification
Model No / name
Jet - JJ-6HHDX
Type
Long bed jointer
Cutting head
Helical
Motor power (horsepower)
1
Motor voltage
115/230
Phase
1
Speed (revolutions per minute)
6000rpm
Fence positive stops
45° L, 45°, 90° R
Knives (no)
27
Tilt
45°L, 45°R
Dust collection (y/n)
Yes
Weight (lbs)

610
Infeed table (length in inches)
27
Outfeed table (length in inches)
27-3/8
Table dimensions (inches)
56 x 7-3/8
Warranty (no. of years)
2-5 years
Unique Features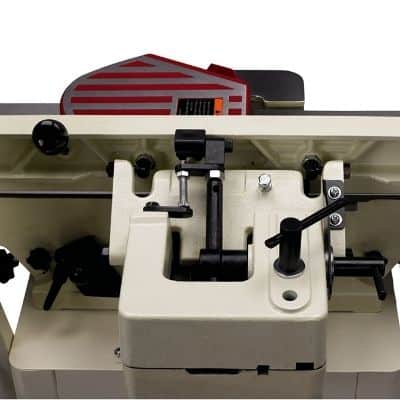 This jointer possesses some features that improve the selling point. Some of these will let you have woodworking projects with less fuss.
The fence mechanism
You'll be able to set the fence at a perfect 90-degree angle. The fence mounting mechanism is extremely heavy duty.
It comes with adjustments for moving the fence in and out.
It comes with stops so you can preset it to sit at 90 degrees, 45 degrees, or whatever other degrees you most commonly use.
The helical insert cutter head
Taking a look at the heart of this jointer, you'll find the helical insert cutter head. This cutter has 28 individual carbide inserts. Each carbide cutter comes with four sharpened edges.
Once one edge becomes dull, you can loosen the cutter, rotate it, and get a brand new sharp surface.
The cutter has a slight radius edge to help make a smoother cut. Unlike jointer knives that are always mounted perpendicular to the table, they perform what is called a scraping cut. If you notice, the inserts are at a slight angle.
These will cause more of a shearing cut that will be much cleaner and easier.
Easy to replace cutters
Jet Tools provides two tools to help make rotation and replacement of the cutters really easy. The first tool is placed into a cutter, and it's used to help stabilize the cutter head.
They will last much longer than a traditional jointer knife. Plus, when the edge becomes dull, you simply rotate it, and you have another edge to work with.
Power and Performance
The helical cutter head rotates at over 6,000 revolutions per minute with a 1 horsepower motor. Note that traditional joiners would rotate in the range of about 3,000-4,000 RPM.
So this is significantly quicker, which is going to yield a much better cut.
Another advantage of the helical cutter head is that it is much quieter than a jointer using knives. The tool runs extremely clean and requires no cleanup afterward. Its accuracy is also top-notch.
Ease Of Usage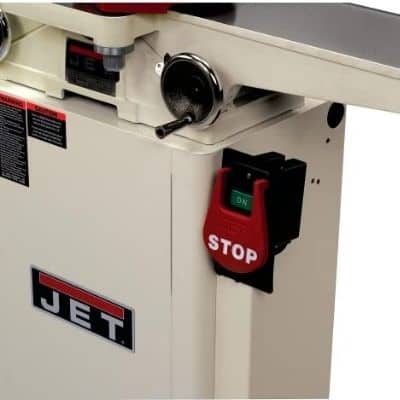 The Jet – JJ-6HHDX has an easy to operate design.
We like how quiet it is and how smooth it works during operation. It has easy to use push-button controls, placed where your hands can reach them conveniently.
There's also a built-in dust collector. It's really important to remove all sawdust. The slightest amount of sawdust at the base of the insert will cause it to rise and cut grooves in your wood.
So just take a brush or a toothbrush and sweep away any dust from the cutter head and the bottom of the insert.
Before replacing it, remember to be very careful when working around the inserts. They're extremely sharp.
Ease of Maintenance, Repairs, & Warranty
The product manual contains all information on how to install, safety precautions, operating procedures, how to maintain, and broken down parts.
You will get many many years of service before you have to replace any of the cutters. The only time you would have to do is if you got a small nick.
All Jet tools come with a limited warranty with varying years of coverage for the type of use. Consumable parts are covered for a 90-day period from the time of receiving the machine.
While it comes with a 5-year warranty, for commercial or industrial use, the warranty is limited to 2 years.
Price of the Jet – JJ-6HHDX Jointer
We're really thrilled with the performance of the jointer.
But understand that a jointer with a helical cutter head is going to come at a premium price.
However, when you factor in the cost of replacement blades vs. knives and the longevity you'll get before you have to replace and that you'll never have to set it up, it's well worth the investment.
Pros and cons of the Jet – JJ-6HHDX
Below are listed some of the advantages and a few downsides of the Jet – JJ-6HHDX. Check them out!
Pros
No setup required
Relatively quiet during operation
Quality cuts
Good price
Large cast iron table
Cons
Small "baby" jointer
Dust port needs care
Who Should Buy the Jet – JJ-6HHDX ?
This jointer is a six-inch jointer. Buy it if you don't require an eight or twelve-inch jointer.
It's recommended for those who make smaller items and need a decent-quality jointer but for a budget price.
Our Recommendation
We will definitely recommend the purchase of the Jet – JJ-6HHDX for a small shop owner. If you can live with a 6-inch jointer, then this model is for you.