In Brief: JET JWP-13BT Review
The 13" JET Helical Style Bench Top Planer, JWP-13BT offers benchtop cutting with both power and precision. Its 2HP 15amp motor helps it tackle most residential jobs and some commercial ones with no trouble, while its unique cutter head allows it to create smooth results with a professional appearance every time.
The Jet company began in 1958 as a small hardware store focusing on chain hoists. In a few decades, it shifted focus to metalworking and then added its woodworking line.
Today, the company brings quality products to customers and looks for new items to add all the time.
As part of the Jet company's power tool lineup, the Jet Helical Style Bench Top Planer remains true to the company's commitment to quality.
This machine performs admirably and holds up well against other, bigger name products on the market.
Key Specifications of the JET JWP-13BT
The Jet Helical Style Bench Top Planer comes with a full set of 24 blades and offers quick changes when the time comes.
It weighs a sturdy 82 pounds and provides enough cutting depth and width to handle residential jobs with ease.
Check out the JET Helical Style Bench Top Planer in action here – 
Read the long list of JET Helical Style Bench Top Planer specs below:
Parameters
Details
Model No/Name

JWP-13BT
Type

Benchtop
Power (HP)

2
Bed Size (in.)

13
Table Size (l x b)

9.8 x 13
Knife Adjustments

2
Cutting Depth (in.)

1/8
Dust Collection

Yes
Weight (lbs.)

82
Warranty

3 years
Other Features
Helical style cutter head
Cast iron bed
Dual infeed speed control
Accessories
Full set of 24 blades
Power cable
Unique Features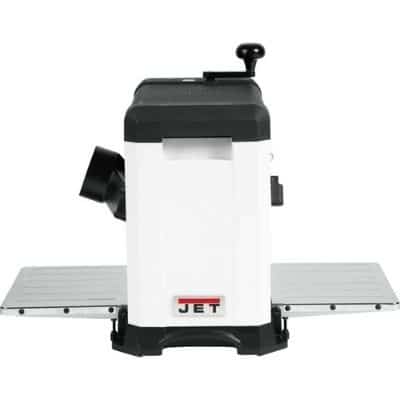 The Helical style cutter head on this machine makes it a unique benchtop planer.
It also features reduced snipe and an adjustable depth stop, both of which improve its results and make cutting easier for users of all skill levels.
Helical Style Cutter Head
Unlike many similar products, this machine includes a Helical style cutter head. This cutter head features six rows of 24 blade inserts.
Reduced Snipe
This planer offers reduced snipe thanks to its built-in machine cast iron bed and steel cover.
These features help keep the wood flat and stable while making passes, which in turn cuts down significantly on the chance of snipe.
Adjustable Depth Stop
The machine includes an adjustable depth stop function that makes it easier to repeat consistent cuts.
The stop allows the user to set it and then cut to the same depth time after time. When you need to change the setting, this remains simple to perform as well.
Power and Performance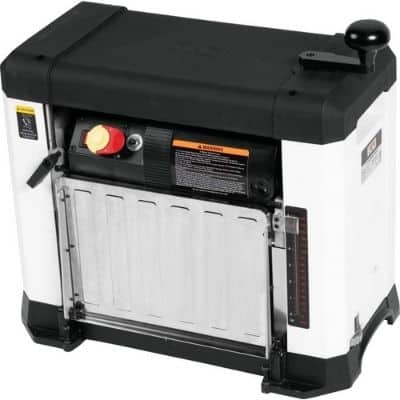 This machine features more than enough power to handle DIY and household tasks. It packs a punch and can work through projects quickly without damaging the wood or causing snipe.
Its powerful motor and exceptional cast iron bed keep it running smoothly for a long time.
The machine also performs well and keeps up nicely with its competitors. Its simple controls and stability functions ensure it remains both safe and easy to use and operate.
It provides beginners with an easy interface but challenges experienced users to hone their skills.
Ease of Usage
Customers find this planer easy to use. It offers quick assembly out of the box and takes very little time for maintenance or regular cleaning.
Its hand crank and manual adjustments ensure customers can fine-tune their cutting without complicated settings.
Additionally, the machine's included adjustable depth stop function makes it easy to repeat cuts without having to guess at the right depth.
Its dual infeed speed control makes it easier to work with multiple types of wood without making a lot of changes in between cuts.
Ease of Maintenance, Repairs & Warranty
The Jet company provides a replacement parts store through the company web site. This store allows customers to search by the type of machine they have and find parts that may work for them.
Customer service may also provide replacement parts in some instances.
Customers should perform routine maintenance on this machine. Turn off the machine and unplug it from its power source before handling maintenance.
Use a vacuum to clean dust from the interior of the machine and a soft, dry rag to clean the exterior portions.
Wax the table with paste wax often. Check the feed rollers frequently and clean or replace them as needed. Check the brushes for signs of wear and replace them when they appear too short or damaged to continue working properly.
Never operate the machine with damaged brushes.
The Jet company offers a three-year limited warranty on this machine.
This warranty covers damage and defects but does not include normal wear and tear or any problems that arise from misuse, incorrect installation, or lack of regular maintenance.
For more warranty information, contact the Jet company's customer service line at 1-800-274-6848.
Price of the JET JWP-13BT
The Jet Helical Style Bench Top Planer comes with everything you need to start using it right away.
It handles heavy-duty jobs and features a powerful motor as well as reliable inner components and external parts.
Since this machine comes with so many upgraded and high-quality features, its price comes in above the average range for this type of benchtop planer.
Despite its increased price, however, customers feel it provides plenty of value for the cost.
Pros and Cons of the JET JWP-13BT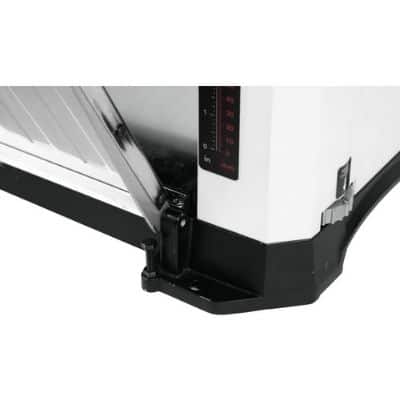 Pros
Takes up very little space
Creates smooth results without requiring sanding
Runs quieter than other brands
Features a high-quality dust collection function
Cons
Some customers run through knives quickly
Height adjustment may be confusing to some customers
Who Should Buy the JET JWP-13BT?
The Jet Helical Style Bench Top Planer works well for residential customers looking for a product that can tackle heavy DIY projects.
Since it remains small enough to fit into most garages and workshops, it offers a great choice for household users.
This machine also works well for commercial users who need a smaller device for certain projects.
Our Recommendation
The Jet Helical Style Bench Top Planer offers heavy-duty cutting and professional results. It remains easy to use but provides exceptional quality throughout.
We recommend this product for commercial users who need a powerful machine that does not take up too much space. We also recommend it for home hobbyists who use a planer multiple times per week.
Last update on 2023-12-02 / Affiliate links / Images from Amazon Product Advertising API