In Brief: Makita 195563 Router Review
Makita 195563 is a router plunge base with a 3-stage cut adjustment and an ergonomically designed handle. The base weighs 3.26lbs and it has a plunge capacity of 1.38". The plunge base is compatible with Makita router models for different routing applications. It is also suitable for different users such as DIY enthusiasts and professional woodworkers.
Makita is a prominent manufacturer that specializes in the production of power and hand tools. The manufacturer is remarkable for the production of high-quality tools that exhibits high efficiency and performance.
Makita 195563 is a router plunge base made from durable materials. The base is suitable for Makita routers, specifically Makita RT0700C.
Key Specifications of Makita 195563
Makita 195563 is a plunge base with intriguing features that allows effective delivery. The plunge base has a dimension of 11.2" x 3.3" x 3.8". The router has a plunge capacity of 1.38".
The plunge base has a 4-way adaptable head part that catches at different angles. The angles the head part catches include; 1100, 900, 450, and 00. This feature allows the head part to function at different angles with ease.
It is made of a metallic material, which ensures durability and high efficiency of the tool. The base weighs about 3.26lbs, which makes it an easy-to-carry tool.
Read the long list of Makita 195563 specification below :
Specifications
Model No
195563
Product Dimension (inches)
11.2" x 3.3" x 3.8"
Weight (lbs)
3.26
Base type
Plunge
Plunge Capacity (inches)
1.38"
Unique Features
3-Stage Cut Adjustment
Handle Design
Versatility


Top Features to Look For
Makita 195563 is a plunge base with great unique features. These unique features ensure its efficiency and optimum delivery.
3-Stage Cut Adjustment
The 3-stage cut adjustment is one of the unique features of Makita 195563. The feature allows the operator to change the depth of cut easily and quickly. It makes it very easy for the operator to make depth adjustments in three steps.
Handle Design
The plunge base has a highly efficient and well-structured knob that ensures maximum grip and control of the operator's plunge. The handle has an ergonomically contoured knob design that provides a soft but firm grip to the user.
Versatility
Versatility is one of the priceless virtues of the Makita plunge base. The plunge base is highly versatile as it can work with different Makita router models such as Makita RT0700 and DRT50 with an outstanding routing delivery.
Power and Performance
The efficiency of the plunge base is a rating of its power and performance. The router base is made of highly durable and top-quality metals that ensure the router's durability.
The plunge base has a 4-way adjustable head part that allows you to work on the router parts at any angle. The adjustable head can work on the power tool at four angles; 1800, 900, 450, and 00.
The plunge base has exhaustive discharge protection that prevents the plunge router from choking on dust or low air intake.
The plunge base is made from highly durable materials that ensure its compatibility with other routers. It delivers a plunge capacity of 1.38" to provide powerful plunging outputs. This plunge base's parts and components add to the product's efficiency, thus a high power and performance.
Ease of Usage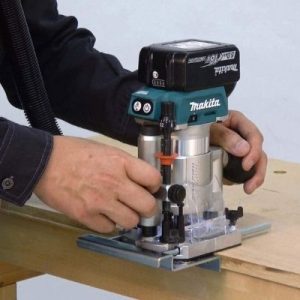 Source: Amazon
Makita 195563 is very easy to use, especially with compatible routers. The plunge base provides maximum control and handling to the user. The easy-to-use feature of the plunge base makes it an outstanding tool.
It has an ergonomic handle that enhances control, grip, and comfort of the operator.
The plunge base has a contoured knob style handle that improves control and handling.
The plunge base has a high plunging capacity that can accept varieties of bit sizes.
The plunge base weighs about 3.26lbs. The lightweight property of this plunge base allows the user to easily move it around. The tool is very useful and can serve a lot of routing tasks without causing operator stress.
Ease of Maintenance, Repair, and Warranty
Ease of Maintenance
The maintenance procedures for this plunge base model include;
Always clean the plunge base regularly.
Make use of the right tool to loosen or tighten parts.
Do not subject the tool to excessive pressure and force.
Repair
Makita provides repair services that cover their damaged tool costing the users little or nothing. The user needs to take the damaged tool to an authorized service center for the repair.
Warranty
The warranty offers for Makita 195563;
30-day free return offer.
1-year limited warranty.
Free repair offer.
The warranty does not also cover products with a defect caused by wear or tear. Nevertheless, visit here to learn more about the warranty offers or contact (714) 522-8088. Register your products here to enjoy the warranty offer.
Price of Makita 195563
The affordability of a product is an essential factor to consider. The product is highly affordable, and it is suitable for low and medium budget buyers.
The plunge base offers high quality for a low price, making it an outstanding plunge base model.
Pros and Cons of Makita 195563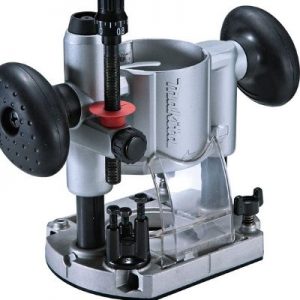 Source: Amazon
Pros
Lightweight and compact
Works perfectly with Makita router models
Ergonomic handle
Easy adjustment features
Cons
The clamp might be too tight to fit into the router
The router slightly sits off the square
Who Should Buy Makita 195563?
Makita 195563 is a very useful, effective, and durable plunge base that works with different Makita router models to provide outstanding routing outputs.
While considering a lot of factors, the router is suitable for several users. Individuals with different level of expertise can also use this plunge base.
The plunge base is suitable for DIY enthusiasts, homeowners, technical workers, Jobsite contractors and generally users with Makita RT0700 and DRT50.
Our Recommendation
Makita 195563 plunge base is highly affordable, with a lot of unique features. It is a recommendable plunge base model for users with Makita router models and users that want effective routing outputs.
Last update on 2023-10-01 / Affiliate links / Images from Amazon Product Advertising API