In Brief: Makita 2012NB Review
The Makita 2012NB 12-Inch Planer with Interna-Lok Automated Head Clamp comes with all the basics required for simple operation. This benchtop planer features a user-friendly interface and a 2HP motor. It includes a table with dimensions measuring 12 inches by 30-3/8 inches and it comes with an optional dust hood for dust collection.
The Makita company began in 1915 with a focus on repairing and selling electric motors. The company now offers a variety of equipment that utilizes electric motors, such as power tools and outdoor tools.
It focuses on durable, reliable products and customer satisfaction.
The Makita 2012NB planer provides high-quality cutting and woodworking capabilities in a compact, portable size. This machine keeps residential customer needs in mind and offers long-lasting durability for home use.
Key Specifications of the Makita 2012NB
The Makita 2012NB planer features convenient benchtop functionality perfect for residential use. This planer includes a 2HP 15amp motor and a bed size of 12 inches.
It cuts up to 1/8-inch depth and can handle many different types of wood with no trouble.
Check out the Makita 2012NB in action here –
Read the long list of Makita 2012NB specs below:
Parameters
Details
Model No/Name

2012NB
Type

Benchtop
Power (HP)

2
Bed Size (in.)

12
Table Size (l x b)

12 x 30-3/8
Knife Adjustments

1
Cutting Depth (in.)

1/8
Dust Collection

Yes
Weight (lbs.)

61.9
Warranty

3 years
Other Features
Double-edged blades
Optional dust hood
Simple on/off paddle switch
Accessories
Detachable toolbox
Blade set
Socket wrench
Hex wrench
Unique Features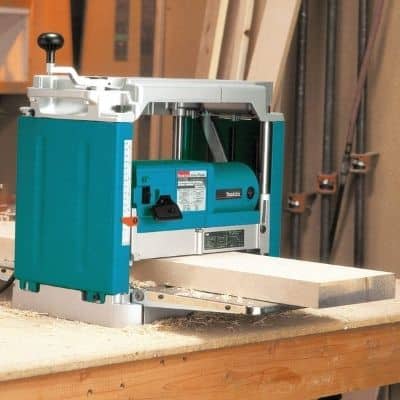 Featuring a compact and lightweight design with a low-noise build, the Makita 2012NB keeps customer needs in mind from start to finish.
This machine also includes an LED indicator light that makes it easier to tell when it comes on and goes off.
Compact and Lightweight
The compact and lightweight design of this portable planer make it easy to transport to and from projects.
It folds up when not in use and weighs in at just under 70 pounds, making it one of the lighter benchtop planers on the market.
LED Indicator Light
The machine includes a built-in LED indicator light. This light shows that the planer remains plugged in and ready for use.
Low-Noise Design
The machine features a low-noise design that allows it to operate at 83dB.
While hearing protection remains a necessity when using this machine, it cuts down significantly on the potential risk of damage while wearing appropriate safety gear.
Power and Performance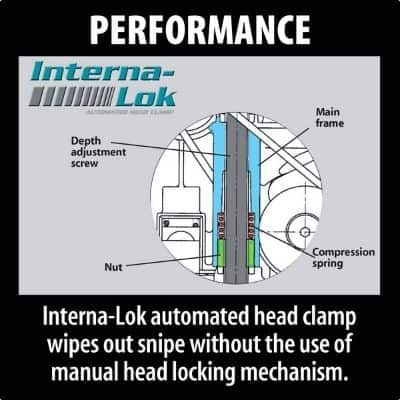 With a 2HP 15amp motor and reliable inner components, the Makita 2012NB planer provides enough power to handle residential tasks as well as some commercial ones. This machine features a sturdy build that lasts.
The planer also performs exceptionally well, especially for a smaller option compared to others on the market.
Its quieter operation and smooth cutting provide high-quality, professional results and its blades last a long time between replacements as well.
Ease of Usage
This machine features plenty of elements designed to make it easier for beginners and casual hobbyists to use.
Its LED light indicator provides a quick way to tell when the machine turns on and becomes ready for use, and its large on/off paddle switch offers simple functionality.
The machine also includes an adjustable depth stop for easier repetitive cuts. Additionally, it comes with a detachable toolbox that gives users the chance to store tools as needed and grab what they want to use quickly.
Ease of Maintenance, Repairs & Warranty
The Makita company web site provides replacement consumable parts for purchase.
It may offer other parts but does not supply customers with every type of replacement part for this machine. Customer service can provide more information.
Turn off and unplug this machine before performing routine maintenance. Regularly remove the brushes and check them for wear.
When they pass the limit mark printed on their sides, replace them immediately. Always replace both brushes at the same time.
Regularly oil the chain and screws on this machine. Check the blades frequently and replace them when they become too damaged.
Use a dry cloth to clean the exterior of the machine, its vents, drums, and roller surfaces. Never clean the machine with solvents.
The Makita company provides a three-year limited warranty on this machine. The warranty covers the repair or replacement of damaged machinery or parts but does not cover consumables that wear out with normal use.
This warranty also does not cover damage related to incorrect use. It excludes any machines that have been repaired or otherwise taken apart by a third party.
It does include a 30-day replacement/return guarantee for all parts, including consumables.
For more warranty information, contact the Makita company at 1-800-462-5482.
Price of the Makita 2012NB
The Makita 2012NB planer comes in at the high end of many budgets. This machine costs more than most of its competitors and may be too costly for some customers looking for an entry-level beginners' planer.
With that said, however, the planer comes from a very trusted brand name and features a built-to-last design.
It holds up well to years of use and includes reliable components, and it handles a variety of projects with ease. Customers feel it offers more than enough value for the price.
Pros and Cons of the Makita 2012NB
Source: Makita https://www.makitatools.com/products/details/2012NB
Pros
Long-lasting, sturdy design with durable components
Excellent customer service support
Accurate and precise cuts on every pass
Requires little to no sanding after a pass
Cons
Replacement blades may be costly to some customers
Ejection chute requires additional purchase
Who Should Buy the Makita 2012NB?
The Makita 2012NB comes ready for use and includes features that make it simple for beginners to operate.
At the same time, it provides a convenient size for storage and a lightweight, portable design that combine to make it perfect for residential customers.
Commercial customers also enjoy using this machine because of its ample and impressive power.
This planer tackles many types of wood and smooths out even the roughest or most damaged pieces, making it a great addition to professional setups.
Our Recommendation
The Makita 2012NB provides something for everyone. Beginners who learn on this machine have a chance to work with one of the best, while experienced users improve their skills every time they operate it.
We recommend this machine for home hobbyists who need a powerful product that can run multiple days a week with no trouble. We also recommend it for commercial users who want a portable machine for on-site work.
Last update on 2023-10-01 / Affiliate links / Images from Amazon Product Advertising API