In Brief: Makita RT0701CX7 Router Kit Review
The Makita RT0701CX7 Plunge Router comes with a fixed base and provides up to 1-1/4HP power for all of your household projects. It offers speeds ranging from 10000 to 30000 rpm and includes a variable speed control dial to make it easier than ever to dial in these controls. Use it for residential projects whether you are a beginner, an advanced user, or anywhere in between.
The Makita company began with a focus on electric motor sales and repairs and has since blossomed into a power tool company as well.
It focuses on research and development and remains at the forefront of power tool innovations.
The Makita RT0701CX7 provides convenience, efficiency, and accessible use for beginners. Users of all skill levels enjoy working with this machine to create impressive hardwood routing results.
Key Specifications of the Makita RT0701CX7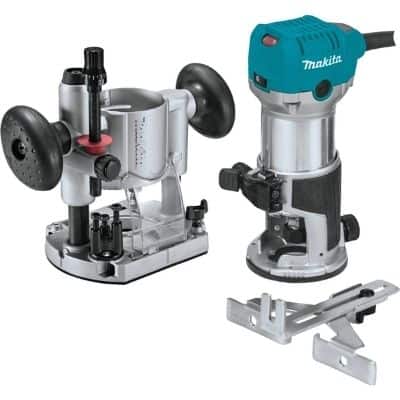 The Makita RT0701CX7 plunge router comes ready for use out of the box. It features a corded power design and weighs just 10.5 pounds, making it a simple solution for household use.
It provides variable speed controls and a convenient shaft lock function.
Check out the Makita RT0701CX7 in action here :
Read the long list of Makita RT0701CX7 specs below:
Specification
Model Number/Name
RT0701CX7
Powered By

Corded
Speed (rpm)
10000 to 30000
Brushless Motor
No
Power (hp)
1-1/4
Base Dimension
7-7/8"
Weight (lbs)
10.5
Base Type
Fixed
Plunge Stroke
1-3/8"
Unique Features
Variable speed control dial
Quick-release cam lock
Shaft lock

Accessories
1/4'' collet
Straight guide
Plunge base
Wrenches

Top Features to Look For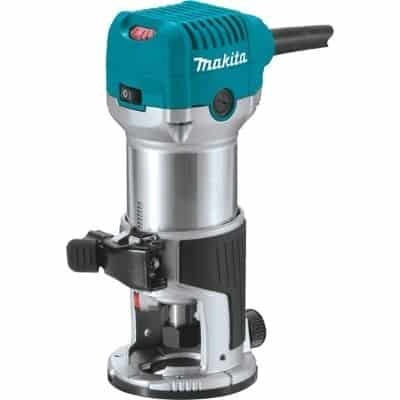 A variable speed control dial and soft start function combine to create a smooth, efficient machine in this product. The ergonomic design finishes off the item and ensures customers can work with it for a long time to come.
Variable Speed Control Dial
The variable speed control dial on this machine allows users to carefully make adjustments to the rpm to find the right output for any needs.
With this function, users can dial in speeds from 10000 to 30000 no-load rpm.
Ergonomic Design
The product features an ergonomic design and a slim, lightweight style that makes it easy to operate. This combination of features prevents the user from becoming tired after just a few passes and improves overall control, too.
Soft Start
The built-in soft start motor function allows this machine to start smoothly and quietly with less torque required to power it up.
This feature cuts down on the difficulty of starting the machine so you can get to your project more quickly.
Power and Performance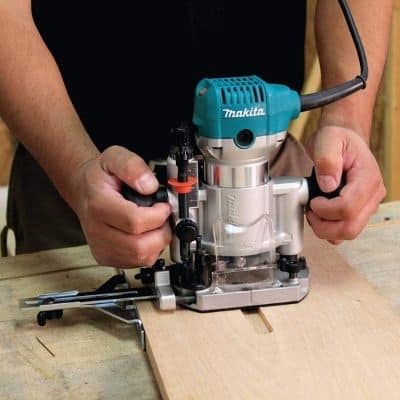 The machine packs enough power to handle household DIY and repair jobs with ease. This product offers up to 1-1/4HP using the carbon brush motor included. With a wide speed range as part of the setup, the machine provides powerful outputs.
It also includes several performance-enhancing features to improve results even more.
It offers an electronic speed control function that allows the machine to maintain its speed, ensuring the results look smooth and professional.
Ease of Usage
This machine includes several features that make it easier and more comfortable to use.
Its overall ergonomic design ensures hand and arm comfort for any user, and its plunge lock level provides a convenient location for easy operation when needed.
This machine also comes with a sub-base that works with most standard template guides. This way, you can use it easily with a variety of products, since it does not require a specific brand name guide to get the job done.
Ease of Maintenance, Repairs & Warranty
The Makita company web site provides some replacement parts for purchase, particularly when it comes to expendables such as carbon brushes.
The company may also offer other replacement parts through the customer service phone line.
Customers should perform routine maintenance on this machine. First, turn the router off and unplug it before continuing. Check the carbon brushes regularly and replace them when they wear down. Always replace both carbon brushes at the same time.
Clean the brushes regularly. Check the screws after every few uses and tighten as needed Use a dry rag to clean dust and debris from the router housing, but never use alcohol, soap, cleaners, or water around the router.
Contact a licensed repair technician for professional servicing and repairs at least once a year.
The Makita company provides a one-year limited warranty on this router. This warranty covers problems with manufacturing defects but does not cover user error.
To obtain warranty replacements, customers must send the whole product back for inspection and repair.
For more warranty information, contact the Makita company at 1-800-462-5482.
Price of the Makita RT0701CX7
The Makita RT0701CX7 comes with built-in safety and ergonomic features as well as plenty of functions designed to improve its functionality. It also includes everything you need to use it right out of the box.
Despite coming with so much, the machine remains at the low end of the plunge router price range.
Its low price point comes from its lower HP motor in comparison with some of its competitors, but it still provides a lot of value for the money regardless.
Pros and cons of the Makita RT0701CX7
Pros
Most customers enjoy this machine's easy and quick setup
Easy to move, adjust, and lift as needed
High-quality, long-lasting, durable components inside and out
Quiet and smooth operation
Cons
Some customers find depth adjustments difficult
Included clamp may not clamp firmly enough for some customers
Who Should Buy the Makita RT0701CX7 ?
The Makita RT0701CX7 works well for a variety of household applications. Although it may not provide enough power for most commercial tasks, it works well for smaller DIY jobs and routes hardwood with ease.
This machine offers plenty of power and precision for beginners looking to learn how to use a router. It also includes simple adjustments and fine-tuning for more experienced users who want enough control over their projects.
Our Recommendation
The Makita RT0701CX7 features fine adjustments, simple controls, and basic but functional features. It comes ready to use and offers a lot of room to grow, making it an excellent, user-friendly option for many customers.
We recommend this machine for customers looking for their first plunge router. We also recommend it for anyone who wants a compact, lightweight product to use for smaller jobs that require less HP.