In Brief: Makita XTR01Z Router Review
Makita XTR01Z is a Lithium-ion brushless cordless compact router with LXT technology feature and start protection computer controls. Its 4.6lbs weight makes it portable with a 5-1/4″ overall length. It has a fixed base for improved stability. It is suitable for professionals, beginners, and DIY enthusiasts. The router is effective for routing woods with variable thickness.
Makita is a corporation that was founded in 1915 as an electric motor sales and repair company. Today, they are reputable for making high-quality power tools, including routers.
XTR01Z is a Lithium-ion brushless cordless compact router suitable for various professional applications.
This router model offers convenience, portability, and efficiency in one piece.
Key Specifications of the Makita XTR01Z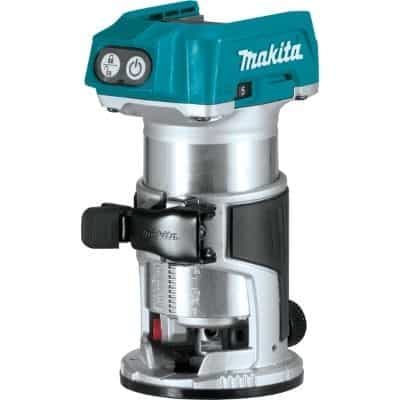 All the components of this model are precise and specific for optimal performance and effective delivery. XTR01Z features an 18V Lithium-ion battery to ensure power efficiency.
Aside from the fast charging ability of this model, it also lasts longer during operation.
This model's motor setup propels it to make a variable speed of 10,000RPM to 30,000RPM for effective application.
The cordless router weighs 4.6lbs (including battery) with a fixed base to ensure stability and sturdiness.
XTR01Z includes a collet size of 1/4″ which is modest for an efficient router. The 1-9/16″ plunge capacity of this model complements other performance features to promote effective applications.
The video below shows the Makita XTR01Z router in use :
Read the long list of Makita XTR01Z specs here :
Specification
Model No
XTR01Z
Powered by
Battery
Speed (RPM)
10,000-30,000RPM
Brushless Motor
Yes
Battery voltage (volts)
18V
Collet Diameter (inches)
1/4"
Overall length (inches)
5-1/4"
Weight (lbs)
4.6lbs
Base Type

Fixed
Plunge Stroke (inches)
1-9/16''
Unique Features
LXT Technology
Distinct on/off button
Star Protection Computer Controls

Top Features to Look For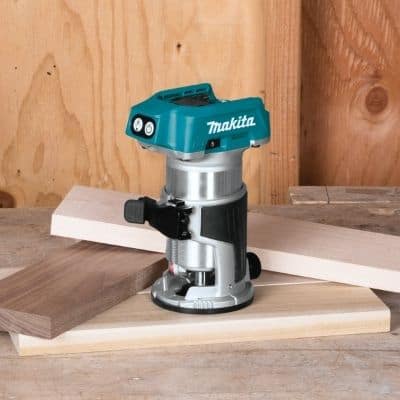 The top rating of XTR01Z among several other routers is linkable to its unique features that optimize its functionality.
LXT Technology
The LXT Technology of this model particularly influences its power performance. This feature delivers up to 380 feet of cutting performance in red oak.
Distinct on/off button
The on/off button of this model is separate from the lock button. This feature ensures easy startup and prevents accidental startups to enhance the safety of users or operators
Star Protection Computer Controls
The Star Protection Computer Controls is not a common feature in other brands. This feature protects the router by monitoring operational feedbacks during use.
It includes protection against overloading, overheating, and over-discharging.
Power and Performance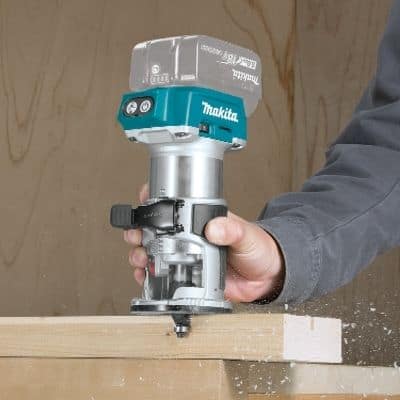 The rating of a router has a lot to do with its power setup and performance. These features also influence the applications of the model.
Makita XTR01Z includes 18V LXT Lithium-ion and an electrically-controlled BLTM brushless motor that maximizes energy.
This battery capacity improves the router's power and efficiency to match the torque and RPM suitable for the varying application processes of the model. This variable speed is within 10,000-30,000RPM.
Aside from this model's operational efficiency, it also features a soft start ability to ensure smooth startups, quiet operations, and better accuracy.
The system technology of this model also delivers optimal battery charging and extensive operational duration. The technology also ensures temperature, voltage, and current control.
Ease of Usage
The features and technical buildup of the XTR01Z model are optimized for easy handling. Therefore, you don't need to have extensive technical skills or knowledge to handle this router, and you can easily utilize it to give your desired result.
XTR01Z features dual LEDs that illuminate the work area for proper visibility of cuts.
The router includes variable speed control and electronic speed control that allow you to optimize its speed for specific applications and maintains constant speed under load.
The smooth rack-and-pinion fine depth adjustment system and quick release Camlock system enhance easy adjustments, including base removal and installation.
The easy-to-read depth scales enables you to easily follow up your cuts to enhance precision and accuracy.
Ease of Maintenance, Repair, and Warranty
Ease of Maintenance
Proper maintenance of a router will ensure its continuous quality, reliability, and effective performance. The maintenance procedures for XTR01Z include :
Do not expose the power tool to rain or water.
You should clean the tool and remove all dust and dirt regularly.
Inspect all the essential parts of the router before and after use.
Repair
Makita has several service centers in various locations to ensure the safe and reliable repair of their products.
It is best to allow these centers to handle all the service processes of the tools. The company warranty will not cover any product that has been repaired or attempted by others.
Warranty
The warranty offers XTR01Z include :
3-year limited warranty on crafts and materials.
30 days replacement and money-back guarantee
You can get more details on the warranty service for Makita 2705 on the company's official website at www.makitatools.com/service/warranty. You can also call (714) 522-8088 for enquiries and service offers.
Price of the Makita XTR01Z
The price of XTR01Z is not a factor that would hinder you from getting this model.
This model is affordable for low and medium-budget buyers.
Aside from coming at a very affordable cost, the product also offers a high value for money.
Pros and cons of the Makita XTR01Z
Pros
Compact and lightweight
Cordless, easy to use, and safe to operate
Great battery power and amazing delivery
Versatility and adaptivity
Cons
A few users do not like this model because of its
No extended features
Minimal consideration for extended applications
Who Should Buy Makita XTR01Z ?
XTR01Z is a suitable router for professionals because of its versatility and effectiveness for various applications, including working on tough woods.
Likewise, it is a good buy for multiple jobsite contractors because of its cordless and portable features.
Beginners and amateurs can go for XTR01Z as their first buy because of its easy usage feature, and smooth operation.
Hobbyists, homeowners, and other DIY enthusiasts can also consider this model for various medium to large scale applications.
Our Recommendation
XTR01Z is one of the routers that can be safely recommended for diverse categories of users.
It is a good bargain for any user that intends to secure the service of an affordable, cordless, efficient, and powerful router for various applications, including medium to large scale operations.