In Brief: Milwaukee 2723-20 Router Review
Milwaukee 2723-20 is a Compact Router with high-power corded performance and adjustability enhancing features. This router weighs 2.95lbs. It has a speed range of 10,000-30,000RPM that facilitate fast and smooth cuts. It is suitable for professionals and other long-term users. It is efficient for smooth and deep routing operations on varieties of materials.
Milwaukee power tool corporation has maintained a leading position in the manufacturing industry since 1924 by producing high-quality power tools.
Milwaukee 2723-20 compact router is one of the few routers that perfectly delivers accuracy, speed, and power with its M18 Red lithium XC5.0 Battery. It has features that make it suitable for varieties of applications.
Key Specifications of the Milwaukee 2723-20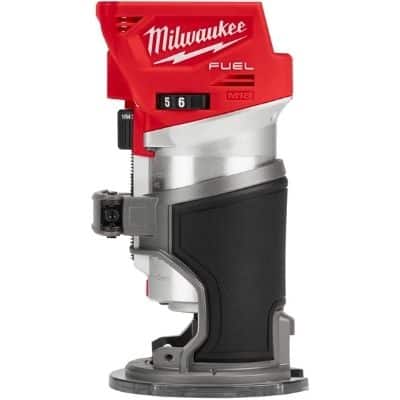 Milwaukee 2723-20 has enough features and well-calculated specifications that optimize it for medium and large applications.
It weighs 2.95lbs, which makes it one of the lightest weight routers. It is also portable with a dimension of 4.79″ x 3.23″ x 6.8″.
The cordless router has a 1/4″ collet diameter and 11/16″ collet wrench. Milwaukee 2723-20 also includes a 4″ round sub-base plate, 5-3/4″ template sub-base plate, and a fixed base for stability and Jobsite adaptability.
This model has enough power for effective delivery. It delivers a power that matches a 1.25HP corded trim routers' power with a maximum speed of 31,000RPM.
The video below shows the Milwaukee 2723-20 router in use :
Read the long list of Milwaukee 2723-20 specs here :
Specification
Model No
2723-20
Powered by
Battery
Speed (RPM)
10,000-31,000RPM
Brushless Motor
Yes
Power (HP)
1.25
Voltage (volts)
18V
Collet Diameter (inches)
1/4"
Base Dimension (Inches)
4"
Weight (lbs)
2.95
Base Type
Fixed
Collet Wrench
11/16''
Spindle wrench
7/16"
Unique Features
High Power Corded Performance
Adjustability Enhancing features

Top Features to Look For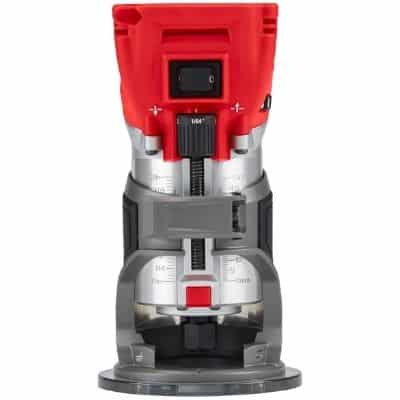 Milwaukee 2723-20 has several features that make it stand out among several other routers. This feature highlights its preference among many buyers.
High-Power Corded Performance
One of the most impressive features of Milwaukee 2723-20 is its unique power setup.
This model is a cordless router but it uses a M18 Red Lithium XC5.0 battery that delivers the power of a corded router. This model also features a Powerstate brushless motor and Redlink Plus for improved performance.
Adjustability Enhancing Features
Milwaukee 2723-20 features components that ensures its easy adjustment. It has a micro-adjust dial and a macro-adjust button that allows fast and accurate cuts for specific applications and optimal performance.
It also has a variable speed adjustment dial to enhance operational control.
Power and Performance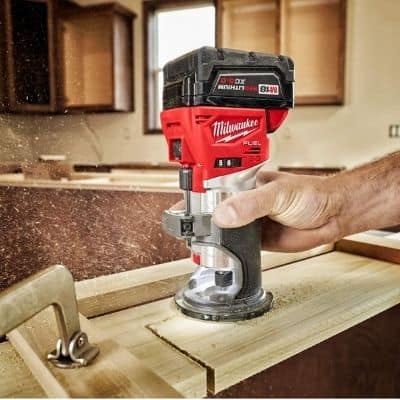 The power and performance of a router is rated based on its speed, smooth cuts, and diversity of applications and Milwaukee 2723-20 is well equipped with these features.
Milwaukee 2723-20 leverages on its Powerstate brushless motor and Redlink Plus intelligence feature for maximum performance during routing operations.
It also has a powerful M18 Red Lithium XC5.0 battery that provides it with extended runtime. This powerful battery delivers a 1.25HP that matches a corded router.
Milwaukee 2723-20 has a variable speed between 10,000 to 30,000RPM making it one of the best for a compact cordless router.
This model can cut up to 250ft of 3/8″ round overs in red oak, highlighting its run time ability and effective cutting performance.
Ease of Usage
Milwaukee 2723-20 compact router has component inclusions that ensures its ease of usage and efficient delivery.
Milwaukee 2723-20 has a micro-adjust dial and a macro adjust button that allows users to optimize it for diverse routing applications.
These features ensure fast and accurate depth adjustments during operation. The macro adjust button allows changes up to 1.5″ of adjustable range.
This model also includes a tool-free spindle lock that provides easy bit changes. The variable speed changes also permit easy operational control that allows you to optimize the router's speed for specific applications.
The fine adjustment screw of this model allows for adjustments beyond 1/64″ increment which enhances cut precision and accuracy.
This compact router also features a dual LED light for work surface illumination.
Ease of Maintenance, Repair, and Warranty
Ease of Maintenance
The maintenance of Milwaukee 2723-20 compact router is quite easy, and you can carry them out in various easy steps, including :
Eliminate all dust and dirt from air vents.
Do not use solvents or other harsh chemicals on plastic parts.
Avoid lubricating the rods of the router.
Repair
Like every other power tool, it might become inevitable to repair your Milwaukee 2723-20 compact router after extensive use over a long period.
However, the repair of this power tool is made easy with the manufacturer's service centers. These centers handle the safe and reliable repair of all Milwaukee products.
Warranty
The warranty offers for Milwaukee 2723-20 include :
5-years limited warranty on product defect in materials and workmanship.
Product service supports.
It is essential to note that all Milwaukee products automatically come with a warranty therefore, there is no need for special registration.
You can get more details on the warranty information at www.milwaukeetool.com/Support/Registration-and-Warranty or 1-800-729-3878 for customer support.
Price of the Milwaukee 2723-20
The price of Milwaukee 2723-20 falls on the high side. Buyers with high budgets can secure the services of this router.
Compared to other routers models, this model is cost intensive due to the fact that its cost doesn't cover other accessories. However, it has a high cost to value ratio.
Pros and cons of the Milwaukee 2723-20
Pros
Easy usage and adjustment
Versatile applications and effective delivery
High power and extended run time
Durable and solid buildup
Dual LED light
Cons
It is relatively expensive
Lacks handles
Who Should Buy the Milwaukee 2723-20 ?
Milwaukee 2723-20 is a powerful cordless router with high performance and power for smooth and accurate cuts.
It is an ideal bargain for professionals because it has all the cutting and power capacity for various woodwork applications.
This model is also a good choice for Jobsite contractors that seek a powerful cordless router with a lightweight and an extensive runtime.
Milwaukee 2723-20 is a good power tool addition for homeowners, hobbyists, and DIY enthusiasts that need a powerful router for long term application.
Our Recommendation
You should get Milwaukee 2723-20 if you need a durable, portable, high-speed, and high-power router for long term professional applications.
The router offers sustainable solutions for tough woodworking tasks. This router, even with its high cost, delivers an excellent operational performance.