In Brief: Nova 58000 Drill Press Review
Nova 58000 is a variable speed drill press with intelligent digital control and unique DVR technology features. It has a 1.75HP/2HP power output that enables a variable drill speed ranging from 50 to 3000RPM. It is useful for several DIY enthusiasts, particularly professional for drilling varieties of materials such as glass, wood, plastic, and metal.
Nova is one of the fast-rising manufacturing companies that produce varieties of power tools. They offer high-quality tools for different operations.
Nova 58000 is variable speed drill press with high drilling efficiency. This is the world's first smart drill press with amazing features and adaptive control software for optimum performance.
Key Specifications of Nova 58000 Drill Press
The Nova 58000 has variable power ratings which are 1.75HP (110-120V, 10A) and 2HP (220-240V, 10-15A). The machine has a work table that can tilt 45⁰ in the left and right directions.
This drill press model has an extensive 16-1/2" x 16-1/2" work table and a 22-1/4" x 17-1/2" base It has a chuck capacity of 5/8", which allows the use of different bits and cutters.
It has a 6″ spindle travel and a swing capacity of 18" that ensures high flexibility and efficiency. The tool has a variable drill speed that ranges from 50 to 3000RPM, which is also increasable to 5500RPM.
The video below shows Nova 58000 in use: 
Specifications
Parameters
Details
Model No

Nova 58000
Motor Details

10A, 110-120V/ 10-15A, 220-240V
Power (HP)

1.75/2
Speed (range) RPM

50 to 3000
Laser

No
Chuck Capacity (inches)

5/8"

Work Table Dimension (inches)

16-1/2" x 16-1/2"
Table Tilt

450
Swing and Stroke (inches)

18" & 6"
Height (inches)

70-5/8"
Weight (lbs)

307
Digital Speed Reading

Yes
Work Light

Yes
Warranty
2 Years
Other Features
Plug n' play feature
Unique DVR technology
Intelligent digital control
Unique Features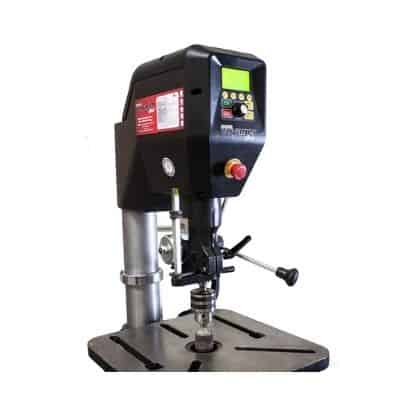 The drill press's unique features allow it to perform specific operations, making it stand out from other drill press brands.
Unique DVR Technology
Many drill press models make use of the belt and pulley system to perform drilling operations.
The Nova 58000 makes use of a direct drive motor for drilling operations. The DVR technology also ensures faster and more efficient drilling with less vibration.
Intelligent Digital Control
This feature is unique to DVR Nova smart machines. This feature allows the tool to automatically change its drill speed to the required value depending on the material.
The adjustability of the machine makes it every user's preferred choice.
Plug n' Play Feature
The plug n' play feature of this drill press model makes it very easy to use. It has a push-button for forward and reversible speed changes. The drill press also conserves power by consuming little energy for large projects.
Power and Performance
The Nova 5800 has several features and a good power set up that ensure its outstanding performance and high efficiency.
It has a unique DVR technology that serve as a direct motor for smooth operation with no noise or vibration.
This drill press model has a variable power output (1.75HP/2HP) that permits smooth drills through different materials.
It also has a variable drill speed within 50-3500RPM that allows you to assign the right speed to each task.
It has a swing capacity of 18″ that ensures well-structured drilling through several materials with different toughness. It also has spindle travel of 6″ for optimum drilling performance.
Ease of Usage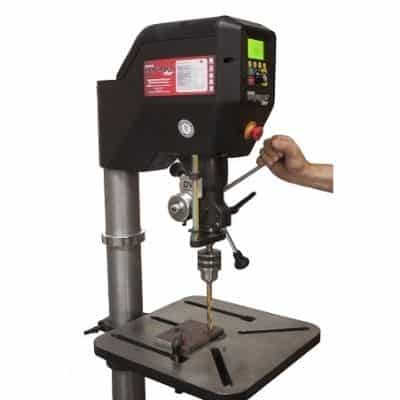 Nova 58000 is very easy to use and control because of its adaptive software control feature and its high-level operational automation.
It has an adjustable mechanical stop with a digital readout for repeatable and precise drills.
It has a unique DVR technology that makes drilling operations run smoothly and easily.
It also has an automatic speed adjustment feature that adjusts the drill's speed to the needed value. It allows it to provide the needed speed for every task without any stress.
The drill press has an extensive work table that can tilt 45⁰ to both sides and rotate 360⁰.
It has easy controls and buttons that help you program it to carry out drilling operations effectively and easily. It has electronic breaking, digital depth quill readout, and load readout features that enhance its ease of usage.
Ease of Maintenance, Repair, and Warranty
Ease of Maintenance
The maintenance procedures of Nova 58000 include;
Do not feed the material to be drilling against the direction of rotation.
Disconnect the tool for its power source when not in use.
Ensure proper calibration of the machine before use.
Use recommended accessories and appropriate attachments with the tool.
Repair
Teknatool offers repair services on registered products at little or no cost. It is essential to allow the manufacturer's authorized technician to work on your tool to ensure proper repair and servicing.
Warranty
The warranty offer for Nova 58000 includes;
2-year full replacement controller and motor.
5-year full replacement on other parts.
Free repair warranty offer.
The warranty offer for Teknatool applies to only registered products. Products with defects from the manufacturer or packaging error and not from the user's mishandling or mismanagement also qualify for this offer.
You can find more warranty information at warranty or contact +1-727-954-3433. Ensure to register your drill press on website here>
Price of Nova 58000
The Teknatool product, Nova 58000, is a high-cost drill press with several outstanding features and specifications.
This drill press model has a high cost to performance ratio and is suitable for all scales of drilling tasks.
Pros and Cons of Nova 58000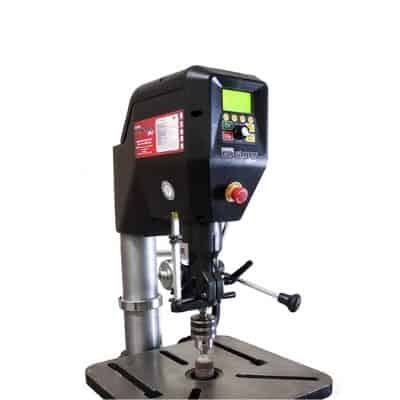 Pros
Power-saving features
High torque power for faster and efficient drilling performance
Intelligent digital control
Electronic braking for safety and easy control
Forward/Reverse functionality
Cons
Heavyweight
Highly cost-intensive
Who Should Buy Nova 58000?
Nova 58000 is suitable for all categories of users with high budget capacity.
This drill press model is powerful enough to execute a wide range of tasks including drilling materials such as glass, plastic, wood, and metal.
This drill press model is a considerable option for professionals and DIY enthusiasts that need an efficient and powerful tool for personal, commercial, and industrial-scale drilling operations.
Our Recommendations
The Nova 5800 is an outstanding drill press with functionalities that make it a worthy buy for all categories of users.
If you are you seek the services of an easy to use and highly efficient drill press model for long-term usage, Nova 58000 is definitely an option to consider.
Last update on 2023-09-28 / Affiliate links / Images from Amazon Product Advertising API