In Brief: Porter-Cable 690LR Router Review
The Porter-Cable 690LR Router features a 1-3/4HP motor and the ability to run at speeds of up to 27500rpm. This corded, fixed-based router comes with the basics required to get started using it right away and offers simple, accessible functions ideal for beginners. The machine weighs just 9.4 pounds, so it offers easy usage and maneuvering as well.
The Porter-Cable company began in 1906 as a tool shop and continues providing the same quality of care and customer satisfaction today.
This company focuses on power tools and provides high-quality products to customers in a variety of fields.
The Porter-Cable 690LR router brings all the quality and efficiency of the Porter-Cable company to a user-friendly machine.
This product remains perfect for residential woodworking jobs and packs enough power to handle a variety of tasks with ease.
Key Specifications of the Porter-Cable 690LR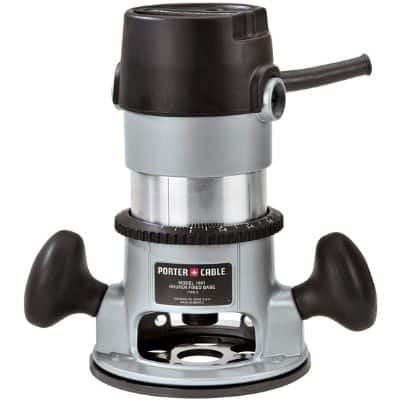 Coming in at just 9.4 pounds, the Porter-Cable 690LR router provides a compact, lightweight, convenient way to tackle woodworking jobs.
This machine includes a fixed base with an under-table stop component for safe and easy use.
Check out the Porter-Cable 690LR in action here :
Read the long list of Porter-Cable 690LR specs below :
Specification
Model Number/Name
690LR
Powered By
Corded
Speed (rpm)
27500 no-load
Brushless Motor
No
Power (hp)
1-3/4
Base Dimension
3-1/2"
Weight (lbs)
9.4
Base Type
Fixed
Plunge Stroke
N/A
Unique Features
Under-table stop
Cam lock lever
Auto-release collet system

Accessories
Motor
Base
Collets
Wrench

Top Features to Look For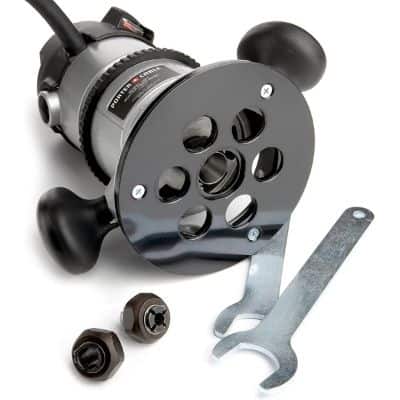 The cam lock lever and dust-sealed switch and ball bearing design both combine to make an efficient, convenient, and secure machine.
This product also features an under-table stop for safer and more durable operation.
Cam Lock Lever
The cam lock lever built into this router makes it easier to change height adjustments and release the motor as needed. It locks adjustments into place securely and makes your projects look better and finish more smoothly.
Dust-Sealed Switch and Ball Bearing
The switch and ball bearing construction on this router both feature a dust-sealed design that keeps debris from reaching these important parts of the machine. This feature improves the lifespan of your router.
Under-Table Stop
The machine features an under-table stop design element that keeps the motor from rotating out of the base while you work.
This makes it safer to operate the router and also ensures cleaner, better routing.
Power and Performance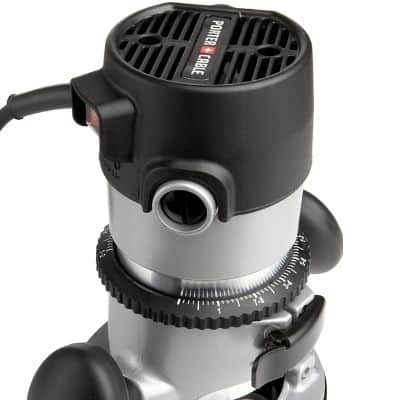 This router includes enough power to handle residential tasks. It does not have a high-powered motor for commercial woodworking, but it does run smoothly and last a long time thanks to its powerful 1-3/4HP design.
The machine includes many performance features, such as a micrometer depth adjustment function for precision control. It also includes a durable aluminum motor housing and base construction designed to last a long time.
Ease of Usage
Thanks to some basic user-friendly features, this machine remains simple and easy to use. It includes a cam lock lever for quick and easy adjustment changes, and it allows up to 1/128" adjustments as well.
Additionally, the machine works with two different sizes of shank bits so you can find the right fit for your needs. It comes with overmolded handle grips for ergonomic comfort and easier operation too.
Ease of Maintenance, Repairs & Warranty
The Porter-Cable company web site provides a variety of replacement parts and expendables for purchase. These parts include bits, guides, and more but do not include internal components.
Customers should reach out to a professional repair technician for internal repairs on this machine.
To perform routine maintenance, turn off the machine and unplug it. Always keep the machine clean and free from dust and debris. Use a clean, dry cloth to clean the housing for this router. Never use water, soap, alcohol, or any other liquid for cleaning purposes.
Check for misalignment frequently. At the same time, check for damage or wear. Replace any parts that become damaged or worn beyond repair.
If the machine becomes misaligned or screws become loose, straighten and tighten as needed before using it again.
The Porter-Cable company provides a one-year limited warranty on this machine. The warranty covers repairs and replacements of parts or products damaged by manufacturing error. It does not cover customer error or misuse.
Additionally, the warranty excludes expendables and any other parts that become worn through the normal use of the machine.
For more warranty information, contact the Porter-Cable company's customer service via email at [email protected].
Price of the Porter-Cable 690LR
The Porter-Cable 690LR router comes with basic built-in features designed with beginners in mind.
It also offers precision controls perfect for more advanced users and ensures anyone can achieve the right results thanks to its high-quality functions.
This machine comes in at a slightly higher price point than its competitors. The higher price comes from its durable components and respected brand name, so most customers feel it remains worth the price.
Pros and cons of the Porter-Cable 690LR
Pros
Most customers find this router easy to manage
Height adjustments remain simple and convenient
Runs smoothly for long stretches at a time
Customers enjoy the amount of power behind this machine
Cons
Some customers find this machine does not last as long as others
Some customers dislike the off-center baseplate design
Who Should Buy the Porter-Cable 690LR ?
The Porter-Cable 690LR offers precision controls and excellent results.
Customers looking for an entry-level router that comes from a known and respected company enjoy using this machine for learning, practicing, and completing tasks.
Customers who prefer to work on wood projects all day and run their routers for long stretches also find this machine a great option. Although it heats up while running, it operates nonstop with no trouble.
Our Recommendation
The Porter-Cable 690LR router comes ready for use out of the box.
It includes simple, accessible features and a solid, heavy-duty structure that combine to create an excellent hand router for a variety of purposes.
We recommend this machine for anyone in search of a good, solid beginners' router. We also recommend it for customers who want a lot of precise control in their woodworking jobs but still want to use a handheld machine.