In Brief: PORTER-CABLE 892 Router Review
PORTER-CABLE 892 is a fixed-base router with easy adjustment features with a quiet and efficient performance. It has a 2-1/4 peak horsepower that delivers variable speed between 10,000 and 23,000RPM. It weighs 9lbs and it is useful in performing woodwork routing tasks. It is a viable option for woodworkers, Jobsite contractors, and DIY enthusiasts.
PORTER-CABLE is a consistent tool manufacturing company. This company has set high standards by producing power tools with high-quality and performance for a wide range of users.
PORTER-CABLE 892 is a powerful fixed-base router that offers smooth and powerful routing outputs. The router has different parts and components that ensure its ease of use and efficiency.
Key Specifications of POTER-CABLE 892
PORTER-CABLE 892 delivers great routing results with the aid of its 12amp, 120V motor. It has a height of 12.81" and a weight of 9lbs, which makes it easy to handle and use.
The router has a 2-1/4 peak horsepower motor that delivers a variable no-load speed of 10,000 to 23,000RPM. The corded router has a 1/2" and 1/4" collets that accept different sizes of shank bits.
PORTER-CABLE 892 comes with a carrying case for easy storage and transport. It features a rack and pinion adjustment that ensures fine depth settings up to 1/128".
The video below shows the PORTER-CABLE 892 router in use:
Read the long list of PORTER-CABLE 892 specification below :
Specifications
Model No
PORTER-CABLE 892
Powered By
Corded
Speed (RPM)
10,000 to 23,000
Brushless Motor
No
Power (HP)
2-1/4
Base Dimension (inches)
6"
Weight (lbs)
9
Based Type
Fixed
Collet Size (inches)
½", ¼"
Unique Features
Efficient and Quiet Performance
Easy Adjustment Features
Above-table Changes

Top Features to Look For
The design and structure of PORTER-CABLE 892 account for its unique features.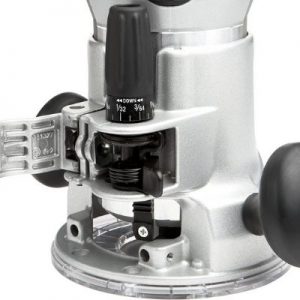 Source: Amazon
Efficient and Quiet Performance
This router model has a soft-start feature. Its motor has a full-time electronic feedback that maintains its speed allowing it to route through woods of variable thickness efficiently.
Easy Adjustment Features
PORTER-CABLE 892 has a dual-position switch that allows the operator to cut power and at the same maintain total control of the router with both hands on its rubber handles. It also has a durable latch lever that enables motor release for the transition between bases and fast coarse depth adjustment.
Above-table Changes
This model has features that ensure quick and versatile above-table changes. With this feature, you can adjust bit height, lock the spindle, and clamp the motor within few seconds all above the router table.
Power and Performance
The performance of PORTER-CABLE 892 is a display of its efficiency. The 12amp, 120V motor of the router allows it to perform tough routing activities.
The router has variable no-load speed of 10,000 to 23,000RPM, which ensures a matching speed for each task. It also has a 2-1/4 peak horsepower and 3-1/2" motor diameter that delivers effective performance.
The router has a spindle lock feature that allows single wrench bit changes. Its rack and pinion adjustment allow fine depth setting up to 1/128". It has a dual collet size of ½" and ¼" to allow bits of variable sizes.
Ease of Usage
Source: PORTER-CABLE
The features of PORTER-CABLE 892 allow it to fit to perform different task easily. These features allow users to make use of it without stress or much experience.
The router provides perfect grip and control with the aid of its overmolded grip handle. The corded router has a variable no-load speed that allows the user to route through different woods with the exact speed needed. It also features a carrying case for easy portability.
It also features a durable latch lever that allows fast and easy coarse depth adjustments and motor release for easy base changes. Its dual-position switch and above-table changes feature also enhance its easy of usage.
Ease of Maintenance, Repair and Warranty
Ease of Maintenance
It is essential to ensure that your power tool is maintained properly to ensure its longevity and optimum performance. These are some maintenance procedures for PORTER-CABLE 892;
Always lubricate the necessary parts and surrounding mechanism.
Always run a check on the router before and after use.
Clean and keep away from dust.
Always ensure proper storage when not in use.
Repair
PORTER-CABLE has made provisions for the repair of their products, so you shouldn't worry about the repair of your router. What you have to do is to take the defective product to an authorized service center.
Warranty
The warranty offers for PORTER-CABLE 892 includes;
1-year free service offer on the product.
90-day money-back guarantee offer.
3-year limited warranty offer.
This warranty does not cover products sold in Latin America. It also does not apply to products not registered under PORTER-CABLE or products that have defects due to the user's mishandling or misuse. You can visit their warranty page here or call (888) 848-5175 for more information on these offers.
You can also register your products here.
Price of PORTER-CABLE 892
PORTER-CABLE 892 is a cost-intensive router. This router model is suitable for buyers with high budgets. Buyers with a low or medium budget will find this router model above their price target. At this price, you can get other combo kit router models from other brands but the features and warranty offer of PORTER-CABLE 892 make it worthy of its cost.
Pros and Cons of PORTER-CABLE 892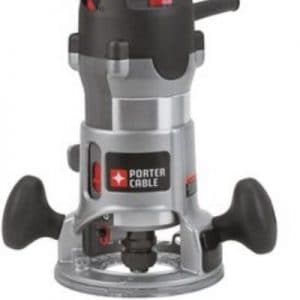 Source: PORTER-CABLE
Pros
Easy to use with efficient power delivery.
Soft grip handles.
Easy adjustability features.
Versatile and moveable base.
Cons
Relatively expensive.
Lacks LED feature.
Short range no-load speed.
Who Should Buy PORTER-CABLE 892?
PORTER-CABLE 892 is a highly efficient and durable router with high power and performance that enable it to carry out different woodwork routing operations. The router is suitable for a wide range of users.
It is an ideal power tool for Jobsite contractors, technical workers, construction workers, professional woodworkers that need a router for their medium and large scales woodwork routing operations. Homeowners and DIY enthusiasts with a high budget can also purchase this router model.
Our Recommendation
PORTER-CABLE 892 is a good, reliable, and efficient router for various routing tasks. If you are a user that needs a good router for his or her commercial or industrial woodwork operations, PORTER-CABLE 892 is a valuable option to go for as long as your budget capacity is high enough to secure its services.
Last update on 2023-12-03 / Affiliate links / Images from Amazon Product Advertising API