In Brief: Poulan Pro PP20VA46 46 Lawn Mower Review
This lawnmower works perfectly for a long time and is suitable for use on lawns ranging up to 2 acres, with many options including hilly yards, rugged, and even flat ones. It comes with a 20 HP twin-cylinder engine with an automatic choke start system for your convenience and ease of use.
I loved this machine during cold starts. The Briggs & Stratton engine quickly powers up without the need for choking or priming, thanks to the auto-choke mechanism.
Its Pedal Operated CVT Auto transmission is among the fastest and most sophisticated in its category. You will never need to press or pull on a clutch lever when changing direction or adjusting speed for the machine.
When you experience its utility, you will find out that this machine works like an automobile, cruising at speeds of 8MPH, all at the push of a foot pedal.
This mower has many more exciting features that you'll only learn by reading this article. Steady yourself!
Key Features of Poulan Pro PP20VA46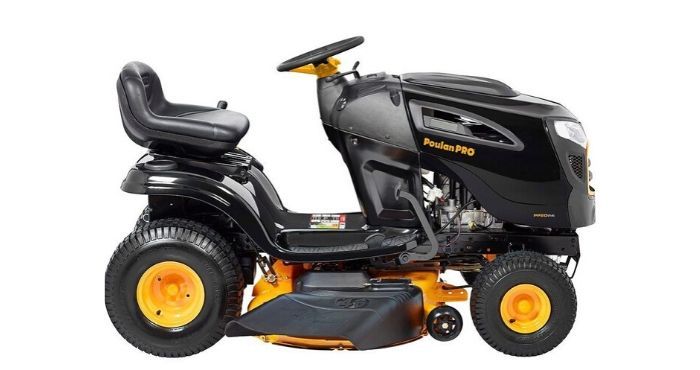 For outstanding durability, the Poulan Pro PP20VA46 46 Riding Lawn Mower comes with a reinforced steel front axle, which boosts stability and machine longevity.
The cutting deck measures 46-inches and is made of a 13-gauge steel deck for powerful and precise cuts.
With a mow-in-reverse feature, the steel blades always remain in continuous motion and are never disengaged. This saves you time for mechanical alteration when switching on from forward to reverse direction and vice versa.
The deck comes with powerful blades and is assisted with up to 6-height adjustment for versatility on grass height.
It also has an impressive 6-inch cutting radius, which comes in handy when navigating rugged terrains and areas with many obstacles.
Click the following link to access the demonstration video for this lawnmower model:
Here is a quick table on the key specs of Poulan Pro PP20VA46 –
Parameters
Details
Lawn Mower Type

Ride On
Cutting Width

46 Inches
Transmission

Automatic CVT
Power Type

Gas
Engine Power

20HP, 656 cc
Front Wheels Size (in.)

15
Rear Wheels Size (in.)

20
Cutting Style

Overlapping Twin Blades
Weight

438 lbs
Cutting Height Options

6 Positions
Front Axle Type

Pivoting Cast Iron
Turn Radius

6 Inches
Engine Make

Briggs & Stratton
Product Height

42 ¼ Inch
Unique Features
Here are some of the best unique features this mower has on offer:
Anti-Scalp Wheels
We recommend that you buy this specific model if you are to use it on a hilly yard, or if your yard is bumpy and uneven.
It features anti-scalp wheels, which are effective in evading scalping and sliding that occurs when mowing in wet grass, especially in hilly yards and rough terrains.
The rear wheels are also large and wide enough, 20-Inches, with Turf Saver Treads that give incredible traction.
They help the mower avoid ruining your perfect cuts by avoiding traction tracks. They also provide an excellent and comfortable ride.
Mow-In-Reverse Option
Poulan Pro PP20VA46 46 Riding Lawn Mower is among the few options of riding lawnmowers with this exciting feature.
When in reverse motion, the operator doesn't have to engage and disengage the rotor blades again. Its motor keeps running them in a continuous motion for a smooth cut even with a change in direction.
Ergonomic Headlights & Cupholder
At times, when you get caught up at dusk, it doesn't mean that you abandon your cut and leave your grass incomplete.
The Poulan Pro PP20VA46 is enabled with two powerful headlights that effectively illuminates your front for clear mowing even with minimal light.
It also comes with a cup holder on the operator's right side where you can carry refreshment whenever you need it, for a wholesome experience.
Power, Design, and Durability
Power
Poulan Pro PP20VA46 46 Riding Lawn Mower is run by a modern 20HP V-Twin Engine for superior, powerful cuts, in any type of grass.
The engine is powerful enough to enable this lawnmower to run at a maximum speed of 8MPH with the rider on.
The pedal-controlled CVT transmission enables you to easily switch between a forward and backward motion for quick maneuvers in your lawn.
Design
To make sure the mower can support your full weight, its front axle is fashioned with sturdy cast iron for extra strength and durability.
Go through a bumpy ride with the PP20VA46 without the worry of shocking the axle whatsoever.
Durability
The rear wheels come larger and wider than the front, fitted with anti-scalp treads to minimize scalping in hilly and rugged yards effectively.
Its design also includes a cup holder for your favorite beverage while mowing. Available too are free attachments for bagging and mulching.
Cut Quality and Available Options
For the cutting options, this lawnmower has enough functionality to brighten any homeowner's face. The Briggs & Stratton engine is satisfactorily powerful for a tractor lawnmower.
It boasts internal pressurized lubrication, which enables the tractor to operate on sloping yards without going dry quickly.
With this mower, you are getting a wide enough 46-inch cutting deck, which covers more ground, enabling you to cut a large area with minimal effort and time.
The optimal lawn size you can operate with this machine is 2-acres, which it does without strain.
When cutting on longer grass, the reinforced deck is vented in the interior. It gives the machine ability to draw air from the top of the cutting deck, which maintains constant airflow underneath the deck.
Even when dealing with uneven yards using the anti-scalp wheels, this mower prevents you from cutting your grass too short.
It also features a reinforced front axle with a 6-inch turning radius, which makes the Poulan Pro PP20VA46 an economical fit.
Performance and Ease of Use
Poulan Pro lawn mowers are among the most preferred lawnmowers in the market today, due to their comfort and ease of operation.
All this is enabled by the powerful engine in them that don't need choking or priming when starting.
Plus, the Fast CTV Engine Automatic Transmission for forward and reverse motion is pedal-controlled for convenience. It also enables the mower to robotically pull heavy objects when you want to avoid carrying them.
With a vented cutting deck, bagging performance is superior, and the cut quality excellent. The sleek airflow effectively discharges the clippings to under the deck for easy collection and mulching even with tall and heavy grass.
There is no fuss while starting the engine, controls are easy to understand, and the operator's seat is plush and comfortable with a fender for folding on to prevent sliding.
The seat is gracefully poised for easy access to the steering wheel.
Maintenance, Repairs, and Warranty
Poulan Pro PP20VA46 46 Riding Lawn Mower requires minimal assembly once the product is delivered. You will, however, need simple tools such as a wrench, tire pressure gauge, and pliers to keep it in check,
For optimal maintenance, you need to check on tool items, including deck levelness, tire pressure, brake system, condition of the blade, battery level, engine oil level, inspect the muffler, and replacing its spark plug when necessary.
Warranty
Poulan Pro PP20VA46 is backed by a ten-year limited warranty both on the deck shell and transmission belt.
Reach the manufacturer via (1-800-849-1297) this cell number or send an email to [email protected] or Visit: https://www.poulanpro.com
Price of Poulan Pro PP20VA46 46 Riding Lawn Mower
Customers get solid value for their money with this lawnmower. It contains most of the features you'll find in higher priced models and better. Its ergonomic plush seats simulate the feeling of sitting on pure luxury.
The Poulan Pro PP20VA46 is a mower to spend those extra bucks in as it offers additional features than other mowers in the category.
Its cutting floating deck is reinforced, making it more durable than normal poised decks in cheaper models. On the overall, you won't regret a penny you spend!
Who Should Buy It?
For commercial purposes and extensive yards measuring 2 acres or more, this is the perfect mower. Its powerful engine can push the machine to unimaginable limits, plus you'll barely get weary on the plush seat.
This mower brings out the best in you, with the anti-scalp wheels enabling smooth mowing in hilly yards and rugged terrain.
It is also a perfect fit for mulching and especially bagging, thanks to the vented floating deck.
Why We Like It
It runs for more extended periods, cuts better, and with comfortable operation, this mower is the perfect value for your money.
A rugged steel hood covers the engine and other mechanical parts for extra protection. Its deck is spring-enabled for more effortless height adjustment and flexibility.
Revel in a fast pedal-controlled auto transmission and a powerful engine that won't give up on you before you complete your job.
This lawnmower has a wide 6-inch turning radius and with large fuel that doesn't need constant refills.