In Brief: Powermatic 1610079 Jointer Review
A power jointer such as the Powermatic 1610079 provides you with 2hp power to complete joinery tasks in no time. The lever control that comes with this machine allows you to adjust its setting to suit various operations. The icing on the cake is that it has a 5 year warranty.
Powermatic has an impressive number of products for woodworkers. The company headquarters is in La Vergne, Tennessee, USA. Their products are distributed all over the globe, which explains why they're a household name.
Powermatic products range from power saws, generators, and hand drills to Dovetail machines.
Key Specifications of the Powermatic 1610079
The Powermatic 1610079 is multifunctional. Apart from completing joinery work, it can also do a little bit of planing and cutting.
Having this machine in your workshop helps you save some floor space compared to if you have a separate machine for all of these operations.
Woodworkers love jointers made from high-quality materials. Jointers made from cheap metals break down easily.
The Powermatic 1610079 is made from a combination of steel and iron-cast. It doesn't break down from wood pressure.
Lastly, you will love its fence design, which by the way, comes with a non-mar, which minimizes scratches when it's adjusted.
Read the long list of Powermatic 1610079 specs here :
Specification

Model No / name
1610079
Type
Open-top
Power (hp)
2
Bed size (in)
8 inches
Table Size (LxB)
8 x 82
Knife adjustment (no)
3
Cutting depth (in)
1/8 inches
Dust collection (y/n)
Yes
Weight (lbs)
744
Warranty
5-year
Other Features
1. Handwheel fence control
2. Electrical start button
3. Fence tilts at 45 degrees

Unique Features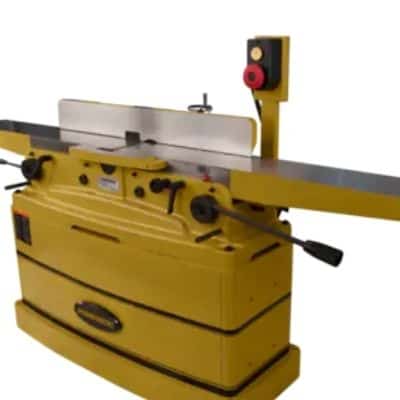 There are some impressive features this jointer possesses.
Some of which will allow you to complete more woodwork projects with less fuss.
Parallelogram Design
The biggest advantage jointers with parallelogram designs have is that they produce better contact between the blade, woodblock, and infeeds.
This way, it's easier to flatten woods.
Also, parallelogram designs minimize wood chips from flying around. However, this also depends on the type of cutter head the machine uses.
Handwheel Operations
The problem with using lever adjustments is that they're used based on clear intuition, and the lever might get in your way in the middle of an operation.
Handwheel adjustments provide more control and better maneuverability. A greater part of this machine comes with handwheels that allow you to adjust them.
For more information about the features, check out this video :
Power and Performance
Unless you have an energy-bank somewhere, jointing the edges of wood lengths of over 20 inches would take weeks if done manually.
Unfortunately, your clients can't wait for you for that long. The Powermatic 1610079 optimizes your workflow and allow.you deliver better results.
This machine is powered by a 2 hp motor that delivers 230 volts of energy during woodworking projects. This goes beyond the usual 1hp most jointers come with.
While a 2hp motor provides quicker cutting, they tend to produce a lot of noise during operation.
In terms of table size and the length of wood this machine can work on, this jointer has one of the best in the market. 8-inch bed jointers aren't that common.
And a few of them that are available only work on wood length of around 50 inches.
The extra inches with the Powermatic 1610079 won't come into use, though. This is because most surfaces you will have to joint would be around 6 inches. But you never can tell.
Ease of Usage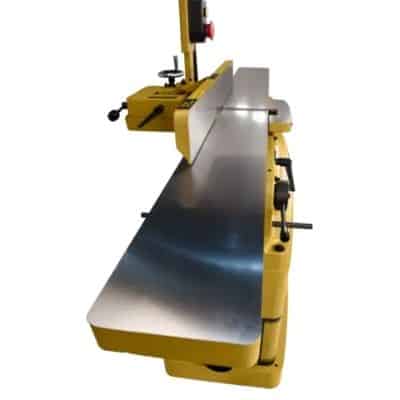 Power jointers take skill and practice to use, and the Powermatic 1610079 isn't any different. However, it won't take long before you get used to all its controls and tuning options.
For instance, when it comes to the fence, you don't need to grab it to tilt. There's a hand wheel that can be you with that.
The positioning of the power switch, on the other hand, is located in a way that guarantees safety.
Your hand won't come in contact with the blades, and neither will you have to stretch or slouch your back to reach.
Ease of Maintenance, Repairs, & Warranty
The Powermatic 1610079 on a motor, so you won't have to carry out the same maintenance procedure required by engine-powered machines.
Not once will you need to change any air filter or spark plug. The only precautions you have to take is to clean the blades after each use.
We do not recommend you work on wood if the knife blades are blunt or chipped.
And as soon as you notice that the blade is becoming dull, you have to change it. For the remaining body parts, always lubricate with glue to minimize friction.
With a 5-year limited warranty, be rest assured that you can always get a replacement if anything goes wrong with its parts.
Price of the Powermatic 1610079 Jointer
The price of this jointer is on the higher end.
It's designed for advanced cabinetry and furniture work. It sure saves you a lot of time and effort, but you will have to empty your wallet for that to be possible.
This machine doesn't come cheap, and you will agree that it's still a good bargain if you consider its warranty period.
Pros and cons of the Powermatic 1610079
From a glance, you can see that this machine isn't the most solid piece. There are a few downsides we've noticed, and we've mentioned them below.
Pros
Precision and accuracy during woodworking operations
Heavy-duty body design
Power-button positioned with maximum safety in mind
Cutting depth of 8 inches
One-push start button
Non-mar reduces scratches
Cons
Table heights aren't adjustable
Occupies a lot of workspaces
No dust port
Who Should Buy the Powermatic 1610079 ?
This jointer has a high price tag. We only recommend you get this if you usually work on advanced cabinetry products that require a lot of joints.
Most of the time, you will be working on projects which require just 6 inches of bed size.
For this reason, if you find other alternatives that provide the same features with this machine offer, it won't be a bad idea.
Our Recommendation
We were impressed with the table and bed size. We also love the integration of a hand wheel rather than a lever.
The positioning of the power switch is also a bonus. If it fits your budget, it's worth the money.
Last update on 2023-12-03 / Affiliate links / Images from Amazon Product Advertising API