In Brief: Powermatic 1610086K Jointer Review
The Powermatic 1610086K jointer is more than an average jointer. It's designed to eliminate rough edges and give woodworkers the kind of accuracy that low-end jointers can't. This jointer offers an adjustment lever with which you can easily adjust the cutter speed relative to the position of the table. It also features a wheel-operated worm gear for fence tilting. This jointer has been specially designed for professionals.
Powermatic has carved a niche for itself in the manufacturing world. They're the leading producers of woodworking tools, and they provide designs with a long usability period.
Powermatic products are known to be durable and offer the exact precision that woodworkers need.
The company headquarters is in La Vergne, Tennessee. If you take a stroll to their site, you will find anything ranging from drill presses and shapers to saws and planers.
Key Specifications of the Powermatic 1610086K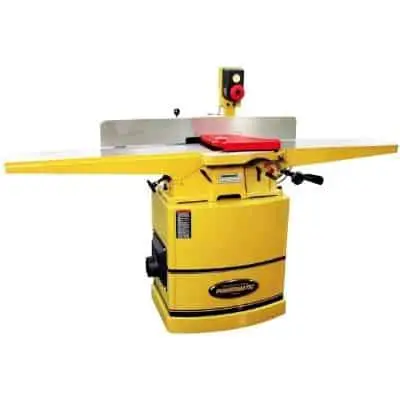 The Powermatic 1610086K jointer is designed to offer accuracy, as well as easy user functionality. It's designed in a way that all its buttons are easy to reach without slouching or bending your back.
Even better, it comes with a wide enough table to support a wood length of up to 73 inches. Plus, the handle supports fence tilting.
However, when doing so, there's a coating that prevents the table from sustaining scratches during adjustment.
Lastly, this jointer is the one for you if you need something with high power output. Its power rating of 2HP makes it ideal for professional woodworkers.
For more information about the features of this jointer, take a look at this video :
Read the long list of Powermatic 1610086K specs here :
Specification
Model Number / Name
16100864
Type
Benchtop
Power (hp)
2
Bed size (in)
8''
Table size (LxB)
73x8½
Knife adjustments (no)
54 four-sided helical inserts
Cutting depth (in)
8 x 1/2
Dust collection (y/n)
No
Weight (lbs)
518
Warranty
5-Year
Other features
1. Non-mar for scratch reduction
2. Wheel-operated worm gear
3. Level adjustment

Unique Features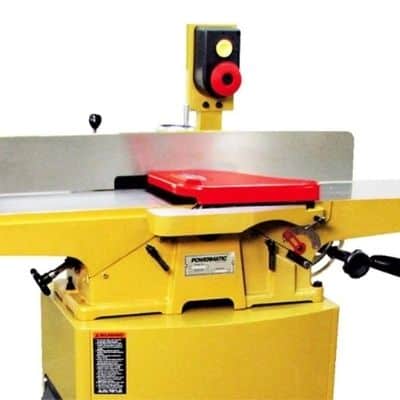 There are some impressive features that this jointer possesses, some of which will allow you to complete more woodwork projects with less fuss.
Adjustment lever
The Powermatic 1610086K jointer sports an adjustment lever. This way, it's easy to adjust the depth of the table to the thickness of the wood. A
s such, it's easier to meet the demand of every project.
The advantage this jointer has over the rest of the bunch is its helical head. With this, you only need a few passes to smoothen the rough edges of the wood.
Extra Space For Long Wood
This jointer uses an 8″ bed. However, the table can accommodate a wood length of up to 73 inches.
The motor that comes with it supplies 2HP of energy to enable seamless operation on woods of varying sizes and thickness.
Power and Performance
As mentioned earlier, the Powermatic 1610086K jointer has a 2HP motor. This allows it to plunge through soft and hardwood of varying thickness.
This motor allows you to achieve the smoothness you want in one pass.
The presence of a motor should tell you that this tool runs on electricity.
To meet its power needs, you will need a heavy-duty generator if you need to work with this jointer during a prolonged power outage.
Ease of Use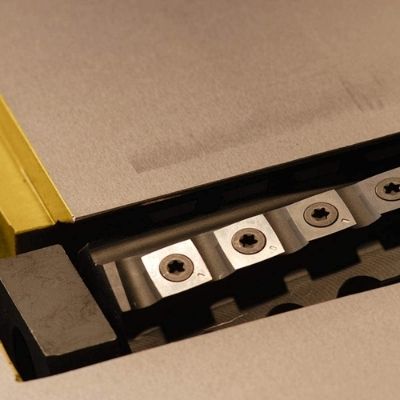 You won't need a lot of technical know-how to use this tool. It's powered by electricity. Hence, you will only need to power it on by hitting a start button.
In terms of button configuration, all the controls of the jointer are positioned in a way that they will be easy to reach without bending your back.
Also, the wheel-operated worm gear allows the user to tilt the fence during operation for more flexibility. The only disappointment here is the absence of a dust chute.
This means if you're using the machine indoors, it's bound to get messy in your workshop. There's no means of collecting dust or chips.
Ease of Maintenance, Repairs, & Warranty
Every Powermatic product is covered by a 5-year warranty that covers defects of body parts.
If any of the parts need repair within the warranty period, you can reach out to Powermatic for technical support.
However, the warranty doesn't cover defects due to misuse, mishandling, or lack of maintenance. Negligence on the part of the users won't be acknowledged.
Furthermore, damage from improper repair won't be covered.
In terms of maintenance, special attention should be paid to the cutterhead and sharpening knives. We do not recommend working with a blunt knife.
All knives should be kept sharp and cleaned after each use.
Price of the Powermatic 1610086K Jointer
A few buyers have lamented the price tag of this tool.
It's quite pricey, but considering the features that come with it, it's worth the investment.
It limits manual labor, allowing you to deliver your best work at a faster rate.
Pros and cons of the Powermatic 1610086K
At first glance, this could be the perfect jointer, but there are a few downsides we ought to bring to your attention.
Pros
Easy to use
Quick and easy start
Lever adjustment
Powerful motor for better accuracy
Cons
Absence of dust chute
Blades get easily blunt
Who Should Buy the Powermatic 1610086K ?
This jointer is ideal for those who need to remove twists, wraps, and uneven cuts from rough lumber.
Due to its helical blade design, you will only need a few passes to achieve the kind of results you want.
This model is not for beginners or intermediate woodworkers. It's designed for professionals, especially those who have large projects to complete.
Our Recommendation
We love the fact that this jointer delivers quality results with precision. However, we can't just shove its price aside.
It's an expensive tool to acquire, especially if you're just getting started with a woodworking business.
To be on the safe side, we recommend you only go for this if you need to work on long pieces of wood, mostly lumber with rough surfaces.