In Brief: Powermatic 1791213 Planer Review
The Powermatic 1791213 15HH 3HP 15-Inch Planer includes a 3HP motor and a 15-inch bed. It comes with a built-in cast-iron stand that keeps it securely in place and reduces the risk of wobble and arrives fitted with long-lasting steel rollers. This floor standing machine offers commercial power in a residential size.
The Powermatic company began in 1921 and quickly grew, eventually becoming the staple of the woodworking and lumber community that it remains today.
This company manufactures high-quality woodworking machinery and equipment for home and commercial use.
As part of the Powermatic company's product line, the Powermatic 1791213 Planer combines the best of the residential woodworking world with the most the commercial side has to offer.
The result bridges the gap between the two applications and gives all users what they need.
Key Specifications of the Powermatic 1791213
The Powermatic 1791213 planer provides high-quality cutting and professional-grade results.
This durable machine features a powerful 3HP motor and a floor standing design that makes it an excellent addition to both professional and home hobbyist workspaces.
Check out the Powermatic 1791213 in action here –
Read the long list of Powermatic 1791213 specs below:
Parameters
Details
Model No/Name

1791213
Type

Floor
Power (HP)

3
Bed Size (in.)

14-7/8
Table Size (l x b)

48 x 15
Knife Adjustments

1
Cutting Depth (in.)

3/16
Dust Collection

Yes
Weight (lbs.)

537
Warranty

5 years
Other Features
Helical cutterhead
Three V-belts
Steel infeed and outfeed rollers
Accessories
Cast-iron table and extensions
Cast-iron handwheel
Power cables
Unique Features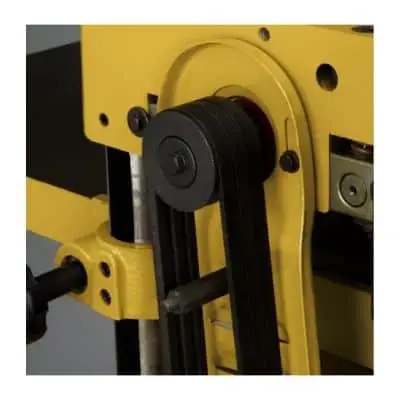 This planer includes a triple V-belt design that helps keep it powered as well as steel rollers and lockable casters that make it more convenient to use.
The planer remains as user-friendly as it is professional thanks to these features.
Triple V-Belt Design
The machine features a triple V-belt design that transfers plenty of power to the cutterhead through the use of three separate belts. This design also ensures the machine operates efficiently but remains as quiet as possible.
Steel Rollers
The planer includes two separate steel rollers for convenience and performance. The first of these rollers features serrated steel construction and works as the infeed, while the second provides smooth outfeed.
Lockable Casters
Although this machine weighs over 500 pounds, it includes built-in casters that can be locked and unlocked as needed in just a few seconds. This allows you to move the planer around the workshop if you need to operate it in other locations.
Power and Performance
The impressive 3HP motor included with this machine gives it plenty of power, and its three V-belt design makes sure that power reaches the cutterhead as needed.
The machine tackles a variety of material types and thicknesses thanks to this design.
The planer performs very well and creates professional-grade results with every pass. Most customers find it easy to get the results they want with just one or two passes.
Additionally, the machine includes simple controls perfect for any skill level.
Ease of Usage
The machine includes an ergonomic handwheel made of cast-iron and built to last. It also comes with side-mounted controls on a pedestal that give the user the chance to make adjustments within easy reach of their work.
This machine offers the perfect solution for intermediate and advanced users.
Although beginners may have a learning curve when working with it, the simple controls and user-friendly interface make it easy to understand in a short time.
Ease of Maintenance, Repairs & Warranty
Customers in need of replacement parts may contact customer service or check the Powermatic company's web site.
The web site offers a convenient parts catalog with a simple lookup function that makes it easy to find just what you need.
Check the machine regularly and repair or replace any parts that look damaged or worn. Tighten screws and bolts as needed and clean dust out of the internal compartments using a clean, dry rag when necessary.
Every 2,500 hours, the gearbox requires additional lubrication. The rest of the machine does not require any more lubrication. When you lubricate the gearbox, check the table and wax it if necessary for smooth operation.
The Powermatic company provides a five-year limited warranty that covers replacement parts and repair on this machine.
It does not cover problems caused by user error, misuse, or normal operation, but it does cover everything else.
Customers who plan to use this machine for industrial purposes receive a two-year limited warranty instead.
This warranty includes the same limitations as the residential variant. Replacement parts and consumable items receive a 90-day money-back guarantee.
For more warranty information, contact the Powermatic company's customer support line by calling 1-800-274-6846.
Price of the Powermatic 1791213
The Powermatic 1791213 planer offers industrial-grade results and comes with everything you need to start using it.
With a cast-iron and steel construction and a built-in base, the machine meets any challenge you throw at it and lasts a long time as well.
This machine comes in at a much higher price point than most residential planers, but at an average cost when compared to other, similar commercial planers.
Customers who try this machine for either application feel it offers plenty of value for the price.
Pros and Cons of the Powermatic 1791213
Pros
Adjustments remain quick and simple
Dust collection stays away from your workspace
Knives last a long time
Machine works well for daily use
Cons
Some customers find this product difficult to assemble
Some customers find the machine wobbles more than others
Who Should Buy the Powermatic 1791213?
The Powermatic 1791213 planer works well for residential customers who need something more powerful than a portable or home-use planer.
The machine brings the strength and durability of a commercial product to home hobbyists.
On the other hand, commercial users also find this machine a welcome change of pace from other, larger equipment used in industrial workshops.
This machine provides professionals with a convenient way to work on small-scale projects.
Our Recommendation
The Powermatic 1791213 planer combines the best features of both commercial and residential woodworking in one simple machine. Customers of all skill levels enjoy working with this product and creating beautiful results with it.
We recommend this machine for commercial woodworkers who need a small machine for simple projects. We also recommend it for advanced home hobbyists who practice woodworking almost every day or tackle larger projects.
Last update on 2023-09-28 / Affiliate links / Images from Amazon Product Advertising API