In Brief: Powermatic 1791296 Model 209 Planer Review
The Powermatic 1791296 Model 209 20-Inch 5-Horsepower Planer offers plenty of space to work and power to get the job done. This floor standing planer features a 20-inch bed with and a powerful 5HP motor. It comes with its own enclosed stand made of cast iron and four high-quality knives as part of the cutterhead.
The Powermatic company began in 1921 as a small lumber sales operation in Tennessee.
It blossomed over time and eventually grew to include all aspects of the woodworking industry with a particular focus on creating machinery that lasts.
The Powermatic 1791296 Model 209 Planer combines convenient operation with high-quality results. It holds up well to shop use in a commercial setting for years and provides a smooth finish in as few passes as possible.
Key Specifications of the Powermatic 1791296 Model 209 Planer
The Powermatic 1791296 Model 209 Planer offers impressive commercial-grade floor standing planing functionality. This product includes an exceptional 5HP motor as well as an all-over cast iron construction built to last.
Check out the Powermatic 1791296 Model 209 Planer in action here –
Read the long list of Powermatic 1791296 Model 209 Planer specs below:
Parameters
Details
Model No/Name

1791296 Model 209
Type

Floor Standing
Power (HP)

5
Bed Size (in.)

20
Table Size (l x b)

25.75 x 20
Knife Adjustments

4
Cutting Depth (in.)

3/32
Dust Collection

Yes
Weight (lbs.)

880
Warranty

5 years
Other Features
Steel straight knives
Integrated casters
Chip breaker and pressure bar
Accessories
Cast iron table extensions
Enclosed base cabinet
Replacement knives
Unique Features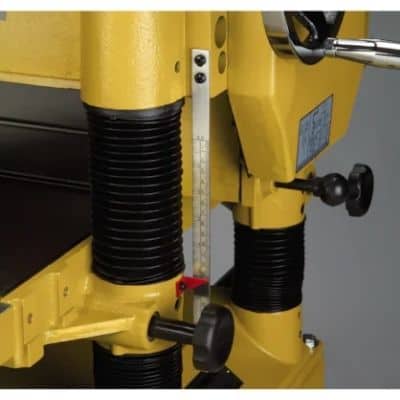 Combining steel straight knives with a chip breaker and pressure bar to reduce snipe, this machine includes multiple features designed to improve your project outputs.
The machine also comes with integrated casters that make it easier to work with.
Steel Straight Knives
The product features four steel straight knives that can cut smoothly through almost any type or condition of wood. These knives hold up well for a long time and offer simple replacement when the time comes to change them.
Integrated Casters
The all-over cast-iron stand that comes as part of this floor standing machine features integrated casters.
Coming in at over 800 pounds in weight, this machine offers no portability at all. The included casters make it easier to move it when needed around your shop.
Chip Breaker and Pressure Bar
The machine includes several features designed to reduce the risk of snipe, including a chip breaker and pressure bar. These features work together to cut down on the type of motion that causes snipe in the first place.
Power and Performance
Because this machine features a design intended for commercial operations, it comes powered by an exceptional 5HP motor. This motor allows the machine to tackle projects of any size or condition with no trouble.
Customers enjoy the high-quality performance this machine offers as well. It creates smooth results with just a few passes and allows users to work through many different project needs.
This machine's durable cast-iron design keeps it performing well.
Ease of Usage
This product remains slightly more difficult to use than some entry-level machines on the market.
With that said, however, it still offers a user-friendly interface and a fairly universal design. Any user with prior woodworking experience should find this machine simple enough.
Beginners with no prior experience may find a slight learning curve when it comes to this product. However, with just a little practice, even the least experienced beginner can create beautiful results with this machine.
Ease of Maintenance, Repairs & Warranty
The Powermatic company web site provides some replacement parts and consumable accessories for purchase online. However, customers should contact customer service for more assistance finding many replacement parts.
Clean dust and debris from the machine using a soft, dry cloth. Use a non-flammable solvent and a clean rag to remove residue from the feed rollers and table. Adjust tension often and treat the table with paste wax as needed.
The Powermatic company provides a five-year limited warranty on this machine when used for residential projects. The warranty drops to only one year when used for commercial purposes, however, so keep this in mind.
The warranty covers the initial purchaser of the machine and includes damage or malfunctioning due to manufacturer error.
It excludes normal wear and tear or problems caused by user error, incorrect installation, or misuse.
For more warranty information, contact the Powermatic company at 1-888-804-7129.
Price of the Powermatic 1791296 Model 209 Planer
The Powermatic 1791296 Model 209 Planer remains a commercial-grade machine built for professional workshops. It features a large footprint and an oversized design as well as a powerful motor capable of tackling many tasks.
Because this machine works best for commercial applications, it comes in at a much higher price point than residential floor standing planers.
When compared to other commercial products, however, it remains at an average price with a good value.
Pros and Cons of the Powermatic 1791296 Model 209 Planer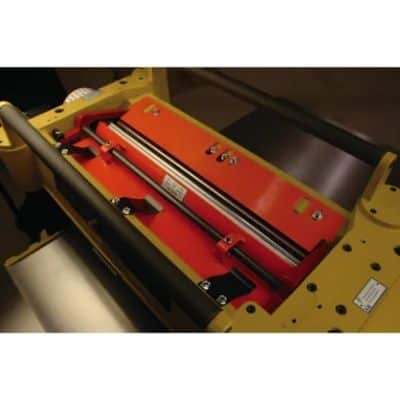 Pros
Creates smooth results quickly
Good customer service and support
Offers easy blade changes
Makes cleanup easy
Cons
Some customers notice casters breaking easily
Metal base may become dented over time
Who Should Buy the Powermatic 1791296 Model 209 Planer?
The Powermatic 1791296 Model 209 Planer gives users the chance to create beautiful planing results with a commercial-grade machine.
This heavy-duty product lasts a long time and features durable components that get the job done.
This machine works best for commercial applications or customers who enjoy woodworking as a hobby and sometimes also sell their services. The product may remain too large to fit into most residential shop spaces.
Our Recommendation
The Powermatic 1791296 Model 209 Planer combines high functionality with a user-friendly design and a powerful motor. The result keeps commercial customers satisfied and ensures outputs remain high-quality.
We recommend this planer for any commercial customer who needs a high-powered machine to tackle most types, conditions, and sizes of wood while at work.
We also recommend it for very serious home hobbyists who may also sell woodworking wares or services on the side.
Last update on 2023-12-03 / Affiliate links / Images from Amazon Product Advertising API