In Brief: Powermatic 1791317K 54HH Review
With a helical cutterhead and 40 carbide knife inserts, the Powermatic 1791317K could be the tool your workshop has been lacking all along. Compared to standard cutterheads, its helical cutterhead provides quieter operation and superior finish. Besides that, once it is installed, there is no need to adjust the inserts. If you want to have an environmentally-sound jointer, this is the machine for you whether you are a beginner or professional.
From a small corn mill to a renowned woodworking machinery manufacturer, the Powermatic story has been a successful one.
Since 2001, the company has been manufacturing and supplying woodworking machinery, such as planers, power feeders, mortises, panel saws, and jointers, among others.
Powermatic is committed to making your experience in the workshop pleasant, and this is echoed in its powerful, durable products.
The Powermatic 1791317K is one such product. With the numerous features it comes with, this jointer does more than just straighten your wood.
Key Specifications of the Powermatic 1791317K 54HH
Compared to typical jointers, this model leaves your piece of wood nicely flattened. Plus, it is noiseless.
Built to increase the ease and accuracy of your wood-straightening tasks, this jointer is one indispensable tool.
Stable footing is the secret to optimum accuracy. Powermatic had this in mind as they crafted the 54HH. It comes with a 21″×13″ base cabinet that places the surface of the table 32 inches above the ground.
The motor is mounted within the upholstery, and it is possible to convert it to use either 115 or 230 volts of power.
For easy adjustments of the belt tension, the motor is specially mounted. With this jointer, you will achieve more precise cuts thanks to the adjustment lever on the infeed table.
Read the long list of Powermatic 1791317K specs here :
Specification
Model Name/Number
1791317K
Type
Open stand
Power(hp)
1HP
Table size (L×B)
31½ inches
Knife adjustments (no.)
40 four-sided carbide helical knife inserts
Dust collection (y/n)
Yes
Weight (lbs.)
328 pounds
Warranty
5 years
Other features
Helical cutterhead
Top Features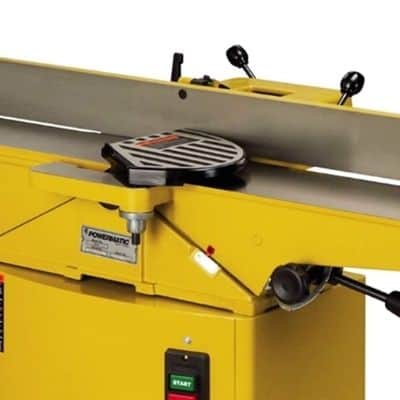 Here are some of the unique features to expect when you purchase this product.
Helical Cutterhead Design
Even though several cutterhead designs have the helical label, they still bear some of the liabilities associated with long-blade designs.
However, this isn't the case with the Powermatic 1791317K, as its cutterhead helical design is true and has unique carbide inserts arranged spirally for incredible performance.
The cutterhead provides smoother and quieter operation, as well as an even finer finish.
Also, the inserts are mounted to make impact with the wood at an angle of 14 degrees.
The result is a shear cut devoid of fiber disturbances – something that isn't possible with other designs. The carbide's durability coupled with the low impact means you will enjoy long years of service.
Long Infeed and Outfeed Tables
The cast-iron table is 66 inches long to provide more working surface. It is among the longest in its class and allows you to work with large pieces of wood.
Also, it uses the dovetail style of mounting, which keeps it aligned even with height changes.
With the 54HH table, adjusting is a walk in the park. You only need to use a hand wheel for the outfeed table and the handle for the infeed table.
Power and Wood-Straightening Capability
With its robust 1HP motor, this is a powerful tool that produces the straightest wood with the least amount of effort on your side.
Its infeed and outfeed tables are long, giving you more working space, and its cabinet base provides stability and accuracy.
With the helical cutterhead, you get smoother, quieter cutting that is unattainable in other systems.
For your convenience, the fence controls are placed at the center.
Ease of Use
Because Powermatic had the operator in mind when they developed this model, using it is quite easy. Let's begin with the setup.
You will not require professional help, as you can just follow the installation guide. Making adjustments in the belt tension is also easy thanks to the motor's special mount.
For precise cuts, the fine adjustment lever on the infeed table has you covered. Also worth mentioning is the dust collection chute that is located at the base.
It evacuates debris from under the cutterhead through a small port near the ground, so your space doesn't have to be messy.
This design also ensures the hose stays out of your way to avoid tripping accidents. For your safety, you can lock the push button switch to prevent your machine from accidentally starting.
Ease of Maintenance, Repairs, and Warranty
If you are worried about maintaining this jointer, you need not be. It comes with a low maintenance factor, and the 54HH only requires you to keep it clean and lubricated.
Occasionally, you may need to make replacements.
Use a strong solvent to remove pitch and gum accumulation on the blades, as leaving them could cause excessive blade wear, friction, and overheating.
When the blades become blunt, rotate them to obtain a fresh edge, or you can just replace them.
Lubricating the steel adjusting screws on the tables' raising and lowering mechanisms with grease is recommended.
It is also advisable to apply machine oil to the infeed and outfeed gibs to allow free sliding of the tables.
This model is backed with a five-year warranty that covers some material and workmanship defects.
It doesn't cover failures resulting from abuse, misuse, accidents, negligence, normal wear and tear, alterations, repair, or lack of proper maintenance.
Because the machine is designed for use on wood, using it on metal, plastic, or any other materials makes you ineligible for warranty.
For clarification, call the Powermatic customer support team on 1-800-274-6846
Price of the Powermatic 1791317K 54HH
I'd say that, for a jointer of its caliber, the Powermatic 1791317K 54HH 6-inch jointer is decently priced.
Though many may argue that several other cheaper options offer the same functionality, you won't regret spending a dime on this piece of equipment due to its cool features.
There is no point in going for cheaper alternatives that you'll need to replace in a short amount of time.
Pros and cons of the Powermatic 1791317K 54HH
Let's look at the upsides and downsides of this machine.
Pros
Precision in cuts
Easy to operate
Quiet
Assembly is easy
Made of durable material
Who Should Buy the Powermatic 1791317K 54HH ?
Anyone who needs neat, straightened wood could find this to be an important addition to their woodworking machinery collection thanks to the precise cuts.
It could also be a great choice for those in quiet neighborhoods, as well as the environmentally-conscious.
If you are looking for a machine with advanced controls and low maintenance costs, this could be a good place to start.
Our Recommendation
With the Powermatic 1791317K 54HH 6-Inch Jointer, it was love at first sight.
We loved putting it together and operating it, but it was its high level of performance that convinced us. We love that it is powerful, easy to maintain, and comes with a five-year warranty.
If you have been debating on whether to get it or not, here is a sign.
Last update on 2023-09-28 / Affiliate links / Images from Amazon Product Advertising API