In Brief: Powermatic 3250B Lathe Review
The Powermatic 3250B Wood Lathe comes with a 2-horsepower (6-amp) motor that delivers 230 volts of power. Made of heavy-duty, durable cast iron, it will hold up to regular use for a long time to come. Digital RPM readout makes it easier for woodworkers to get a more precise reading on their speed rate for improved accuracy.
Powermatic began humbly back in 1928 with business starting out in an old blacksmith shop.
It has been nearly 100 years since that beginning and Powermatic has since become part of a company known as JPW.
JPW owns several other well-known brands of power tool manufacturers.
Currently, Powermatic primarily produces their equipment in Taiwan, though JPW has locations across the globe.
Their headquarters are in Tennessee, though they also have operations in Switzerland, Germany, Russia, and China.
Key Specifications of the Powermatic 3250B
The digital indexing readout makes it far easier for woodworkers to get a more accurate speed setting.
When it comes to very precise woodworking applications, precision is king and being able to check RPM on a digital readout makes the entire process easier.
The control box is not only movable, but magnetically backed for the utmost in safety and versatility.
For precise, accurate woodworking operations, users need to be comfortable in their movements and ability to control the lathe.
The tailstock is built with an anti-rotation key as well. Combined with acme threads, operation is much smoother, limiting vibration or movement for a more precise lathe experience.
Most of all, the anti-rotation key helps to increase the longevity of the machine for extended usage.
Read the long list of Powermatic 3250B specs here :
Specification
Model Number/ Name
3250B
Ideal For
Wood
Volts
230
Current (amps)
6.2
Speed (rpm)
15-3200
Distance between centers (in)
36
Spindle thread (in)
1 ¼"-8

Overall dimensions
75 x 27 x 58
Weight (lbs)
682
Other Features
Brass tipped knockout rod
Top Features to Look For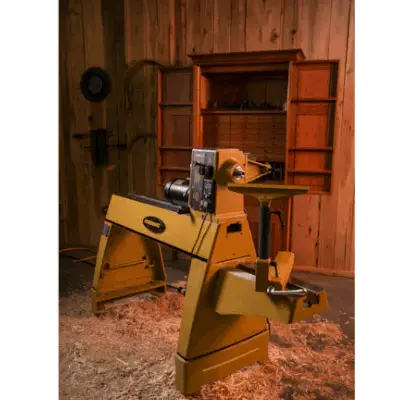 When looking to implement the most precise, accurate lathing experience, the Powermatic 3250B Wood Lathe delivers adjustable features and functionality that make it easier than ever.
Not only that, but there are a variety of safety measures that have been put into place to keep the user protected.
Variable Speeds
While most lathes deliver variable speeds, the Powermatic 3250B Wood Lathe allows users to maintain speeds as low as 15 RPM for safe, accurate woodworking.
With a variety of options all the way up to 3200 RPM, users can get the exact speed levels that they desire.
Digital Indexing
With older lathes, it can sometimes feel like guesswork trying to measure the speeds.
But the Powermatic 3250B Wood Lathe has a digital indexing readout that makes getting the precise speed necessary easier than ever.
More importantly, there is no question about the precision involved since the readout takes all guessing out of the process.
Adjustable Risers
The Powermatic 3250B Wood Lathe also has adjustable risers blocks that offer up to 4-inches of height adjustment.
Being comfortable during the turning process allows for better quality of work and that is what the adjustable risers blocks offer.
Power and Performance
Though there are certainly more powerful motors on the market, the Powermatic 3250B Wood Lathe is capable of delivering up to 6 amps of power with no problem.
More importantly, the adjustable speed settings allow users to get the exact amount of speed for more improved turning operations.
Ease of Use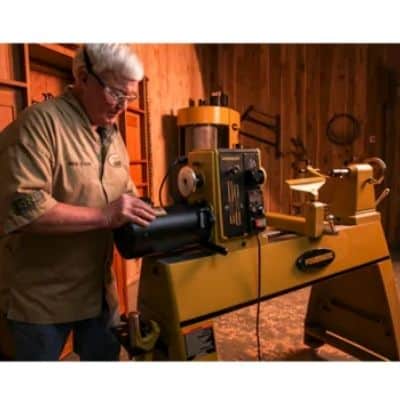 The Powermatic 3250B Wood Lathe is all about ease of use during turning operations.
The digital indexing readout makes it easy to determine exact RPM while the magnetic control box allows for greater versatility and precision while operating.
There are even improved tool rest placement options to provide maximum comfort to the user during turning operations. All of this comes together to produce a much more efficient, accurate turning experience.
Ease of Maintenance, Repairs, and Warranty
The quick-connect air hose makes it easy to keep this unit clear and free of debris, dust, and other materials that could build up within.
It is a good idea to replace cutting tools after a year or so to prevent excessive wear and tear or potential breaking of the tool.
The latter in particular could lead to damage with the other components of the lathe or with the working material.
Warranty
Powerstock lathes come with a warranty that is specified within the paperwork of that individual machine. They do offer a clear-cut one-year warranty on any of their accessories, however.
The warranty is meant to cover any defects from workmanship or materials, but it will not cover any issues that derive from misuse, negligence, or regular wear-and-tear.
For any questions about the limitations of the warranty as well as the specifics on what may be covered with the Powermatic 4424B Lathe, call the technical service team at 1-800-274-6846.
Price of the Powermatic 3250B
Compared to others on the market, the Powermatic 3250B Wood Lathe is one of the more conservatively priced.
While it doesn't deliver the power levels that some of the others on the market do, it offers a variety of features for improved accuracy and safety.
Customers were generally happy with the price point feeling that they can get shop quality turning without having to spend significantly more money.
Pros and cons of the Powermatic 3250B
Here are some of the pros and cons of the Powermatic 3250B Wood Lathe :
Pros
Digital Display
Adjustable Speeds
Anti-Rotation Key
Moveable Control Box
Who Should Buy the Powermatic 3250B ?
For shop owners that aren't looking to break the bank on a quality woodworking lathe, the Powermatic 3250B Wood Lathe is a perfect option.
Where it lacks in power, it makes up for in precision and safety.
Our Recommendation
The Powermatic 3250B Wood Lathe doesn't overpower you but it does provide a quality turning experience.
With additional safety features and the digital readout, ease of use is definitely there as well.
Last update on 2023-10-01 / Affiliate links / Images from Amazon Product Advertising API