In Brief: Powermatic 4424B Lathe Review
The Powermatic 4424B Lathe features a 230-volt motor, bringing up to 10-amps of power to any woodworking application. With a variety of variable speeds, users can choose their level of accuracy with greater precision. Built-in vacuum system makes cleaning up big wood chunks easier than ever.
Powermatic had humble beginnings all the way back in 1928, starting business in an old blacksmith shop.
In their nearly 100 years in the business, Powermatic has been producing power tools of a wide range, including their line of lathes.
Powermatic currently produces much of their product in Taiwan, though their parent company JPW has its headquarters in Tennessee. JPW also has operations in Russia, Switzerland, France, Germany, and China.
Key Specifications of the Powermatic 4424B
The most notable thing about the Powermatic 4424B Lathe is the variable speeds. Users can set it on low and work at just 40 RPM, allowing for the utmost safety and careful precision.
On the high setting, users can get up to 3000 RPM per minute for smoother cutting efficiency on larger projects.
For those who like drilling hole patterns, the Powermatic 4424B Lathe has a spindle lock as well as a built-in spindle indexing that is located on the headstock.
These headstock features also allow for the routing of flutes and other features that require equal spacing of a similar variety.
The Powermatic 4424B Lathe has completely digital RPM readout displays.
This allows users to get a more accurate reading on their speed for improved precision and accuracy regardless of the size of the woodworking project.
Read the long list of Powermatic 4424B Lathe specs here :
Specification
Model Number/ Name
4224B
Ideal For
Wood
Volts
230
Current (amps)
10
Speed (rpm)
40-3500
Distance between centers (in)
42
Spindle thread (in)
1 ¼"-8
Overall dimensions
83 x 36 x 65
Weight (lbs)
948
Other Features
Three Phase Power
Top Features to Look For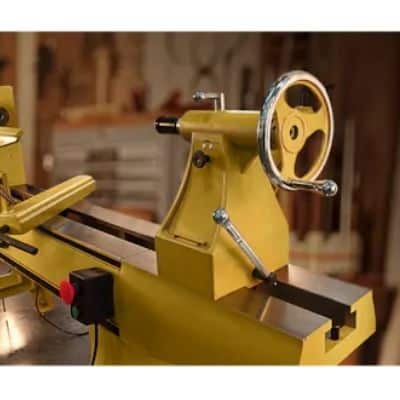 The Powermatic 4424B Lathe delivers factory-quality operations.
Whether that be through the variable frequency drive, the wide variety of dead centers or the task lamps that provide improved lighting and visibility, the number of options for this lathe are seemingly limitless.
Magnetic, Movable Control Box
The control box is magnetically backed and movable. This allows users to customize their level of versatility while providing the utmost in safety.
Other lathes will depend on the experience of the user to dictate safety while the Powermatic 4424B Lathe provides plenty of safety options.
Built-in Air Nozzle and Vacuum System
Clean up is one of the most annoying and time-consuming parts of the process. With a quick connect air nozzle for clearing dust, debris, and chips, clean up has never been easier.
Moreover, the built-in vacuum system provides a faster method for chucking out bowl blanks than ever before.
Sliding Headstock
The Powermatic 4424B Lathe delivers modern qualities as well. The sliding headstock has a digital RPM readout and an electronic variable speed setting.
This allows users to get a more precise reading of their RPM so that they can customize it as accurately as possible. No more guessing involved.
Power and Performance
The motor is capable of delivering 10-amps of power though the unit is built with a 15-amp quad receptacle.
That makes it easy to plug in any powered accessories that may be needed to complete a woodworking operation.
Moreover, the variable speed settings allow users to get the precise speed and power on each of their operations.
Ease of Use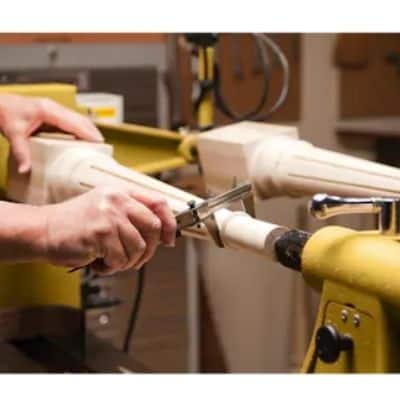 With digital readouts and an emphasis on safety, the Powermatic 4424B Lathe is easy to use.
Additionally, the brass-tipped knockout bar makes it not only easy to remove centers but won't damage them in the process of removal.
The Powermatic 4424B Lathe is all about safety and ease of use for the user.
Ease of Maintenance, Repairs, and Warranty
Maintenance is easy thanks to the built-in vacuum system and the quick connect air nozzle.
Cleaning and maintaining the machine comes down to cleanliness and regular inspection.
By keeping the unit free and clear of debris, you can save a lot of trouble that can be caused by excess dust or debris.
Warranty
Warranties on Powerstock lathes are generally specified within the paperwork of that specific device. They do, however, offer a limited one-year warranty on all of their accessories.
The warranty covers any defects from materials or workmanship but it will not cover issues from negligence or misuse nor will it cover regular wear-and-tear.
For any questions about the limitations of the warranty as well as the specifics on what may be covered with the Powermatic 4424B Lathe, call the technical service team at 1-800-274-6846.
Price of the Powermatic 4424B Lathe
The Powermatic 4424B Lathe is definitely not cheap and for good reason.
The improved safety measures, digital readout, and built-in cleaning functionality make it one of the most complete options on the market.
Those who purchased the Powermatic 4424B Lathe were generally happy with the price feeling that this unit brought value to their workshop or factory and the improved, modern features made it easier to use.
Pros and cons of the Powermatic 4424B Lathe
Here are some of the pros and cons of the Powermatic 4424B Lathe :
Pros
Digital Display
Built-in Cleaning Components
Adjustable Speeds
Moveable Control Box
Who Should Buy the Powermatic 4424B ?
Professional woodworking shops that are looking to add a modern piece of equipment should go with the Powermatic 4424B Lathe.
The digital readout provides greater precision and more accurate speed, while the spindle lock and all of its features allow for drilling hole patterns and routing flutes.
Our Recommendation
Precision woodworking depends on the user and the equipment at their disposal.
The Powermatic 4424B Lathe brings safety and precision to the task of woodworking.
The control box, brass-tipped knockout bar, spindle lock, and sliding headstock are just a few of the features that make this unit an exceptional piece of woodworking equipment.