In Brief: PowerSmart DB5023 Snow Blower Review
The PowerSmart DB5023 – a Single Stage Electric Snow Blower – is an affordable option for efficient, time-saving methods of clearing average amounts of snow off their walkways, driveway, and patios.
It weighs only 37 pounds, which makes it easy to use and comes with a convenient electric start.
The PowerSmart DB5023 is a corded electric snowblower with exceptional features.
PowerSmart is headquartered in Itasca, Illinois, USA. Their product lines are distributed by Amerisun, Inc, with offerings that include yard and gardening tools, but also other equipment for outdoor use.
PowerSmart has very competitive products. One example is the powerful PowerSmart DB5023 snowblower. It is specially designed to make your life easier.
Key Specifications Of the PowerSmart DB5023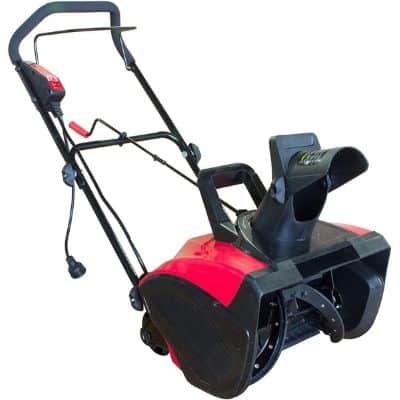 The PowerSmart DB5023 is an electric snowblower with a convenient weight of only 38 pounds. The 13 AMP motor has an easy electric start, saving time and effort.
Furthermore, the wide clearing width is 18 inches, which is considerably more than most other alternatives when it comes to electric snow blowers.
It is suitable for medium-sized sideways, pathways, and driveways, even after a big winter storm.
What is more, the design is ergonomic, ensuring the highest level of comfort and convenience. The motor is powerful and can handle heavy snow.
The cut depth of 9 inches makes it a powerful tool that anyone must have during the winter.
It also comes with a 1-year limited warranty, ensuring that the user does not experience any manufacturing defects.
Here is the long list of specs of the PowerSmart DB5023 Snow Blower :
Specification
Model Number / Name
DB5023
Powered By
Electricity

Engine Power
18 AMP
Clearing Width
18 inches
Ideal for how many inches of snow
9 inches
Warranty
1-year limited warranty
Start Mechanism
Electric
Other Features
Up to 30 feet of snow throwing distance

Unique Features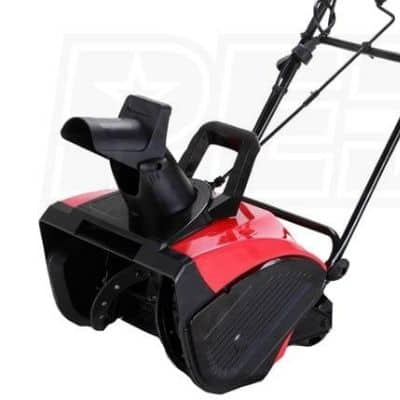 Below we consider some of the best and unique features that this snow blower has to offer.
Rubber Tipped Steel Auger
Steel is the number one choice for many garden and yard maintenance tools. You need it in order to withstand a powerful motor, ensuring an optimal life span of the product.
This tool helps the snowblower lift the snow and push it through the chute as quickly as possible and get the work done in no time.
The rubber tip ensures that the snowblower is protected against damage from hard objects you might encounter, such as nicks and chips.
18-inch Cutting Width
The PowerSmart DB5023 comes with an 18-inch cutting width, which means that you will be able to clear a large amount of snow in only one pass.
Most electric blowers do not have this capacity, so it's one of this model's highlights since they generally come with only a 12-inch cutting width.
This is especially important if your time is limited, and you want to finish clearing the path as soon as possible.
Adjustable Chute
Another great feature of the DB5023 is, of course, its fantastic 180-degree adjustable chute.
This means that the product comes with ample versatility, allowing you to clear the snow in multiple directions.
The adjustable chute allows the user to throw the snow in any direction it is needed, avoiding causing damage.
For instance, in case there might be rocks or ice, you can avoid throwing them into the vehicle or other objects that could be easily damaged.
For more information about the features, check out this video :
Power and Snow Clearing Capability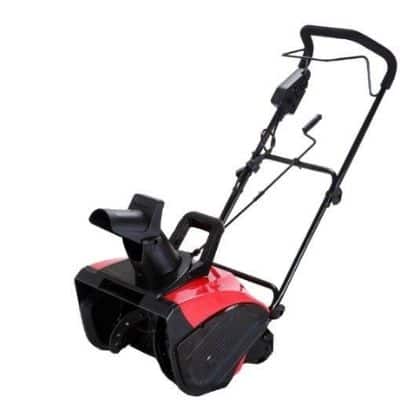 With a 13 AMP motor, which is approximately 2¼ horsepower, you get enough torque to clear heavy snow in only one pass. The product can throw the snow up to 30 feet distance.
The motor has a 120V plug, meaning that it can use its maximum power with ease, ensuring that your job is completed in no time.
It can run as much as you need it, which recommends it for a larger walkway, driveway, or patio.
Ease Of Usage
The Power Smart DB5023 is extremely easy to use. Apart from its lightweight construction, the foam-coated handle grip ensures that you benefit from maximum comfort when you use it.
Unlike other metal handles, the foam offers a cushioning effect, which reduces the pressure on your hands and distributes the force equally across the length of the handle.
The position of the handle is suitable for anyone with a shorter height. Lastly, the electric start ensures that you are ready to get the job time in the least amount of time possible.
Ease Of Maintenance, Repairs, & Warranty
As for any electric snow glower, as compared to a gas-powered one, the PowerSmart DB5023 comes with the advantage that the maintenance costs are as low as they could get.
It is a clean energy tool that does not produce any emissions, and you will make important savings in terms of fuel and maintenance.
The product is corded, so there might be some distance restrictions when using it.
The PowerSmart DB5023 comes with a 1-year limited warranty, ensuring that you can easily replace any manufacturing defects within the first year of use.
The warranty needs to be registered in order to be valid. Send an email to the following email address for confirmation: [email protected].
Price Of the PowerSmart DB5023
What is perhaps the most attractive about the PowerSmart DB5023 snowblower is its price.
It comes with high performance and impressive snow clearing abilities, but without a budget-draining price tag. This makes the product a solid choice with a reasonable price tag that shouldn't be missed.
Pros and cons of the PowerSmart DB5023
We have reached the final stages of this review where we take a final look at the pros and cons of this snow blower.
Pros
Made from lightweight materials
Suitable for average amounts of snowfall
Powerful motor
Easy electric start-up
Cons
Quite low for taller people
Plastic parts not so durable
Who Should Buy the PowerSmart DB5023 ?
This product is suitable for anyone, even if you live in a harsher climate. It is compact, easy to use, and it might even have surprisingly good results for any average-sized amount of snow.
Our Recommendation
The DB5023 Single Stage Electric Snow Blower is a potent choice when it comes to snow blowing.
It is easy to use due to the powerful electric motor and comes with considerable blowing width.
Furthermore, its maneuverability makes it a desirable option for anyone, since it can be used with ease.