In Brief: Powertec PL1252 Planer Review
The Powertec PL1252 15 Amp 2-Blade Benchtop Thickness Planer offers a 2HP motor and a 12.5-inch table for benchtop use. This machine comes with a heavy-duty base to help resist wobble and a four-column design that reduces snipe. It includes replacement blades and a non-marring table surface to make operation even more simple and convenient for you.
The Powertec tool company manufactures and distributes power tools, hand tools, hardware, and other useful items for woodworking and building.
While most of the company's products feature residential elements, some fit into commercial workshops as well.
The Powertec PL1252 planer focuses on the needs of residential customers who require a benchtop planer for woodworking.
This machine handles a variety of wood styles and thicknesses. It includes features designed specifically for repurposing old wood.
Key Specifications of the Powertec PL1252
The Powertec PL1252 planer features benchtop functionality and comes with a powerful 2HP motor. It weighs just 63 pounds, so it remains easy enough to move around between jobs and convenient for small to medium projects.
Check out the POWERTEC PL1252 in action here –
Read the long list of Powertec PL1252 specs below:
Parameters
Details
Model No/Name

PL1252
Type

Benchtop
Power (HP)

2
Bed Size (in.)

12.5
Table Size (l x b)

9-5/16 x 12.5
Knife Adjustments

1
Cutting Depth (in.)

3/32
Dust Collection

Yes
Weight (lbs.)

63
Warranty

1 year
Other Features
Repurposing functionality
Anti-wobble base
Non-marring surface
Accessories
Blade replacement
Spindle lock
Roller assistance
Unique Features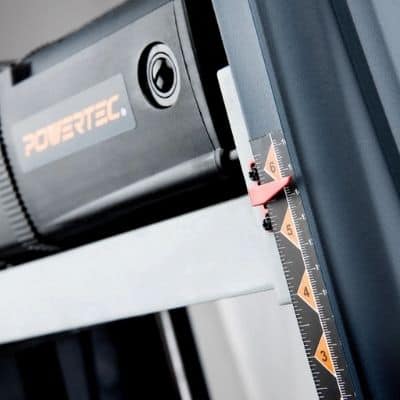 Combining an anti-wobble base, a four-column design, and roller assistance, the Powertec PL1252 planer provides convenient operation and professional results for users of all skill levels.
Anti-Wobble Base
The built-in anti-wobble base on this machine prevents the small, lightweight planer from moving around too much during your projects. Since the base remains heavier than the rest of the product, it works well for this purpose.
Four-Column Design
Featuring a four-column design, the machine cuts back on the risk of snipe with every pass. This feature also improves the precision of every cut and keeps the piece and the machine both stable while you work.
Roller Assistance
The machine features built-in roller assistance for a professional finish on extra-long pieces. Using this optional function, you can move these longer pieces of lumber through the planer without struggling or causing damage to the wood.
Power and Performance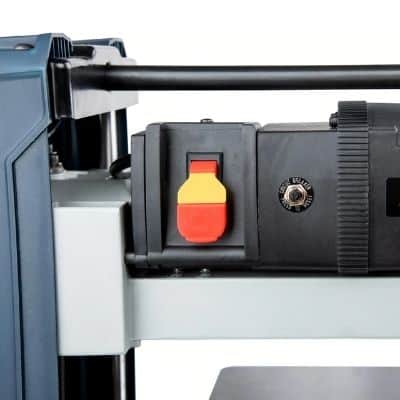 Despite its small size and lightweight design, the Powertec PL1252 planer packs a punch.
This machine features a 2HP motor that keeps it running smoothly and helps it cut through boards of up to six inches in thickness and almost any wood material.
The machine performs beautifully, as well. Its stainless-steel cutter head helps keep cuts smooth while creating accurate, professional results. Since it comes with two blades, it keeps up with its competitors successfully.
Ease of Usage
Beginners have no trouble learning how to use this convenient little planer. It includes simple but effective controls that make user input easy.
On the other hand, more advanced users have no trouble finding exciting ways to improve their planer skills with the help of this machine.
Overall, this product remains easy enough for any skill level to work with. Its minimalistic design includes few extra features but keeps everything simple and universal.
Make adjustments using the hand crank and finish passes quickly with the help of this machine.
Ease of Maintenance, Repairs & Warranty
Customers in need of replacement parts may contact customer service. Otherwise, check the Powertec company web site to find its parts lookup page.
There, you can click on the type of product you have and choose the model to find the right parts.
Routine maintenance helps this machine remain in top condition. Regularly check the planer for signs of wear or damage and replace parts that become worn or broken.
Check alignment frequently, and be sure to clean the machine using a soft cloth or vacuum to remove dust.
The Powertec company provides a one-year limited warranty on this product. The warranty does not cover problems caused by user error or misuse, but it does cover repair or replacement of most other issues.
All machinery, replacement parts, and consumable items also receive a 30-day money-back guarantee. Within the first 30 days after purchase, you can return these products for a full refund by reaching out to the company.
For more information regarding the warranty on this machine, contact the Powertec company using the form available on the company website.
Price of the POWERTEC PL1252
As a small benchtop planer that comes from a lesser-known brand name, the Powertec PL1252 planer remains at the low end of the benchtop planer price range.
The machine keeps its price low by not including a lot of additional, overwhelming features or extras.
Despite its basic design, this product surprises customers with its excellent quality. It creates professional outputs and ensures home hobbyists have more than enough power to work with when woodworking.
This machine provides a lot of value for its low price tag.
Pros and Cons of the POWERTEC PL1252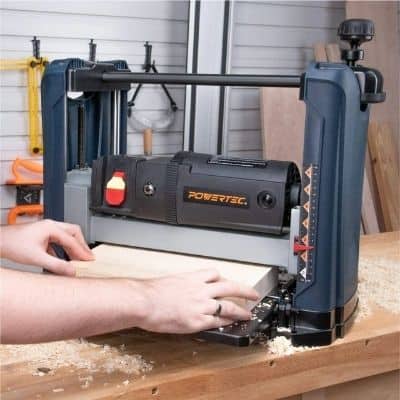 Pros
Shaves plenty of wood in a single pass
Easy to set up and get started using
Reduces snipe and wobble risks
Makes blade replacement quick and easy
Cons
Does not come with a dust port although it includes the option to attach one
Some customers find the dust port hookup too small
Who Should Buy the POWERTEC PL1252?
The Powertec PL1252 planer works well for residential customers such as home hobbyists and DIYers.
This machine provides more than enough power to tackle household jobs and woodworking projects but may not have enough for regular daily use.
Even so, some commercial users find this machine makes a great addition to their shops as a portable solution for small-scale jobs.
The planer tackles small to medium cutting tasks with ease and remains lightweight enough to bring along almost anywhere.
Our Recommendation
The Powertec PL1252 planer gives residential customers a chance to enjoy a benchtop planer that fits into most garages and workspaces.
This machine creates professional results but makes it easy for beginners to start using it right away.
We recommend this machine for beginning woodworkers who need a simple, compact piece of equipment to help them learn. We also recommend it for more experienced home hobbyists looking for a product with precision controls.
Last update on 2023-12-03 / Affiliate links / Images from Amazon Product Advertising API