In Brief: Rexbeti REX031 Joiner Review
The Rexbeti REX031 Joiner offers three adjustable fence positions for quick and easy cuts. Its detachable dust bag allows for easy cleanup, and the angle knob makes it easy to make fence adjustments. It has a cutting depth of 4 inches and this product is ideal for DIY enthusiasts and first-time joiner users.
The Rexbeti REX031 is an affordable and easy-to-use joiner for residential use. Its 10,000 RPM motor provides sufficient power to handle hardwood materials with ease.
The ergonomic D-handle gives you exceptional control over the unit, thus enhancing accuracy.
For more than 30 years now, Rexbeti has been manufacturing quality tools, and their products are sold all over the world.
Key Specifications of the Rexbeti REX031
The Rexbeti REX031 comes with a powerful 10,000 RPM motor.
This allows the tool to effectively handle numerous types of hardwood. With its pre-set depth, you are able to cut slots to numerous biscuit sizes.
The joiner features three adjustable fence positions (0, 45, 90 degrees). This feature allows you to make quick and precise cuts to easily join mitered pieces.
Adjusting the fence angle is not a hassle since the machine is fitted with an angle knob. This angle knob also enables you to tackle end-to-edge, miter-to-miter, and edge-to-edge.
Another great feature is the detachable dust collection bag. This feature makes cleaning up much easier.
It also makes using the tool safe for you since you are not at risk of permanent lung damage from inhaling sawdust over a long period of time. You also get to enjoy unobstructed sight, which makes working easier and safer.
Included in the package are a 4-inch carbide-tipped blade and 100 pieces of biscuits.
Read the long list of Rexbeti REX031 specs here :
Specification
Model Number / Name


REX031
Type
Hand
Power (hp)
Less than 15 amp
Knife adjustments (no)
1
Cutting depth (in)
4''
Dust collection (y/n)
Yes
Weight (lbs)
8.68 pounds
Warranty
2-year limited
Other Features
Angle knob
Top Features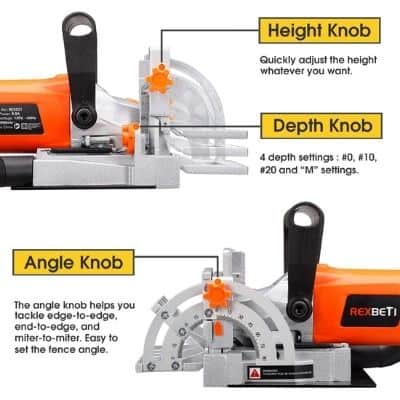 The features below make this joiner exceptional.
Comes With Biscuits
Included in the package are a hundred pieces of biscuits. For easier access, the pieces are packed individually based on their sizes.
Angle Knob
The Rexbeti REX031 allows you to adjust the fence position at 0, 45, and 90 degrees. With the angle knob, it is easy to adjust the fence angle. This allows you to effectively tackle end-to-edge, miter-to-miter, and edge-to-edge.
Detachable Dust Bag
When you inhale sawdust over a long period of time, you risk causing permanent damage to your lungs.
This is no cause for concern when operating the Rexbeti REX031. This product comes with a detachable dust bag that collects the sawdust produced.
Another advantage you get to enjoy with this great feature is unobstructed views of your worksite when operating the tool.
Since you have clean slot holes, the glue adhesion is better, and the life of the cutter is enhanced.
Power and Performance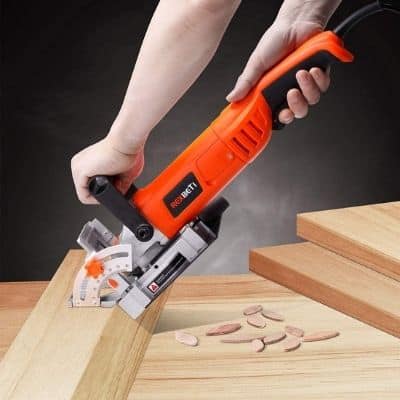 The power and performance of a tool are the most crucial aspect to consider before making a purchase. This allows you to assess whether the unit will serve the purpose you intend to use it for.
While a high amperage is a great factor when selecting a joiner, you need to encompass the RPM into your perspective. A combination of great amperage and RPM allows you to get more done quickly.
This unit is fitted with a 10,000 RPM motor that allows the tool to cut through several types of hardwood with ease.
Featuring a 4-inch carbide-tipped blade, this product is ideal for butt joints, miter joints, T-joints, and corner joints, making it a very versatile tool.
Its large ergonomic D-handle is comfortable and gives you exceptional control over the unit. This guarantees precision and allows you to operate the unit for an extended period of time.
Ease Of Use
The detachable dust bag allows for easy cleanup. With a clean worksite, you are able to work with ease and accuracy since your view is not obstructed.
The fence angle and height are easy to set, making the tool ideal for beginners. Also, adjusting the angle position is easy thanks to the angle knob.
Its ergonomic handle is comfortable to hold and empowers you to maneuver the tool. This enhances your accuracy and provides an overall great handling experience.
Overall, the Rexbeti REX031 is a very easy-to-use tool. Even first-time joiner users can operate this tool.
Ease of Maintenance, Repairs, and Warranty
Considering the high-quality material this unit is built with, you can be sure it will serve you for a long time.
Plus, this item is fairly easy to maintain.
You don't have to contact an expert since general maintenance practices are enough with this unit. Such practices include cleaning the machine, proper storage, oiling, and replacing worn-out parts.
Thankfully, parts are easy to find and affordable.
Warranty
This product comes with a 2-year warranty, which shows how confident the manufacturers are in their product.
Price of the Rexbeti REX031
Considering the incredible performance of this product, we can comfortably state that the unit is reasonably priced.
In fact, you get more than what you pay for. Not only is the buying price affordable, repair and maintenance costs are also low.
The Rexbeti REX031 is definitely worth the investment.
Pros and cons of the Rexbeti REX031
The following are some of the pros and cons of this product.
Pros
Affordable
Comfortable to hold and operate
Comes with biscuits
Accurate
Cons
Some users complain it's loud
A few buyers claim the unit is heavy
Who Should Buy the Rexbeti REX031 ?
Its compact and lightweight design, coupled with the ergonomic D-handle, makes this jointer good for consistent residential use.
Since it is easy to set the angle and height, this unit is ideal for first-time users.
If you are a DIY enthusiast, then the Rexbeti REX031 is a handy tool to own. The tool can be used accurately and quickly with minimal effort.
Our Recommendation
The Rexbeti REX031 delivers smooth cuts with remarkable precision, and the compact and solid design makes handling the tool a joy.
With this product, you get more than what you pay for thanks to its reasonable price. Maintenance costs are low, as well.
We are not the only ones who found the product to be fantastic, as it has great customer reviews and ratings on numerous reputable platforms.
Therefore, we recommend this product to anyone looking for an easy-to-use joiner with exceptional performance for residential use.
Last update on 2023-10-01 / Affiliate links / Images from Amazon Product Advertising API