In Brief: Rikon Power Tools 20-600H Jointer Review
The 10-Amp motor placed in the Rikon 20-600H produces less than 100 dB noise levels than other motor's noise levels. This machine is ideal for amateur woodworkers as it is easy to use and is a versatile jointer. It also comes with a 5 year limited warranty so you can use this unit with peace of mind.
Rikon 20600H is a product of Rikon Power Tools with a powerful motor and 6-row helical style cutter header to work on all types of wood.
The company is known for producing high-quality machinery by analyzing the woodworker's needs and its 5-year warranty for their tools. Rikon Power Tools has its headquarters in Qingdao, China.
This jointer can flatten outboards as wide as 6 inches, and its knives reach as deep as 1/2 in a single pass, but the recommended size is 1/4 inch at a time.
Reviews have placed the machine among the best jointers, and let's see why.
Key Specifications of the Rikon Power Tools 20-600H
Here we briefly discuss some of the critical features to make this jointer powerful, precise, and easy to use.
The machine has a large table, 30 inches by 6-3/16, that provides more than enough space to hold your workpiece. It features a spring-loaded safety guard and a front on and off switch.
It has an all-round steel construction to make it durable and machined aluminum tables to prevent corrosion.
The tool has an inbuilt dust port that has to be connected to a shop vacuum. The dust port requires at least 1000 CMF suction power.
The jointer has less noise production, producing noise levels of less than 100 decibels when running.
Read the long list of Rikon 20-006H specs here :
Specification
Model No/ name
RIKON 20-600H
Type
Benchtop
Power
10 amp motor
Bed size
N/A
Table size
30 inch

Knife adjustments
1
Cutting depth (in)
1/8 inches
Dust collection
Yes
Weight
36 lbs
Warranty
5 year limited warranty period
Other Features
12 double edge insert cutters
Two push blocks

Top Features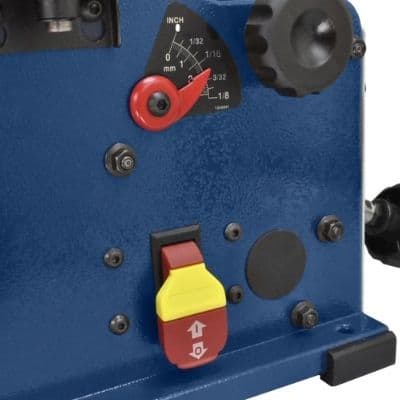 Some of the unique features of the Rikon 20-600H include :
10-Amp motor
The jointer harbors a 10-Amp motor with speeds of up to 20,000 RPM without any load.
6-row helical style cutter head
The Rikon 20-6000H has a cutter head with a 2-inch diameter that has up to 12,000 RPM speeds.
The cutter head has 6 insert rows, a maximum cutting width of 6 inches, and a maximum cutting depth of 1/8 inches.
Power and Performance
This jointer provides enough power and is consistent in producing top performances.
The Rikon 20-6000H has a 10-Amp motor with speeds of up to 20,000 RPM producing enough power to the woodworker. Use 120V or 1200 watts for maximum cutting efficiency.
The machine's cutter head has 12,000 RPM speeds enough to handle hard timber and workpieces.
Ease of Usage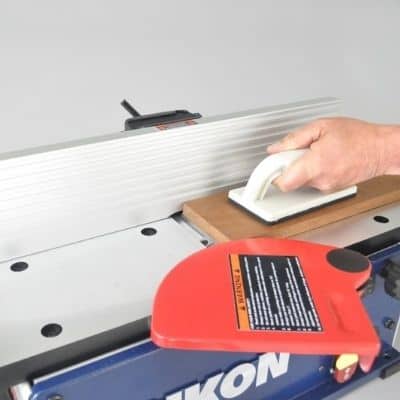 Rikon 20-006H machine is among the best options for any amateur woodworker, mainly because it is straightforward.
Powering on the machine, flick the on and off switch at the front. It has a large table that provides enough space for large workpieces.
It comes with a dust port to help keep the workplace tidy and has easy knife adjustments.
The machine produces a noise of fewer than 100 decibels; however, it is still recommended to use earmuffs while working.
It has a spring-loaded safety guard to avoid the occurrence of unnecessary injuries.
Please read the manual as it contains essential information on; safety measures, jointer installation, assembly, operations, alignments, and maintenance practices.
Ease of Maintenance, Repairs, and Warranty
Some of the maintenance practices recommended in the product manual include: checking of the power cord, checking for loose screws and hardware, ensuring the knives are not dull, wrecked, or loose from the cutter head, lubrication of all bearing points, and checking the drive belt tension after the first 3 to 5 hours of operation.
Clean the machine after use. Do this to ensure the machine is in good condition when you need it next.
Consult a technical operator who understands the machine for repairs. You are advised to take the machine to an authorized and qualified technician.
The warranty period for this machine is one of the many reasons it is a preferred choice. Any buyer is covered by a 5 year limited warranty period covering factory defects and other craft shortcomings.
For more information or any queries about the tool's warranty, call (877) 884-5167 or use their email, inf[email protected]. Visit any of their offices within the country.
Their offices operate from Monday to Friday, and their working hours between 8.30 am and 5.00 pm.
Price of the Rikon Power Tools 20-600H
The jointer is affordable for even amateur woodworkers.
Considering its powerful performance, the machine comes at a low price.
There are other similar machines with the same capabilities but are quite expensive.
Pros and cons of the Rikon Power Tools 20-600H
Some of the pros and cons to expect as you interact with the machine include :
Pros
Easy to use
Easy knife adjustments
Portable
Has a dust port
5 year limited warranty period
Cons
The machine is not that stable
Who Should Buy the Rikon Power Tools 20-600H ?
The jointer is suitable for highly skilled amateur woodworkers as it is elementary to use.
The machine is quiet compared to others, therefore recommended to those woodworkers with hearing problems. It is always advised to wear earmuffs despite the low noise levels.
It is also the best option for those woodworking businesses looking for a versatile tool to satisfy their various needs.
Our Recommendation
The best part of the Rikon 20-6000H is its 5 year warranty period.
There is no better deal than this. The machine is ideal for any woodworker as it is easy to use, compact, and has low noise levels.
With proper care and maintenance, this machine serves you for years.
There are various jointers in the market, but the Rikon 20-6000H is the right tool for you.
Last update on 2023-12-02 / Affiliate links / Images from Amazon Product Advertising API