In Brief: Ryobi DP103L Drill Press Review
Ryobi DP103L is a 10" drill press with exactline laser alignment system and locking depth stop. It has a 1/4HP, 120V, 60Hz motor that delivers a 5-speed operation between 620-3100RPM. It has a chuck capacity of ½," and it is suitable for drilling through various materials, including hardwoods and metals. It is an ideal model for all categories of users.
RYOBI is a renowned Japanese manufacturer of innovative power and garden tools. They are reputable for making high-quality and affordable tools with a high level of efficiency.
Ryobi DP103L is a drill press model from this manufacturer. It is efficient and suitable for a variety of drilling applications and is affordable for all categories of users.
Key Specifications of Ryobi DP103L
Ryobi DP103L is one of the most efficient portable drill press you will come across. It is powered by an induction motor of 3A, 1/4HP,120V, 60Hz that delivers effective performance.
Ryobi DP103L has a 5-speed operation within the range of 620RPM to 3100RPM, which allows you to optimize each speed for specific applications.
It swivels 360 degrees and attached mortising attachments for improved versatility. The table also tilts 0-45 degrees to both sides of the table.
It has ½" all metal keyed chuck and a quill travel of 2″. Ryobi DP103L also includes other essential features like the LED light, and the built-in laser further improves the tool's performance.
The video below shows how to assemble and use Ryobi DP103L:
Specification:
Parameters
Details
Model No / Name

Ryobi DP103L
Motor Details

3A & 120V
Power (hp)

1/4
Speed (range) RPM
620-3100
Laser

Yes
Chuck capacity (in)

½"
Work Table Dimension (in)

7-5/8" x 6-1/2"
Table Tilt

450 left and right
Swing and Stroke (in)

10" & 2"
Height (in)

29"
Weight (lbs)
50.8
Digital Speed Reading

No
Work Light

Yes
Warranty

3-year
Other Features
Locking depth stop
Cast Iron base
Exactline laser alignment system
Top Features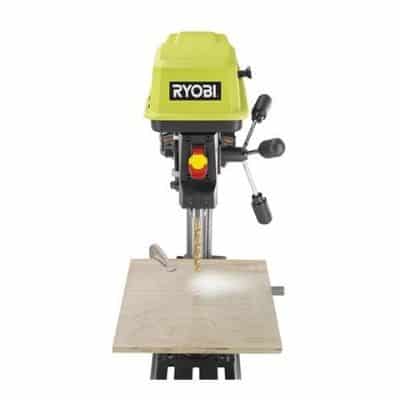 Ryobi DP103L has several impressive features, and some of them are peculiar to this tool. The aggregate of these features earns this model a standout position among others brands.
Locking Depth Stop
Ryobi DP103L has a locking depth stop feature that increases the precision and accuracy of drills. This feature also permits repetitive drilling operations.
Exactline Laser Alignment System
The built-in laser feature ensures accuracy and precision in cutting and drilling operations which in turn enhance easy usage.
Power and Performance
Ryobi DP103L is not just an efficient drill press because of its portable and compact design; it also has a powerful motor and power set up to complement its buildup.
It has a 120V, 60Hz, 3amps input and 1/4HP induction motor that deliver enough torque for efficient and powerful drills.
This power delivers a variable speed operation (5-speed operation) between 620RPM and 3100RPM that allows you to match various task with the needed speed.
This drill press model has a swing capacity of 10" and a quill travel of 2". It has a chuck capacity of ½" and also accepts mortising attachments for improved versatility.
Ease of Usage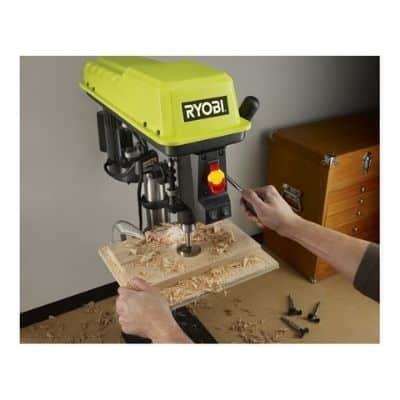 Ryobi DP103L is quite easy to use because it is compact, flexible, and portable. It is one of the few drill press models that makes a good recommendation for first time drill press users.
It includes a built-in laser that marks the exact spot the drill bit will pass through thus improving the accuracy and precision of drills and cuts.
Ryobi DP103L also includes an integrated LED work light for optimal visibility. Similarly, the inclusion of a cast iron base reduces vibration, thus enhancing accurate drilling and ease of handling.
This drill press model swivels at 360 degrees and tilts 0-45 degrees to both sides of the table to enhance flexibility and increase application range.
The adjustable depth stop feature allows you to make repetitive drilling operations. Likewise, the rack and pinion table height adjustment will allow you to adjust your tool's height for comfortable use.
Ease of Maintenance, Repair, and Warranty
Ease of Maintenance
The maintenance procedures for Ryobi DP103L include;
Ensure the proper cleanliness of your tool immediately after use.
Keep the tool away from water and moisture.
Avoid cleaning the plastic part of the tool with harsh chemicals.
Repair
It is normal for a mechanical tool to call for repair over time. If this happens, it is best to let Ryobi certified technicians handle your tool's repair to ensure safety and reliability.
Ryobi has various service centers that handle the safe and secured repair and replacement of their tools.
Warranty
The warranty offers for Ryobi DP103L include;
Three years limited warranty for crafts and materials
90-day exchange policy
All you need to do to have undeniable access to this warranty offer is to ensure that you register your product within 90 days after purchase.
Likewise, you would need proof of purchase to claim this offer. This offer doesn't cover defect resulting from user misuse, mishandling, or repairs carried out by non-authorized personnel.
To obtain this service, you can contact the nearest Ryobi service centers to you.
You can also check through the manufacturer's website at www.rybitools.com or call 1-800-525-2579 for additional details on service repair and warranty offers.
Price of Ryobi DP103L
Ryobi DP103L is a moderately priced drill press.
It is an affordable drill press for those with moderate / small budgets. The low cost does not mean a compromise of efficiency or quality because it has a high value.
Pros and Cons of Ryobi DP103L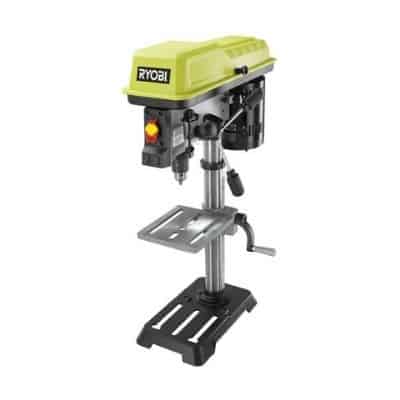 Pros
Relatively affordable
Flexible and easy to adjust
LED work light
Built-in laser feature
Accept motorizing attachment for improved versatility
Cons
Does not include an operating handle
The laser light is off the center
Who Should Buy Ryobi DP103L?
Ryobi DP103L is a portable, compact, and versatile drill press that can deliver optimal performance for small and medium-scale drilling operations.
This drill press model is suitable for homeowners and DIY enthusiasts for personal drilling tasks. It is also affordable for this category of buyers.
Professionals and Jobsite contractors who need a low-budget drill press can seek out the services of this model.
It is also an ideal option for first-time drill press buyers.
Our Recommendation
Ryobi DP103L is recommended for beginners, professionals, and other DIY enthusiasts that need an efficient drill press that is powerful enough for personal, and commercial drilling operations.
Last update on 2023-10-01 / Affiliate links / Images from Amazon Product Advertising API