In Brief: Ryobi JM83K AC Biscuit Joiner Kit Review
If you need to join wood pieces, the Ryobi JM83K AC biscuit joiner has a powerful 6 amp motor and carbide tipped blade just for this purpose. The motor delivers 11000 RPM to enable you to work even on the hardest woods. With this model, you can cut angles from 0⁰ to 135⁰. The joiner also comes with an accurate metal fence system with adjustments for your convenience. The handle is ergonomically designed, so beginners and experts can use it.
Founded in 1943 and headquartered in Fuchu, Hiroshima, Japan, Ryobi is a world-class manufacturer of power and outdoor tools. For decades, its goal has been to provide artisans with high-quality, durable tools to actualize their imaginations.
Apart from being powerful, Ryobi products are also easy to use, and the JM83K is no exception. With the various features it comes with, this may be what your workshop space has been missing.
Key Specifications of the Ryobi JM83K AC
This biscuit joiner comes with a powerful 6-amp motor that delivers up to 10,000 RPM. It can cut angles from 0⁰ to 135⁰ and provides positive stops at 0⁰,45⁰,90⁰, and 135⁰.
With dimensions of 15 x 7.63 x 8.3 inches and its weight at 10 pounds, this hand-held machine is easy to carry around.
If you want a change of environment, you could take it outdoors and work comfortably.
Its small size also means it occupies less floor space, and when not in use, you can easily stash it away.
The handle is ergonomically designed to ensure you are comfortable throughout your joining activities. It is made of rubber to offer a comfortable yet firm grip as you go about your work.
You need not worry about cleaning up after using this machine as it comes with a dust bag. The bag takes a long time to fill up, so you won't have to take several breaks to empty it.
To ensure clean and accurate slots, this model has an eight-tooth carbide-tipped blade. This gives your wood a superior finish devoid of grain disturbances.
The accurate metal fence system and pinion height adjustment make this an easy-to-use machine, not forgetting the cutter depth adjustments.
Read the long list of the Ryobi JM83K AC specs here :
Specification
Model Name/Number

JM83K
Type
Hand-held
Power(hp)
6 amp
Knife adjustments (no.)
1
Cutting depth (in.)
.5625
Dust collection (y/n)
Yes
Weight (lbs.)
8.4
Warranty
3 years
Other features
JM82G Biscuit Joiner
Dust Bag
(20) #10 Biscuits
Tool Bag

Top Features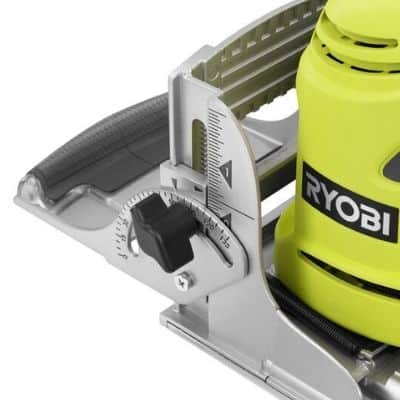 Let us have a look at some of this product's top features:
Powerful Cutting System
The model features a carbide-tipped blade that cuts biscuit-holding slots with precision.
It can also cut angles up to 135⁰ making positive stops at 0⁰, 45⁰, 90⁰, and 135⁰.
High-Performance Fence System
This biscuit joiner comes with an accurate metal fence with rack and pinion height adjustment to suit your needs. It also features cutter depth adjustment with positive stops for #0, #10, and #20 biscuits.
Gripzone
The JM83K features the new and improved Gripzone overmold that offers optimum grip and operator comfort.
Ergonomic Handle
Because you will be holding this machine throughout your joining activities, your comfort is paramount.
The Ryobi JM83K AC joiner comes with a handle that is both firm and gentle on your arms. Blisters will be a thing of the past.
Detachable Dust Bag
Inhaling sawdust for extended periods may permanently damage your lungs.
With this piece of equipment, you do not need to worry about this as it comes with a detachable dust bag.
The bag collects all the sawdust from your joining and requires few breaks to be emptied.
Power and Performance
One of the most crucial things to look for in a machine before buying it is its power and performance. This lets you gauge whether or not the unit will be able to handle the task at hand.
While it is important to go for a joiner with high amperage, you should also consider the RPM factor.
Combining an incredible amperage and RPM gets the job done faster.
The unit comes with a 6-amp motor that delivers up to 11,000 RPM. This way, you won't have any trouble handling hardwoods.
With its carbide-tipped blade, this product is fantastic for all types of joints–miter joints, butt joints, corner joints, and T-joints. This makes it a versatile addition to your collection of woodworking equipment.
The tool also has an ergonomic handle that offers comfort and complete control over your unit. The result is the precision and comfortable operation of the machine for extended periods.
Ease of Usage
Right from its installation, the Ryobi JM83K is an easy-to-operate machine. First, it is lightweight, so you can carry it for a long time without feeling any fatigue.
The large D-handle makes things even better. Besides, you can adjust the cutting depths, and the carbide-tipped blade assures you of clean, accurate cuts.
Overall, this newest Ryobi invention is very easy to operate. Even newbies will have a wonderful experience.
Ease of Maintenance, Repairs, and Warranty
Considering the superior quality of material used to build this model and its ruggedness, you can rest assured that it will last you a lifetime.
If you are worried about the maintenance costs, stop because this machine comes with a low maintenance factor.
It comes with a manual that outlines the general maintenance practices, so you won't need any expert help.
You are only required to clean the machine, store it properly, and oil the moving parts. Occasionally, you might need to replace the worn-out parts like blades.
You can easily find the parts at an affordable price.
This product is backed by a three-year limited warranty. This proves further that Ryobi is a great company with confidence in its products.
The warranty covers defects resulting from materials and workmanship and is effective three years from the purchase date.
You just need to return your postage prepaid and properly packaged machine to any of Ryobi's authorized service centers along with the original receipt.
You can also contact their customer support team on 1-800-525-2579.
Price of the Ryobi JM83K AC
Considering the incredible experience you will have using this tool, we can undoubtedly say that its price is reasonable.
Actually, the model gives you more than your money's worth. Not only is its initial price affordable, but also the maintenance costs are kept at a minimum.
It is definitely worth every single penny.
Pros and cons of the Ryobi JM83K AC
Here are some of the benefits and drawbacks of this woodworking equipment :
Pros
Affordable
Holding and operating it is easy and comfortable
Comes with biscuits
Increased accuracy
Who should buy the Ryobi JM83K AC ?
Anyone needing an easy to operate machine could find this a fantastic choice. Its compact design, combined with the large D-handle, makes this tool a must-have for residential use.
Since adjusting the height and angle is easy, this is a good place for first-timers to start.
For DIY enthusiasts, here is a tool you will love. The JM83K lets you join bits of wood without needing much effort from your side.
Our Recommendation
With Ryobi JM83K Biscuit Joiner Kit, you achieve smooth cuts with precision.
Also, handling it is very easy, thanks to its lightweight design. It is also affordable and gives you more than you ask for. Worth mentioning is the low maintenance factor that will be beneficial in the long-run.
Several people found this an amazing piece of equipment judging from the numerous positive customer reviews and ratings.
We therefore strongly recommend it to anyone in need of a powerful yet affordable tool for their woodworking projects.
Last update on 2023-06-06 / Affiliate links / Images from Amazon Product Advertising API