In Brief: Review of Shop Fox W1667
Shop Fox W1667 is a bench-top drill press with a 2" dust port and dual operational feature. It uses a 1/2HP motor that delivers a 5-speed operation between the ranges of 620-3100RPM. It has a 7″ x 7″ flexible work table. It is an ideal tool for various drilling tasks. It is suitable for woodworking professionals and DIY enthusiasts.
Shop Fox is a registered Woodstock Inc trademark company that specializes in the manufacture and distribution of various metalworking and woodworking tools and machinery.
Shop Fox W1667 is a benchtop oscillating drill press that reiterates quality and practical functionality. It includes a lot of features that make it easy to use and durable.
Key Features of Shop Fox W1667
Shop Fox W1667 has many impressive features that make it easy to use and enhance its practical performance. It has a drilling capacity of ½" diameter on steel.
It uses a motor with 1/2HP and 110V ratings that ensure ample torque and power drills. This motor also delivers speeds within the range of 620-3100RPM and ensures a 5-speed operation.
It provides you with enough working space with its 7″ x 7″ work table. It includes a ½" oscillating spindle, drill chuck of 1/64″-½", and JT-33 arbor that works together to ensure efficient delivery.
It is easy to clean and maintain with the inclusion of 2″ dust port.
The video below shows Shop Fox W1667 in use:
Specification
Parameters
Details
Model No / Name

W1667
Motor Details

110V & 5amps
Power (hp)

1/2
Speed (range) rpm

620-3100
Laser

No
Chuck capacity (in)

1/64"-1/2"
Drilling capacity (in)

½"
Work Table Dimension (in)

7" x 7"
Table Tilt

900 left and right
Swing and Stroke (in)

8-1/2" & 1-5/8"
Height (in)

23"
Weight (lbs)
54
Digital Speed Reading

No
Work Light

No
Warranty

2 years
Other Features
2" dust port
Depth scale and depth stop features
Dual operational feature
Top Features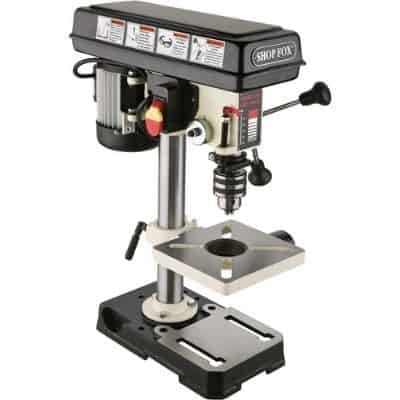 Shop Fox W1667 has several impressive features that contribute to its outstanding performance.
2″ Dust Port
The inclusion of a 2″ dust port enhances the cleanliness and the proper maintenance of the tool. The dust port is connected to a dust collection system for effective dust removal.
Depth Scale and Depth Stop Features
Shop Fox W1667 comes with a fitted depth stop that allows you quickly drill holes at preset depths. It also allows you to make precise and repetitive drills.
The depth scale feature enables you to use its easy to read depth scale to locate your desired depth.
Dual Operational Feature
Shop Fox W1667 performs a dual function of a drill press and an oscillating sander because it has a precision-ground sanding spindle.
This sander is compatible with sanding drums between 1" to 2" in diameter and up to 4-1/4″ long.
Power and Performance
The power setup of Shop Fox W1667 effectively delivers ample torque to ensure power drills.
It has a motor setup with ratings of 1/2HP, 120V, and 5amps, which powers the drill press to operate on five variable speeds.
It delivers a variable speed between the ranges of 620-3100RPM for various applications.
This drill press model's power setup allows a spindle travel of 1-5/8″ and an 8-1/2″ swing to ensure versatility and smooth drills.
It has a variable chuck capacity of 1/64″-1/2″ that allows flexibility in bit usage.
It uses a JT-33 arbor that ensures the proper performance of Shop Fox W1667; thus, making it suitable for various professional and personal drilling tasks.
Ease of Usage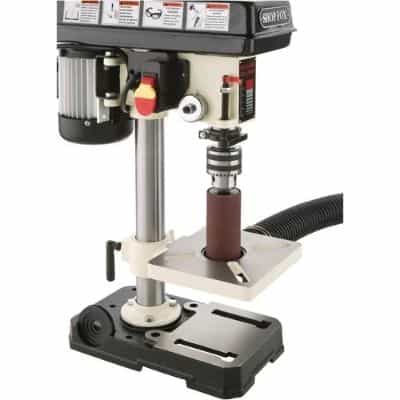 Shop Fox W1667 has several features that make it easy to use for personal, industrial, and professional drilling tasks.
It has a safety switch that allows easy power control. The oversize paddle and removable lock-out key of this switch add a greater level of safety.
The depth scale and depth stop features allow you to make preset, repetitive, and precise drills.
It has a flexible 7″ x 7″ square tilting table that enables you to sand materials at different angles and provide support and balance.
This table also tilts at 90 degrees to both sides and maintains a table swing of 360 degrees.
The maintenance of Shop Fox W1667 is easy, with the inclusion of a 2″ dust collection port that connects with a dust extraction system for efficient dust removal and clean work surface maintenance.
Ease of Maintenance, Repair, and Warranty
Ease of Maintenance
The maintenance procedures for Shop Fox W1667 include;
Do not over lubricate the tool.
Use soft cloth and brushes to clean the tool.
Keep the tool away from water and moisture.
Repair
Shop Fox has specialized service centers that handle the repair and maintenance of their products for safety and reliability.
It is best to let these professionals handle your drill press's repair to prevent further damage and ensure longevity.
Warranty
The warranty offers of SHOP FOX W1667 include;
2-years limited warranty on craft and materials.
Free repair service for properly used tool.
This offer doesn't cover defects due to direct or indirect misuse, mishandling, accidents, or damages caused by the operator.
You can visit the manufacturer's warranty page to get more details on the service offers on SHOP FOX W1680 or contact their technical support [email protected]. Or call (360) 734-3482 Ext.
Price of Shop Fox W1667
The price of SHOP FOX W1667 is relatively affordable for buyers with average and low budgets.
This drill press model has impressive features and specifications that makes it worthy of its price. Compared to other drill press models, the cost of this drill press is a favorable one.
Pros and Cons of Shop Fox W1667
Pros
Functions as a sanding machine and drill press
Safety switch feature
Dust collection port for clean operation
Depth adjustment features
Flexible working table
Cons
No LED light and laser features
High operational vibration
Who Should Buy Shop Fox W1667?
SHOP FOX W1667 performs the dual functionality of being a good benchtop drill press and an efficient sanding machine.
Therefore, it is suitable for woodworkers that need a versatile drill press for various DIY tasks, particularly sanding and drilling.
SHOP FOX W1667 also offers an excellent bargain for Jobsite contractors, homeowners, and DIY enthusiasts because of its relatively affordable cost and effective performance.
Our Recommendation
SHOP FOX W1667 is recommended for all categories of drill press users.
It has impressive features and outstanding specifications that make it a great solution for all drilling tasks.
Last update on 2023-10-01 / Affiliate links / Images from Amazon Product Advertising API