In Brief: Shop Fox W1670 Drill Press Review
Shop Fox W1670 is a floor radial drill press with horizontal sliding headstock and table and head tilt feature. It has a 110V, 5amps,1/2HP motor that allows it to make ½" diameter drill on steel. This drill press model is ideal for professionals and other DIY enthusiasts. It is suitable for drilling for various materials, including wood and steel.
Shop Fox has a standing reputation of being a trusted and reliable manufacturer of several high-power tools. They manufacture their tools with the consciousness of quality, versatility, durability, and efficiency.
Shop Fox W1670 is one of the major products from this manufacturer. This drill press model has impressive features, specifications, and solid buildup, making it one of the best models in this category.
Key Specifications of Shop Fox W1670
This drill press model has a 1/2HP, 110V, 5amp, TEFC capacitor start induction motor that delivers enough power on the tool.
It delivers five variable speed capacities: 550, 880, 1570, 2490, 3470RPM. The speeds are belt controlled for easy maneuverability. Shop Fox W1670 has the drilling capacity of ½" on steel with a chuck size of 5/8" and a swing of 34".
The table of Shop Fox W1670 can make 360⁰ rotations to allow flexibility and easy usage. The table can tilt at 90⁰ left and right. The head can make a similar tilt at 90⁰ right and 45⁰ left.
The video below shows Shop Fox W1670 in use:
Specification
Parameters
Details
Model No / Name
W1670
Motor Details

110V & 5amps
Power (hp)

1/2
Speed (range) rpm

550-3470
Laser

No
Chuck capacity (in)

5/8"
Drilling capacity (in)

½" diameter in steel
Work Table Dimension (in)

12-3/16" diameter
Table Tilt

900 left and right
Swing and Stroke (in)

34" & 3-1/4"
Height (in)

64-1/2"
Weight (lbs)
138
Digital Speed Reading

No
Work Light

No
Warranty

2-year warranty
Other Features
Horizontal sliding Headstock
Table and head tilts
Top Features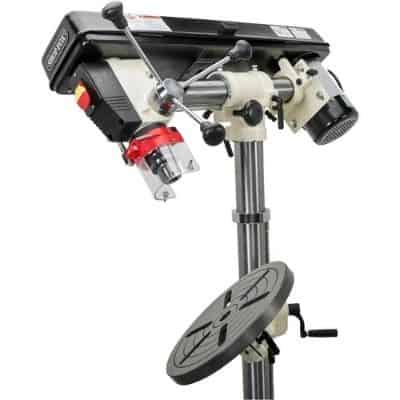 There are several features integrated into the functioning of this drill press model. Some of these features are unique, and they contribute to its standout performance.
Horizontal Sliding Headstock
Shop Fox W1670 has a horizontal sliding headstock that improves the versatility of this power tool. It enables it to drill the center of any material up to 34" in diameter.
You can explore the sliding feature of its headstock to increase the distance between the column up and drill chuck up to 17".
Table and Head Tilts
Shop Fox W1670 is flexible enough to make straight and angled drills. The table can make a tilt up to 45⁰ left and 90⁰ right.
The entire table can also make an angle tilt up to 90⁰ to either side of the table. With this feature, you can make angled holes without the need to reposition your work piece each time you drill a hole.
Power and Performance
Shop Fox W1670 has a 1/2HP, 110V, 5amp, single phase 60Hz motor that powers it to make impressive drills on several surfaces.
This motor is a TEFC capacitor start induction that ensures its powerful performance.
This motor delivers enough power for the drill press to drill through any material with ease. It also delivers a variable speed between a range of 550-3470RPM.
The peak RPM is enough to smoothly bore any surface and the variable speed allows the optimization of this drill press model to specific speed for individual performance.
Shop Fox W1670 has a drilling capacity of 1/2" diameter on steel. It delivers a better capacity on even softer materials like wood.
With the power setup of this tool, you can trust it for various professional applications.
Ease of Usage
Aside from the fact that this drill press model comes with a user manual containing easy operating and setup procedures, it also has several features that make it easy to use.
Shop Fox W1670 has a horizontal sliding headstock, tilt head, and tilt table that allows you to make angled drills without the need for repositioning.
It also has features that allow you to make horizontal drills without stress.
Shop Fox W1670 has a speed chart located under the belt guard for easy adjust the variable speed. The chart will also help you to identify the pulley combination that you need for a specific speed.
The drill press comes fitted with a depth stop that consistently permits the drilling many holes at a preset depth.
Ease of Maintenance, Repair, and Warranty
Ease of Maintenance
The maintenance procedures for Shop Fox W1670 include;
The ball bearings are shielded and permanently lubricated; you should not lubricate them.
Inspect the drill before and after use.
Keep all unpainted surfaces of the drill press rust-free.
Repair
It is best to let professional technicians handle the repair and servicing of your power tool. SHOP FOX has authorized service centers that handle the repair services of their products.
Warranty
The warranty offers of Shop Fox W1670 include;
2-years limited warranty on craft and materials.
Free repair service for properly used tool.
You can visit the manufacturer's warranty page at https://www.woodstockint.com/warranty to get more details on the service offers on Shop Fox W1837 or contact their technical support via [email protected]. Or call (360) 734-3482 Ext.
Price of Shop Fox W1670
Shop Fox W1670 is relatively expensive. It is not suitable for meager or medium budgets.
However, it offers a high value for money due to its impressive features and professional applications. It comes at a good price for high-budget buyers.
Pros and Cons of Shop Fox W1670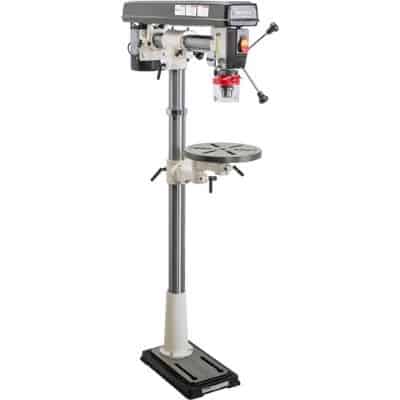 Pros
Flexible and easy to adjust
Variable speed feature
Universal table tilt system
Speed chart for operational speed precision
Useful as a horizontal boring machine
Cons
Relatively expensive
Heavyweight
Who Should Buy Shop Fox W1670?
Shop Fox W1670 is a sturdy drill press model with many features that make it easy to use and deliver efficient performance.
Professionals who need a versatile, flexible, and efficient drill press for various applications should buy SHOP FOX W1670.
It has enough power to deliver reliable drilling outputs on a variety of materials.
DIY enthusiasts and beginners who do not have serious consideration for cost can also try out this drill press model for varieties of applications.
Our Recommendation
Shop Fox W1670 is recommended for professionals, DIY enthusiasts, and beginners that need a flexible drill press for varieties of applications.
You can be sure of getting quality drilling outputs using this drill press model.
Last update on 2023-12-03 / Affiliate links / Images from Amazon Product Advertising API