In Brief: Shop Fox W1812 Planer Review
The Shop Fox W1812 Planer Moulder with Stand comes with a durable stand and cast-iron bed with wing extensions. It includes a mounted controller for infinite adjustments and provides both moulding and planing in one device. This machine features a 2HP motor and a traditional benchtop planer design that makes it easy to use for almost any application.
The Woodstock International company manufactures the Shop Fox line of products. This company also supplies wholesale woodworking products to other sellers.
The Shop Fox line encompasses a variety of woodworking tools and equipment to meet any customer needs.
The Shop Fox line includes the W1812 Planer Moulder, which remains a popular choice among both professionals and hobbyists alike.
This machine packs more than enough power to handle a variety of tasks around the home or shop.
Key Specifications of the Shop Fox W1812
The Shop Fox W1812 planer includes a built-in moulder for two woodworking techniques in one simple machine.
This product comes with a stand and provides powerful, impressive cutting and moulding capabilities right out of the box.
Check out the Shop Fox W1812 in action here –
Read the long list of Shop Fox W1812 specs below:
Parameters
Details
Model No/Name

W1812
Type

Benchtop
Power (HP)

2HP
Bed Size (in.)

7
Table Size (l x b)

36.25 x 7
Knife Adjustments

1
Cutting Depth (in.)

0.75
Dust Collection

Yes
Weight (lbs.)

324
Warranty

2 years
Other Features
Pedestal-mounted control switch
Cast-iron infeed and outfeed wings
Power transfer design
Accessories
Enclosed stand
Extension wings
Power cords
Unique Features
The Shop Fox W1812 planer features a power transfer design that helps it run more smoothly and efficiently than ever before.
It also comes with a built-in variable speed feed motor and an enclosed attached stand for durability and performance.
Power Transfer Design
With a power transfer design, the machine relies on two different types of motors instead of just one.
This improves its overall performance and keeps everything running smoothly. The machine utilizes a belt drive for the cutterhead and a chain drive for the feed rollers.
Variable Speed Feed Motor
The variable speed feed motor that comes with this machine features simple pedestal-mounted controls.
These controls allow you to fine-tune the motor's speed and make accurate adjustments throughout your cutting and moulding.
Enclosed Attached Stand
This machine comes built onto its attached stand.
This stand remains enclosed and protects the internal components of the machine while simultaneously providing a high-quality, durable, stable work surface for your woodworking needs.
Power and Performance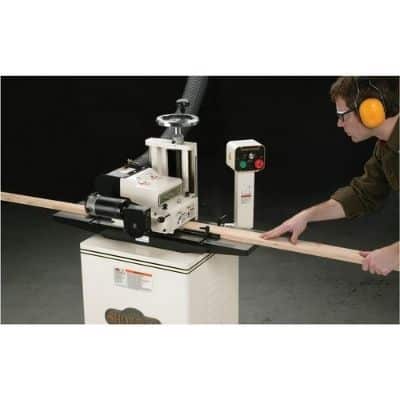 With a 2HP motor and variable speed adjustments, this machine provides plenty of power to tackle residential tasks. It also remains powerful enough for many commercial woodworking shops to include it in their machinery lineups.
The machine performs beautifully and creates smooth, high-quality cuts on every pass.
It features durable and reliable parts that hold up well to long-term use, and its convenient mounted controls give it a user-friendly and accessible interface as well.
Ease of Usage
This combination planer/moulder remains simple to use for those who have had at least some experience with prior woodworking machines.
It may prove too complicated for complete beginners, but even intermediate users with just a little experience enjoy using it.
The machine weighs much more than many other benchtop planers and includes multiple functions, so it might offer too many functions and too much power for small home hobbyists garages.
Ease of Maintenance, Repairs & Warranty
The Woodstock International company web site offers information about parts dealers for the Shop Fox line of products.
The company does not sell replacement parts itself, but many suppliers and home improvement stores carry them.
Customers should frequently tighten loose bolts, replace damaged cords or belts, and clean the machine as needed.
Vacuum the internal components of the machine to remove dust and use mineral spirits and a brush to carefully clean these delicate parts.
The Woodstock International company provides a two-year limited warranty on all of its Shop Fox line of products.
The warranty covers the repair and replacement of parts or items that become defective due to manufacturing error, but not due to customer error.
Customers are not required to pay for shipping to the manufacturer for repairs. However, customers are expected to register the product before the warranty can go into place.
The product registration form can be found on the Woodstock International company web site.
For more warranty information, contact the Woodstock International company at 360-434-3482 ext. 1 or via email at [email protected].
Price of the Shop Fox W1812
The Shop Fox W1812 planer/moulder includes two different types of machinery in one.
It features commercial-grade durability and long-lasting design as well as impressive performance results whether you use it as a moulder or as a planer.
Because of its hefty size, high-quality outputs, and dual-use design, this machine comes in well over the price of many other benchtop planers.
Customers looking for both types of machine in one feel it provides a high value for its price.
Pros and Cons of the Shop Fox W1812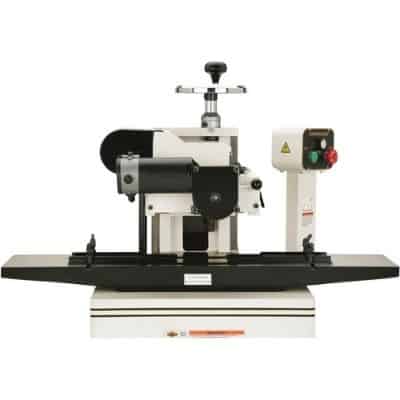 Pros
Knives remain easy and quick to install and change
Handles a wide range of material thicknesses
Remains simple to set up despite its large size
Comes calibrated and ready for use
Cons
Some customers find the power cord breaks easily
Roller adjustment may become tricky due to limited space
Who Should Buy the Shop Fox W1812?
The Shop Fox W1812 provides impressive capabilities no matter which way you choose to use it.
Customers who enjoy woodworking as a hobby frequently and want something that can tackle a variety of tasks at once find this machine a welcome addition to their hobby shops.
Additionally, commercial customers looking for a smaller machine that can create professional results also find this product an excellent choice.
Its powerful motor and simple adjustments make it a convenient and high-quality tool for the job.
Our Recommendation
The Shop Fox W1812 comes ready for use and offers two different methods of woodworking in one powerful product. It gives you plenty of space to work while remaining small enough to fit into many home workshops.
We recommend this machine for home hobbyists who have some prior experience and want to improve their woodworking results or fine-tune their skills.
We also recommend it for professionals who need a commercial-grade product at a residential-grade size and price point.
Last update on 2023-10-01 / Affiliate links / Images from Amazon Product Advertising API