In Brief: Shop Fox W1859 Jointer Review
The Shop Fox W1859 is a heavy-duty Jointer designed to provide many years of trouble-free woodworking operation, backed by a 2 year warranty. This jointer comes with extra-long infeed and outfeed to support wood of diverse length. With a dust collection port attached, be rest assured that it won't get messy in your workshop, and neither will extra sanding be needed to get a perfect surface. It is perfect for commercial and professional use.
Shop Fox is not a household name, and that's because they're not a large scale production company.
They do not have a lot of product listing. Most of their products are made by collaboration with others.
Nevertheless, despite their short stay in the manufacturing world, they seem to produce impressive units that stand the test of time.
The Shop Fox W1859 is one of their numerous benchtop jointers.
Key Specifications of the Shop Fox W1859 Jointer
The Shop Fox W1859 isn't the lightest jointer you will come across. It has a total weight of 470 pounds, making it difficult to move around the workshop.
The jointer measures – 8 in. x 76 in.
The extra length attached to its infeed and outfeed means you will require a lot of storage space.
In terms of appearance, the W1859 and the W1858 have a lot in common. They both utilize the same blade design.
The knife cutter head present here operates at a speed of 5,500 Rpm. That's 21,400 RPM per minute.
Finally, with a safety push block, accidents are minimized, and it's easier to keep your hands away from the blades.
For more information about the features, check out this video :
Read the long list of Shop Fox W1859 specs here :
Specification
Model No / name
W1859
Type
Bench-top
Power (hp)
3
Bed size (in)
8''
Table Size (LxB)
8 x 76 - 5/16
Knife adjustment (no)
4
Cutting depth (in)
1/8 inches
Dust collection (y/n)
Yes
Weight (lbs)
470
Warranty
2-year
Other Features
1. Safety push blocks
2. Extra-long infeed and outfeed
3. Dust chute

Unique Features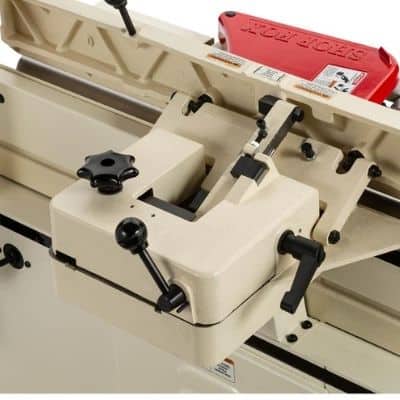 There are some impressive features this jointer possesses. Some of which will allow you to complete more woodwork projects with less fuss.
Dust Evacuator
The Shop Fox W1859 comes with a 4-Inch dust port. This port is directly connected to the knife cutter head.
This way, it's easy to evacuate dust and wood chips from the machine while in operation. This minimizes your workload since you won't need to do any cleaning.
4-straight Knives
This jointer has a parallelogram design that minimizes wood chips flying off during operation. But its biggest asset is its cutter head.
The cutter head operates at 22,400 RPM per minute. This is 10x faster than manual effort and doubles the rate of most premium jointers from other brands.
Its cutter head allows it to do a whole lot more than jointing. You can also do a bit of planing and bezel cutting at the same time.
Power and Performance
Its motor design largely influences the performance of the jointer. The Shop Fox W1859 has a pretty reliable motor that supplies 230 volts of electricity at a steady rate.
This allows it to carry out jointing tasks with speed and precision.
The body of this jointer is made of iron-cast rather than aluminum.
This minimizes rust and gives it enough stamina to hold heavy woods without wobbling off. The table isn't only adjustable; they're clean and hardly sustain scratches.
The infeed and outfeed come with extra length; this way, the joiner can work on long woods, especially those 40 or more inches long.
Ease of Usage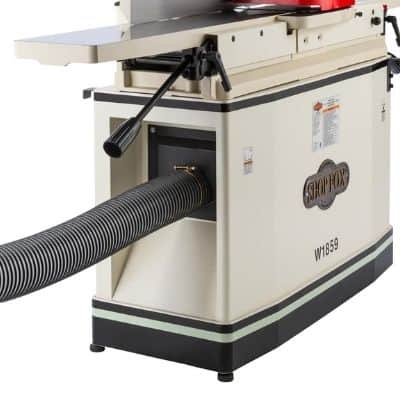 The appearance of this machine shouldn't frighten you. It's easy to use, and you won't have any issues if you have prior experience using a jointer.
All its controls are located in a way that they're easy to reach without slouching your back.
The tables can be adjusted both transversely and longitudinally. Also, the table has a lever that allows you to adjust its height to suit your operation.
The fence can be adjusted to up to 90 degrees to offer more flexibility at work.
Ease of Maintenance, Repairs, & Warranty
The Shop Fox W1859 is equipped with industry-demanding features.
However, there are a few precautions that should be taken if you want the machine to continue working at its best.
First, you should always inspect for a loose component before you power it on. If you need to make any adjustments, we advise you to do so only when the jointer is off.
The cutter head should be kept sharp at all times, with all mechanical parts lubricated with light grease.
The Shop Fox W1859 is covered by a 2-year limited warranty. To claim any warranty, you have to register on their website.
Price of the Shop Fox W1859 Jointer
This jointer is versatile, and it's worth its price tag.
If you need something that can work on hardwoods without frequently breaking down, the Shop Fox W1859 is the right choice for you.
Pros and cons of the Shop Fox W1859 Jointer
From a glance, you can see that this machine isn't the most solid piece. There are a few downsides we've noticed, and we've mentioned them below.
Pros
Clean finish without needing extra sanding
Extra-long infeed and outfeed
Minimal dust buildup
Cutting depth of 8 inches
Smart controls configuration
Table height adjustment
Perfect for hardwoods
Cons
Requires large storage space
Who Should Buy the Shop Fox W1859 ?
This jointer costs a lot, but it delivers the results you want. Maintenance will be minimal, and its button configuration will give you more flexibility at work.
But we will like to make it clear that this is built for large workshops and will only provide 100% satisfaction if you're a professional with bulk projects.
Especially those that have to do with cabinetry and tabletops.
Our Recommendation
We love the body design of this jointer. Its heavy-duty body buildup means it won't break down easily. Also, since it's powered by a motor, you won't need to carry out intensive maintenance.
The only downside is its weight and width. If you will be investing in this jointer you need to examine your workspace. Clearly, this isn't built for small workshops.
Last update on 2023-10-01 / Affiliate links / Images from Amazon Product Advertising API