In Brief: SKIL 3320-01 Drill Press Review
SKIL 3320-01 is a compact and lightweight drill press with 2-beam laser feature. It accepts larger diameter bits and has a 120V, 60Hz, 3.2amps power rating. This power delivers a 2-3/8″ drilling capacity. It operates at a variable speed between 570-3050RPM. It is suitable for homeowners and DIY enthusiasts for drilling materials like woods and metals.
SKIL is a manufacturer that is reputable for packing their products with power and innovation. They offer varieties of power, bench, lawn and garden tools that efficiently deliver remarkable outputs.
SKIL 3320-01 is one of the power tools from this manufacturer. This drill press offers greater precision and efficiency than the regular a hand drill. It is suitable for various applications from large to medium scale.
Key Specifications of SKIL 3320-01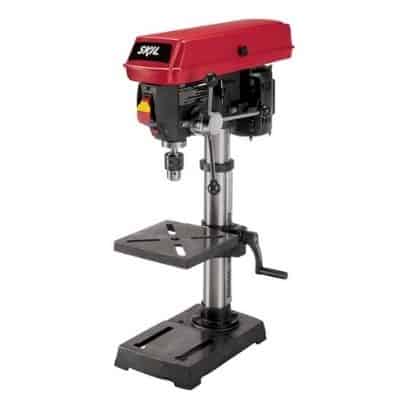 SKIL 3320-01 has a 120V, 3.2amps, 60Hz power rating that delivers appropriate power to drill through different materials.
It operates at a variable speed between 570 to 3050RPM with 5-speed system that allows specific speed optimization.
The no-load speed of SKIL 3320-01 is 1,700/Min for reliability. The 7-5/8″ x 7-5/8″ table provides enough surfaces for small scale operations.
SKIL 3320-01 has an impressive drilling capacity of 2-3/8″. It also includes a variable chuck capacity between 1/16″ to ½" to enhance optimum performance.
The video below shows how to assemble and use SKIL 3320-01:
Specifications:
Parameters
Details
Model No

SKIL 3320-01
Motor Details

120V & 3.2amps
Speed (range) RPM

750 to 3050RPM
Laser

Yes
Chuck Capacity (in)

1/16" to 1/2"
Drilling Capacity (in)

2-3/8"
Work Table Dimension (in)

7-5/8" x 7-5/8"
Table Tilt

450 left and right
Height(in)

9.75"
Weight (lbs)

50.08
Digital Speed Reading

No
Work Light

No
Other Features
2-Beam Laser Feature
Accepts larger diameter bits
5-speed system
Top Features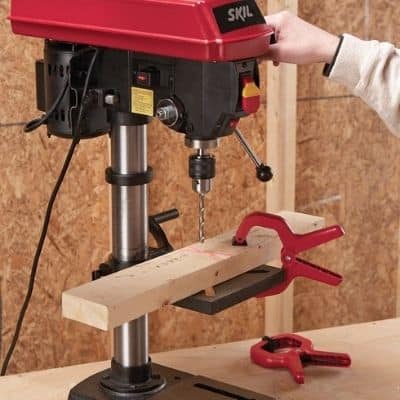 SKIL 3320-01 has features that enhance its drilling capacity and outputs.
2-Beam Laser Feature
SKIL 3320-01 has a two-beam laser feature that helps you to ensure precise hole drilling during operations.
Together with the depth adjustment system, this feature permits you to consistently and repeatedly drill down accurate holes.
Accepts Larger Diameter Bits
SKIL 3320-01 is flexible and versatile due to its ability to accept larger diameter bits.
Its ½" keyed chuck allows this drill press to accept larger bits for cutting and woodworking, and it complements its square surface that helps to provide support for larger materials and extensive applications.
Power and Performance
SKIL 3320-01 is called a power tool for a reason. This drill press model has a voltage rating of 120V, 60Hz and a 3.2amps amperage rating that ensures the effective drilling outputs.
It operates on a variable speed between 570 and 3050RPM with 5 changeable speed system, which allows you to match suitable speed with specific applications.
It also has a no-load speed capacity of 1,700/min. SKIL 3320-01 has an impressive 2-3/8″ drilling capacity and 10″ drill on the center, making it suitable for small to medium scale projects.
SKIL 3320-01 also has a variable chuck capacity between 1/16″ and ½" for optimal performance.
In case of a power breakdown, the grounding provides a path for the least resistance for electric current, thus reducing the risk of electric shock.
Ease of Usage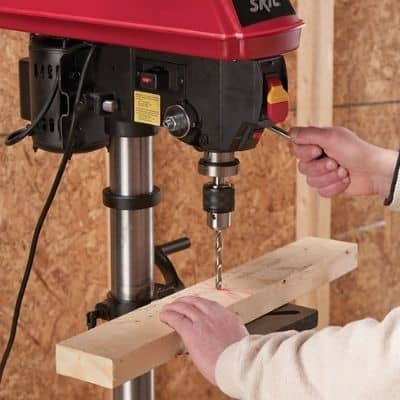 You can easily utilize SKIL 3320-01 regardless if you are a professional or a beginner woodworker. This versatility is because of the numerous easy to use features that are integrated into this model.
You can make precisely angled drills with its flexible table that can make 45⁰ tilt to both sides of the table.
Likewise, SKIL 3320-01 has a square work surface that is extensive enough to provide support for larger materials.
The inclusion of the ½" key chuck permits the power tool to accept larger bits for woodworking and cutting. Its solid base also confers rigidity and stability on the product.
It is not strange for drill presses to have lasers, but it is unique to have an x2 laser. SKIL 3320-01 features a 2-beam laser that assists users in achieving a precise hole alignment.
It also includes a depth adjustment system that allows you to make an easy adjustment for precise, accurate, and repetitive drills.
Ease of Maintenance, Repair, and Warranty
Ease of Maintenance
The maintenance procedures of this model include;
Ensure that the power tool is unplugged and detached from the power source before carrying out any maintenance procedures.
Frequently blow out all dirt, dust, or chips that might accumulate in the power tool.
Avoid using harsh chemicals and solvent on the plastic parts of the tool.
Repair
It is best to let professionals handle the repair of your power tool to ensure safety and reliability. SKIL has authorized service centers that ensure the safe and reliable repair of your tool, and the warranty offer cover this service.
Warranty
The warranty offers for SKIL 3320-01 include;
3-years limited warranty on crafts and materials
Repair and maintenance offer.
However, users must ensure to register the product within 30 days after purchase to secure the right to this warranty offers.
You can visit www.skil.com for more information about the warranty offers and product registration. You can also contact 1-877-SKIL-999 (1-877-754-5999).
Price of SKIL 3320-01
SKIL 3320-01 is one of the affordable drill press models you will come across.
It is non-cost intensive; thus, it is suitable for individuals with meager and low budgets.
Nevertheless, the affordability does not undermine its quality as it offers a high value for money.
Pros and Cons of SKIL 3320-01
Pros
2-beam laser feature
Lightweight and compact
Relatively affordable
Flexibility and easy adjustability
5-speed system
Cons
It does not include work light
Limits up and down drill range
The laser system is battery powered
Who Should Buy SKIL 3320-01?
SKIL 3320-01 is a compact, lightweight, easy-to-use, and affordable drill press for versatile applications.
It is compact and lightweight, making it an ideal product for woodworkers with a limited workspace.
It also offers enough performance for various small to medium scale metal and wood drilling applications. Therefore, it is suitable for homeowners, beginner woodworkers and other DIY enthusiasts.
Our Recommendation
If you want a lightweight yet efficient drill press for medium scale drilling applications in limited workspaces, then SKIL 3320-01 should have a spot on your priority list.
It is quite affordable and worth the buy even for first-time purchasers.