In Brief: Snow Joe 24V-X2-SB18 Snow Blower Review
Tackle snow with Snow Joe 24V-X2-SB18, 37.5-pound cordless Snow Thrower that is powered by an Ion+24-Volt Lithium-ion Snow Joe® battery system. Its two 4.0Ah batteries offer a runtime of around 40 minutes and do not emit any carbon, thus promoting a healthy environment. In one pass, this piece of equipment can clear a patch of snow that is 18 inches wide and 10 inches deep and throw it 20 inches away. Handling it is easy, and it is suitable for both small and large driveways.
Founded in 2004, Snow Joe boasts an expansive line of outdoor equipment that includes electric, cordless, and manual tools like lawn mowers, tillers, snow blowers, and trimmers.
They are committed to designing affordable high-quality goods to help keep your home in good shape all throughout the year.
The Snow Joe 24V-X2-SB18 is no exception. With its powerful features and affordable price, it could be the gardening tool you have been missing all along.
Key Specifications of the Snow Joe 24-V-X2-SB18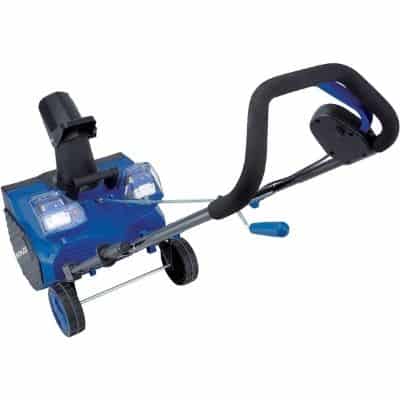 This Snow Joe creation features a robust Ion+24-Volt Lithium-ion battery system. Plus, the dual 4.0Ah batteries have a rechargeable runtime of about 40 minutes.
This means you do not have to worry about stopping in the middle of snow blowing to recharge.
Also, it takes less than two hours to recharge the batteries, and their zero carbon emission ensures a cleaner environment.
Its strong, 1200-watt, brushless motor can plow through up to 700 pounds of snow per minute.
The integrated scraper bar at the unit's base clears snow without ruining your driveway, deck, or pavement.
The chute rotates 180 degrees to dispose of snow 20 feet away in any direction.
With the Snow Joe 24V-X2-SB18, you do not have to worry about the darkness interrupting your snow blowing, thanks to its integrated 2-watt LED headlights. They offer superior illumination for all lighting conditions.
With a weight of only 37.5 pounds when loaded with the battery, this model is lightweight and portable.
This makes it easy to move around and maneuver in tight spaces. Also, you can stash it away easily when not in use, as it doesn't take up a lot of space.
The four-blade steel auger with rubber tips has a clearing width of 18 inches. This way, you will be able to complete your work with just a few passes.
For more information, check out this video :
Here is the long list of specs of the Snow Joe 24-V-X2-SB18 Snow Thrower :
Specification
Model Number / Name

Snow Joe 24V-X2-SB18 48-Volt iON+ Cordless Snow Blower Kit | 18-Inch | W/ 2 x 4.0-Ah Batteries and Charger
Powered by
Cordless 24V Battery

Engine power

Two 4.0 Ah Lithium-Ion battery
Stages
Two-stage
Clearing width
18 inches
Ideal for how many inches (depth of snow)

10 inches
Weight
37.5 lbs.
Start mechanism

Electric start
Other features
Chute control, headlight

Unique Features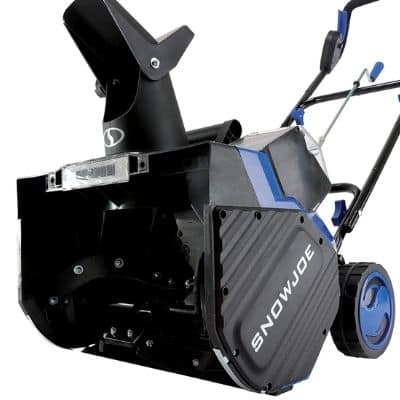 Here are some of this model's unique features :
Chute control
This snow blower features a flexible chute crank that rotates 180 degrees to throw snow up to 20 feet away in the desired direction.
Safety switch
The package comes with a safety switch to prevent your equipment from starting accidentally.
Steel auger
The snow thrower comes with a four-blade auger that is made from robust heavy-duty steel that can clear snow up to 10 inches deep within an 18-inch clearing width.
This quickens the clearing process.
Robust battery system
The 24V lithium-ion battery system consists of two 4.0Ah batteries that can run for up to 40 minutes.
Large tires
This piece of equipment has huge tires with a great tread pattern for use in any snow conditions.
Power and Snow Clearing Capability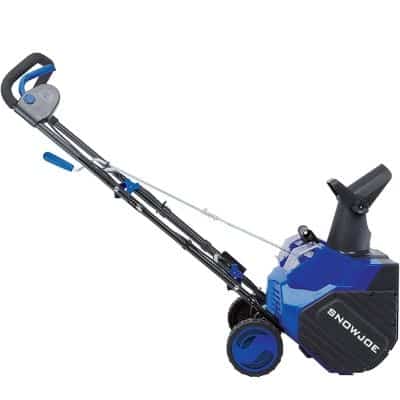 The Snow Joe invention is a powerful single stage machine judging from its 24V battery system. This way, you can blow without any worries of your snow blower stopping.
Also, it has a clearing width of 18 inches, and it can clear snow up to 10 inches deep in just a few passes. Because of this, it will take less time to complete your work.
Combined with its large fuel tank capacity, this makes it an indispensable tool for your snow blowing needs.
Ease Of Use
Although pull-starting is also an option, the tool features an electric start.
This means that you do not require much effort to start the machine. All you need to do is press a button and take a ride with your snow blower.
Also, it is lightweight, meaning you can move it around easily, and it can be maneuvered even in the tightest of spaces.
When not in use, you can put it away, as it doesn't take up much storage space. It also features a chute control for the operator's convenience and ergonomic handlebar design for a comfortable yet firm grip.
The strong battery system is the icing on the cake.
Ease of Maintenance, Repairs, and Warranty
A low maintenance factor is attached to this piece of equipment. Repairs won't be frequently needed, courtesy of the sturdy steel housing.
However, you may be required to replace the shaving plates and tires, as they are prone to wear and tear.
Regular oiling of the wheels and shaft is also important for optimal functioning. Here are some more maintenance tips :
Disengage all controls before cleaning, repairing, or inspecting
Always check the nuts to ensure they are tight before using the machine
Make sure the batteries are fully charged before you begin snow blowing
Keep the exterior clean
Do not use the machine on dirt or gravel surfaces
The 24V-X2-SB18 has a two-year manufacturer warranty attached to it. During this period, you can take it back to Snow Joe if there are any defects.
You just have to go to their website and fill out an online warranty registration form.
Then, mail it to them. You will be required to present both the product and the original receipt. If you need help, you can reach them at 1-866-766-9563.
Price of the Snow Joe 24V-X2-SB18
Considering its precision and the numerous amazing features the 24V-X2-SB18 comes with, it has a decent price attached to it.
While some may argue that there are cheaper options on the market that function just fine, you won't regret spending an extra dime on this beast.
Pros and cons of the Sun Joe 24V-X2-SB18
Here is a list of the benefits and drawbacks of this model:
Pros
Sturdy build
Multiple speeds
Suitable for driveways of any size
Lightweight
Easy to move
Quite affordable
Powerful battery system
Environment-friendly
Cons
Dense snow may be a challenge
Flimsy feel to the plastic parts
Who Should Buy the Snow Joe 24V-X2-SB18 ?
If you are looking for a piece of equipment that you can use on any driveway size, you could find this to be a fantastic choice.
Environmentalists will also find this to be an important addition to their collection of equipment because of its zero carbon emissions.
It is suitable for use on light and fluffy snow, so using it on dense snow would be a big mistake.
The 24V-X2-SB18 is a good choice for anyone who is operating on a tight budget but wants a snow blower with advanced features.
Our Recommendation
We are in complete awe of Snow Joe 24V-X2-SB18 performance, ease of use, and unique features that work together in the operator's favor.
This is a piece of low-maintenance equipment, so it won't eat much into your pocket.
Besides that, it was built to last a lifetime, so you won't replace it for years. It is easy to operate, and nothing cuts through light ice like this invention.
If you also are head over heels for this product, we think you should go ahead and get it.