In Brief: Snow Joe 323E Snow Shovel Review
Snow Joe 323E is an electric Snow Shovel whose design ensures you eliminate snow from your steps, decks, and walkways. With its broad 13 inch clearing auger, it can shovel through 6 inches of snow with ease hence getting the job done within the shortest time possible. Its lightweight design makes it a useful tool to work with any individual.
Snow Joe 323E is a lightweight machine that weighs as little as 13.80 pounds and an electric start mechanism.
The Snow Joe company was founded in 2004 with only one tool in its lineup. Over the years, it has shown so much potential with most of its equipment selling in most parts of the world prone to snow.
This machine is lighter as compared to similar products in the market. Its 10 amp powerful motor can handle up to 400lbs of snow every minute. It is also built to last due to its ergonomic design.
Key Specifications of the Snow Joe 323E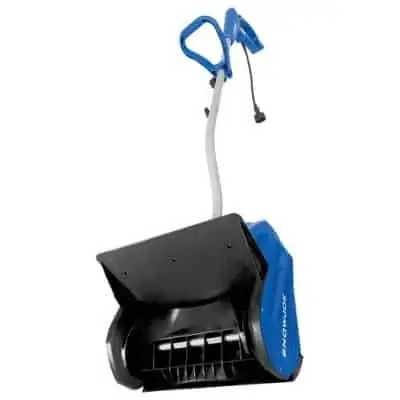 When creating this machine, Snow Joe had the best in mind. They invested highly on the device to ensure every user is satisfied with the results.
The machine features a user-friendly ergonomic design fitted with an adjustable handle, ensuring that the user uses less effort.
This is boosted by a dual-blade paddle auger, which makes up to 6 inches deep and 13 inches wide.
Snow Joe 323E 10 Amp motor is powerful enough in that it can toss the snow up to 33ft clearing clean the pathways and decks.
Here is a demonstration video of Snow Joe in action :
Here is the long list of specs of the Snow Joe 323E Snow Shovel :
Specification
Model Number/ Name
323E
Powered By

Corded Electric
Engine Power
10 Amp
Stages
2 stages
Clearing Width
13 inches
Ideal for how many inches of snow
2 inches
Warranty
2 year warranty period
Weight
13.80 lbs
Start Mechanism
Electric
Other Features
Track drive traction
Unique Features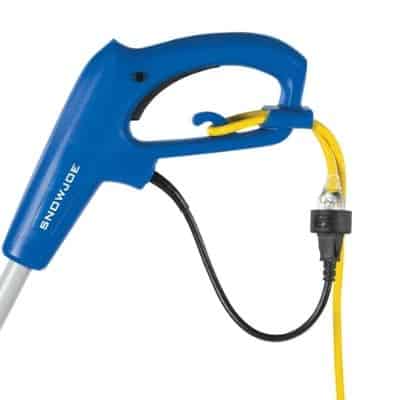 Here are some of the unique features that make this machine stand out :
Adjustable Handle
This machine was built to handle the need for all sized individuals. The adjustable handle supplements the ergonomic design.
They allow the user to adjust to a suitable height minimizing the user strains and fatigue. Therefore you get to remove as much snow as possible.
Safety Button
Accidents happen, and all machines can pose a danger to the user or anyone close. Snow Joe took no chances but equipped the tool with a safety button purposely to prevent accidental starting.
Paddle Auger
Snow Joe 323E features a highly durable Auger that integrates a dual-blade paddle, which cuts as 6 inches deep and 13 inches of snow every pass. The auger throws the snow 20 ft. away.
Power and Snow Clearing Capability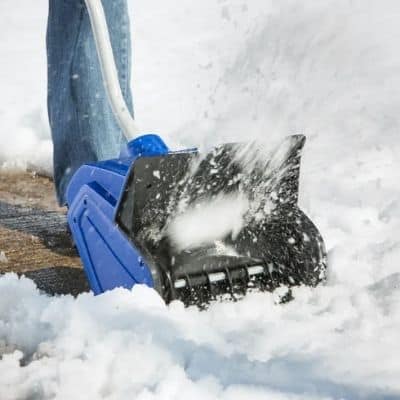 Before purchasing any machine, one needs to check how much power it produces. This machine holds a powerful 10 amp motor that can move up to 400lbs of snow per minute.
This means that one can relatively make lesser rounds hence saving time. This machine has excellent snow clearing capability for a push drive snowblower.
Ease of Usage
The Snow Joe 323E snowblower requires no prior knowledge or skills to operate. Its compact and lightweight design helps you to get the work done with no time.
In case the snow is more than 6 inches deep, you can remove it with a second pass.
It features a simple start mechanism whereby you're up and going with just the push of a button.
A safety switch is available to prevent any accidental starting. The adjustable handle can be set at user preference to reduce strains and fatigue.
Ease of Maintenance, Repairs, and Warranty
Apart from ease of use, durability is another thing to check on before you purchase a machine.
This goes hand in hand with maintenance. Snow Joe 323E requires minimal care, including clean up, tightening of loose bolts, and proper storage, which can be done at your garage's comfort.
When it comes to repairs, the parts are readily available; however, seek professional help if you are unfamiliar with anything.
This snow blower has got you covered, as a 2-year full warranty backs it. This applies to the purchase of new products, and the warranty is activated from the purchase date.
In case your machine is damaged or fails within the warranty period, contact Snow Joe's customer desk at 1-866-766-9563 to address your issue. The company is liable, and therefore they will settle the cost of repairs.
Price of the Snow Joe 323E
Compared to similar products in the market, 323E is relatively easy to own. Considering all the features, it comes with its worth every penny you spend on it.
It is made to last; therefore, you'll need little maintenance cost, unlike a gas-powered snow blower where you'll need to spend nothing on fuel for this machine.
Pros and cons of the Snow Joe 323E
Here are some of the advantages and disadvantages of Snow Joe 323E.
Pros
Lightweight design
Easy to operate
Long-lasting
User friendly
Affordable
Cons
Comes with no clearing tool or skid plates
Who Should Buy Snow Joe 323E ?
This machine is an ideal tool for individuals looking for an easy to own device.
It can handle extensive snow blowing with ease. Anyone can work with it smoothly with its lightweight design and the ability to adjust the handle to minimize strains.
The machine is relatively easy to operate, and its replacement and repairs are readily available.
Our Recommendation
It is without a doubt that this is an all-round snow shovel. Its versatility of use and the ability to scope up to 400lbs of snow per minute make it stand out against similar market machines.
It is safe to use, and since it requires lesser efforts, one can clear a larger area within the shortest time possible.
If you are looking to invest in a machine that will serve you for long with little to no stress, we recommend this machine to attend to your steps, walkways, and decks.