In Brief: Snow Joe SJ618E Review
Snow Joe SJ618E Electric Single Stage Snow Thrower is an environmentally friendly machine known for its quietness, lack of vibrations, and zero emissions. This snow thrower is an easy to start machine with great performance. Let us have an in-depth understanding of how this machine works.
Snow Joe SJ618E Electric Single Stage Snow Thrower is a versatile tool featuring a 13 amp powerful motor and a 2-blade temp-resistant auger for maximum performance. With its instant start mechanism, anyone can use it with ease.
When it comes to its products, Snow Joe mainly specializes in positive impacts. They are committed to creating high-quality inventions to satisfy their customers fully.
Founded in 2004, it is among the leading manufacturers of reliable power equipment brands worldwide.
A 13amp motor powers the Snow Joe SJ618E snow thrower. It has a clearing width of 18 inches and an 8-inch clearing path.
Key Specifications of the Snow Joe SJ618E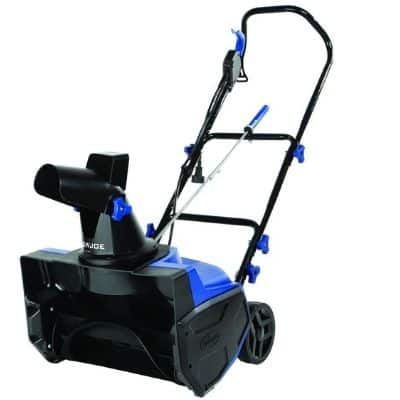 It is essential to understand the features put in place by Snow Joe, which makes this machine a preferred choice for many.
The machine features a 2 blade auger highly resistant to cold and abrasion with an 18-inch clearing width and 8-inch depth. With its powerful 13 amp motor, it can move up to 550lbs of snow per minute.
An adjustable 180 degrees directional chute is also present.
Snow disposal is manageable as the chute turns 180 degrees allowing you to dispose of the snow anywhere you want. It also has an impressive 20 feet snow throw distance.
Check out this assembling video of Snow Joe SJ618E :
Here is the long list of specs of the Snow Joe SJ618E Snow Thrower :
Specification
Model Number/ Name
Snow Joe SJ618E
Powered By
Electric
Engine Power
13 Amp
Stages
Single-stage
Clearing Width
18 inches
Ideal for how many inches of snow
8 inches
Warranty
2 year warranty period
Weight
25.90 lbs.
Start Mechanism
Electric Start
Other Features

Safety Switch
Unique Features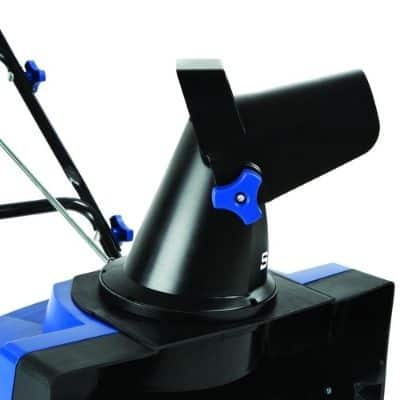 Here we take a look at the features that make this snow thrower different from the rest. The features include :
13 Amp Power Motor
The motor produces powerful performances and has a run time of about 45 minutes. This is enough for a standard household. Some of the engine's advantages are; it does not produce fumes, no vibrations, and is quiet.
Safety Switch Button
This feature prevents the machine from starting unexpectedly. All power tools are dangerous, so Snow Joe made safety their priority for the user's benefits.
2 blade Temp Resistance Auger
These dual blades can cut through snow width of 18 inches of snow and 8-inches depth with each pass.
Power and Snow Clearing Capability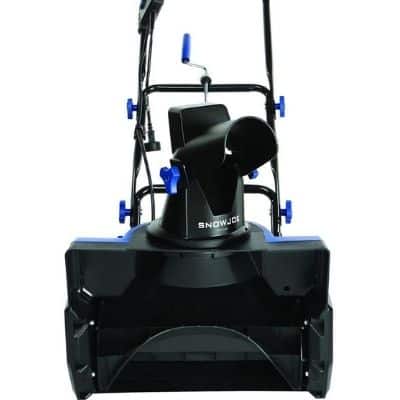 When it comes to power, the 13 amp motor is enough to give you the ability to remove the snow with little effort. Note that this machine only works on 120 volts.
The snow clearing capability of this snow thrower is impressive. The machine has an 18-inch clearing width, clears snow up to a depth of 8 inches, and discharges it up to 20 feet.
Ease of Usage
You need no special skills to operate the Snow Joe SJ618E snow blower. The 7-inch radial wheels make it easier to move the machine through the heavy snow.
The adjustable chute allows you to dispose of snow in the desired direction.
In case you experience issues when handling the machine, always refer to the owner's manual for clarity.
One important thing to note is that; always ensure you use the correct extension cord for this machine. If you use an incorrect extension cord, the engine may not start.
Ease of Maintenance, Repairs, and Warranty
Simple maintenance procedures are enough to keep this machine working for years. Here are some things to check on when doing regular maintenance practices:
In case the chute is not turning around, the problem may be misaligned gears. Fix this by ensuring the chute faces directly ahead then realign the gear bracket.
After clearing the snow, allow the motor to run for a few minutes. This is to ensure that the ice does not freeze on the moving parts.
Shut off the motor and wipe ice and snow from the machine.
Rotate the chute crank to remove any snow from the thrower.
Furthermore, some repairs can be too complicated and might need a professional to look at the product in person.
Snow Joe has high confidence in its products. The company offers a 2-year limited warranty for this great snow blower.
In case you have any issues to address concerning your machine, feel free to contact Snow Joe's support center at 1-866-766-9563 for further assistance.
Price of the Snow Joe SJ618E
The good news is that this machine is affordable. Considering its powerful abilities, it comes at a fair price. Its accessories are easy to find and pocket-friendly.
Customer reviews show that this machine is a cost saver compared to other similar ones with the same capabilities.
Pros and cons of the Snow Joe SJ618E
Here are some advantages and disadvantages of this snow thrower.
Pros
Cost saver
Easy to use
Durable
Environment friendly
Quiet
Who Should Buy Snow Joe SJ618E ?
This snow thrower perfectly suits those with small to medium lawns, driveways, and decks. It is also a fantastic choice for those looking for a cost-effective machine with high performance.
If you are allergic to fumes, buy this machine as it produces no noxious fumes.
As you interact with this snow thrower, expect to have total control on the device as there are no vibrations. Just power it and get to work.
Our Recommendation
Before you buy any machine, it is essential to look at its features to determine if it is the best option for you. Don't wait till there is heavy snowfall to start shopping.
This machine will come in handy every time you need to clear your driveway and pavements.
Therefore, we recommend it to those who are new to snow throwing machines as it is easy to use.