In Brief: Snow Joe SJ620 Snow Thrower Review
The Snow Joe SJ620 Snow Blower is a one-stage Snow Blower that is easy to operate. It has a clearing width of 18 inches and an ideal snow depth of 10 inches, making it suitable for clearing your small driveways or walkways. It requires no fuel and will not pose any difficulties while clearing away the snow from your paths.
Founded in 2004, Snow Joe® and Sun Joe® are known for producing exceptional quality and highly innovative but relatively affordable outdoor tools that help you keep your environment in perfect, beautiful condition.
The Snow Joe SJ620 is an efficient, easy-to-use snow blower that easily helps you clear snow out of your way. It is easy to use, requires no fuel, and will quickly clear away snow due to its high clearing width range.
Key Specifications of the Snow Joe SJ620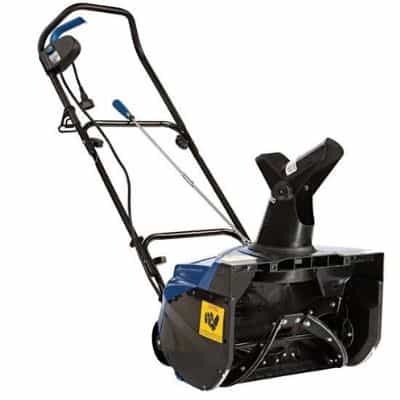 With an 18-inch clearing width, this snow blower can easily plow through layers of snow to give you a clear driveway in very little time.
It is suitable for use on a mid-sized driveway or walkway and can tackle a considerable amount of snowfall.
This blower is able to clear out a large amount of snow from a snowstorm in as good a time as a two-stage blower.
This snow blower requires no fuel, oil, or anything else to get it up and running. All you need to do is plug in the cord, and you're good to go.
Being lightweight, it can be operated by anyone without difficulty and requires minimum storage space.
Check out this video for more about this snow blower from Snow Joe :
Here is the long list of specs of Snow Joe SJ620 Snow Blower :
Specification
Model Number / Name

SJ620
Powered By
Electricity
Engine Power
13.5-amp motor
Stages
Single-stage
Clearing Width 
18 inches
Ideal for how many inches of snow
10 inches
Warranty
2-year residential

Weight
31.5 pounds
Start Mechanism
Electric
Other Features
Up to 20 feet of snow throwing distance
Unique Features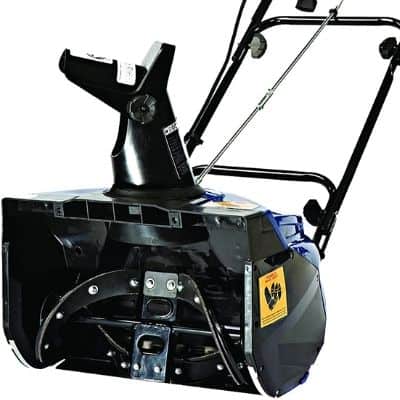 This snow blower has some interesting features that set it apart from others. Let's take a look at them.
Environmentally Friendly
With this snow blower, you are guaranteed a noise-free environment while working. This ensures you and your neighbors remain friendly, as you won't need to disturb them as you clear out the snow.
Also, as it uses no hydrocarbons, there are no emissions, ensuring that your air is free from possible carbon monoxides. This ensures cleaner air for healthier living.
No Fuel Start
Unlike most other snow blowers, the SJ620 requires no additional liquids to help it run. It needs no gasoline and no oil, just a simple plug-in electric start, and your clearing begins. This saves you unnecessary fuel costs.
Requires Zero Maintenance
Requiring no fuel and no oil also implies that there is no need for the maintenance that comes otherwise.
You don't have to change filters, top off the oil, or check anything else. Just start using it once it is connected to a power source.
Check out this video for more information on the features :
Power and Snow Clearing Capability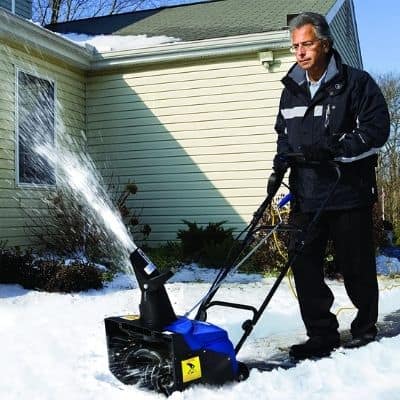 Powered by a 13.5-amp motor, this snow blower is strong enough to plow through a light build-up of snow in very little time. This will provide you a clean and neat walkway or driveway in less time than other options.
It has a large clearing width of 18 inches and a throwing distance of about 20 feet, making it easy for you to easily get your driveway or walkway into good shape after a snowfall.
Ease Of Use
This snow blower is very easy to start, as it starts up with just the touch of a button once connected to a power source. This saves you the stress of batteries, gas, or gas-oil mixes.
It also has a well-designed handle that ensures your comfort even while operating it. This will save you from possible pain in the joints.
You can also easily control the stream direction thanks to the 180-degree chute deflector, making your work convenient.
Ease of Maintenance, Repairs, & Warranty
This is one of the easiest snow blowers to use, as it requires very minimal maintenance. All that is required of you is to clean it out once in a while. Any faulty or broken parts can also be easily repaired on an as-needed basis.
It comes with a 2-year residential warranty that covers factory defects. To get your warranty, please contact or call Snow Joe at 1-866-766-9563.
The warranty covers only registered products, so register at snowjoe.com/register.
Price of the Snow Joe SJ620 Snow Blower
Compared to other snow blowers on the market and the efficiency offered, the snow blower from Snow Joe is quite cheap and is an excellent buy for the money.
Pros and cons of the Snow Joe SJ620 Snow Blower
Are there reasons why you should or shouldn't buy this snow blower? We will discuss this below.
Pros
Environmentally friendly
Easy to operate
Requires minimal maintenance
Cheap and lightweight
Cons
Difficult to clear wet, heavy snow
Use of power cord
Who Should Buy the Snow Joe SJ620 ?
This snow blower is suitable for the homeowners who have to deal with heavier snowfall on their mid-sized driveways or walkways.
Because of its light weight and the ease it offers when in use, it is also suitable for people who may not have too much technical know-how to operate more difficult equipment.
In general, due to its affordability, the snow blower is suitable for just anyone who has to clean some snow from their yard.
Our Recommendation
The Snow Joe SJ620 is quite easy to use and will not cause you any difficulties while using it. In addition, there are some great features that it possesses, which will assist you in getting a clear yard in the fastest possible time.
It is built to last for a long time and can be easily operated by anyone who knows how to use and operate this type of snow blowing equipment.