In Brief: Snow Joe SJ621 Snow Thrower Review
People need to get hold of an easy-to-use machine that can do a perfect job when it comes to tackling very heavy snowfall on long walkways and large driveway. In response, Snow Joe has developed the Snow Joe SJ621 Snow Thrower, another innovative outdoor equipment that features an electric engine and 180 degrees rotation ability.
Snow Joe is popularly known for its specialization in manufacturing innovative and extraordinary outdoor equipment that keeps users' homes beautiful throughout the year, whether there is sunshine or the snow is falling.
One of these products is the Snow Joe SJ621 snow thrower.
This model is a bigger electric snow thrower, and it is designed to provide a gas machine's power with the ease of use that comes with an electric unit.
Key Specifications Of Snow Joe SJ621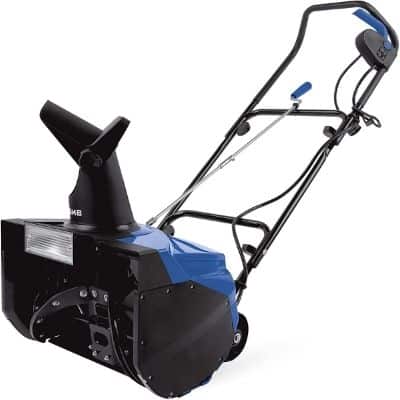 This unit is an impressive electric snow thrower with incredible dimensions.
It also has a strong 13.5 amp motor, which provides the tool's auger with enough power to blow away about 650 pounds of snow from 20 feet away in a minute.
However, the tool is quite heavy because it is robust and powerful. Its weight is 33.3 pounds, and its dimension is 45(L) x 19(W) x 38(H) inches. So you may have storage issues, and the weight may be a challenge to older adults.
The excellent features of this snow thrower give it the ability to tackle heavy snow. You can be sure that you have what it takes to efficiently and easily tackle whatever it is that the Mother Nature dumps in your yard in the colder months of the year.
Here is the long list of specs of the Snow Joe SJ621 Snow Thrower :
Specification
Model No / name
SJ621
Powered by
Drive manual push
Engine Power
Electric
Stages
Single stage
Clearing Width
18 inches
Ideal for how many inches of snow
10 inches
Warranty
2 years
Weight
33.3 lbs.
Start Mechanism

Electrically powered

Other Features
20 feet of snow-throwing distance
Unique Features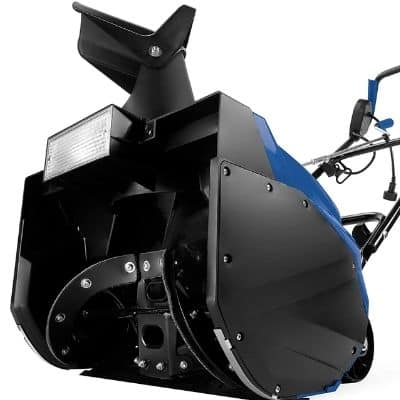 The following are unique features of this special unit, which make the task of removing snowfall easier and quicker to get done for customers :
Electric Engine
The fact that the Snow Joe Ultra SJ621 snowblower is powered electrically is a considerable advantage. The push-button start eliminates the frustrations that come with stressful pull starts. You also don't need to be bothered about dead batteries, wrong oil-gas mix, or finished gas.
Snow Joe SJ621 can be used on every kind of flat surface. It is suitable for businesses and households because it helps you save money, effort, and time.
A Wide Chute Range
The machine's snow chute helps you eliminate snow in very wide driveways while going over the snow just once, thanks to its 180 degrees rotation feature.
Since it can rotate at a 180-degree range as it gets rid of the snow, it cuts and picks, clearing a large space quickly.
You will be able to achieve this without applying too much effort while getting the task done in just a few passes.
For more information about the features, check out this video:
Power and Snow Clearing Capability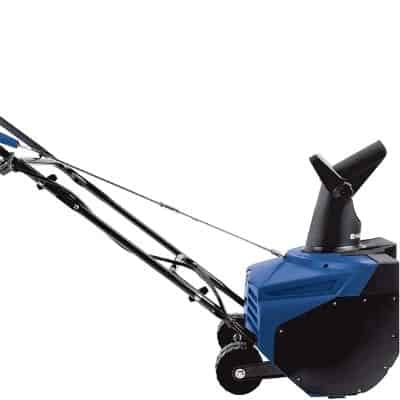 The snow thrower can move up to 650 pounds of snow in just a minute, so users can quickly clean up high traffic areas within a few minutes.
As stated by the manufacturer, you can clear about 2,450 square feet in an hour with this tool. This is indeed an impressive performance and achievement of this machine.
This tool operates on a single-stage system. Its rotor cuts the snow and gets rid of it through the chute, which makes the blades come in contact with the ground.
However, you won't experience this with paving services, but it may pick up little stones on a gravel surface and get rid of them by throwing them out through the chute, which tends to be dangerous.
Ease of Usage
This snow blower has 18-inch clearance, allowing you to tackle big snow clearing jobs without having to pass around too often.
Thanks to the 10-inch depth feature of cutting snow, the tool is reliable for getting rid of a very heavy snowfall conveniently.
Other features of this unit are the improved overall experience to clear snow, the strong halogen headlight, a handle, and Instant Start technology. Apart from this snow blower's excellent features, its affordability does not in any way affect its power and reliability to do big jobs.
Ease of Maintenance, Repair, And Warranty
This device is electrically powered. The motor and machine are easier to manage, and you do not need tune-ups or oil or gas to run the machine.
The adjustable chute deflector helps you determine how you want the snow discard: high or low or in-between.
This tool is easy to maneuver during usage because of the Easy-glide pivot wheels. There is a 2-year warranty, so this will be a purchase that will give you peace of mind. To have access to this warranty, you will return the product with the receipt to Snow Joe.
Price of Snow Joe SJ621
Unlike some other snow blowers that come with high prices, this snow blower has a reasonable price tag, considering the machine's size and efficiency.
With this tool, you don't need to pay a premium price to keep heavy snowfall away from your residence or worry about the high-cost operation and maintenance of a gas-powered snow thrower.
Pros and cons of the Snow Joe SJ621
Unlike snow blowers that are powered by gas, electric ones such as the Snow Joe SJ621 are quieter, cheaper, and do not produce emissions.
This ultimately reduces our carbon footprint. The following are the other pros of this machine :
Pros
Powerful and durable
Convenient and eco-friendly
Easy to operate
Only needs basic maintenance
Two-year warranty
Comes with halogen headlights
Approved by ETL
Cons
Cord may get in the way
Not suitable for wet snow
Who Should Buy Snow Joe SJ621 ?
Snow Joe specializes in developing innovative and efficient outdoor tools.
So, Snow Joe SJ621 is for everyone who is interested in an easy-to-use machine that will help them get rid of snowfall from their driveways and walkways.
Other people who should buy this tool are commercial garden specialists and people who manage sidewalks and large lawns.
With this tool, customers' yard routine and chores of keeping their residences clean have become simpler, faster, and more manageable.
Our Recommendation
Snow Joe offers popular snow blowers, and the company has different types of outdoor power tools that range from electric tools and manual ones.
They also develop cordless tools. The SJ621 is loaded with a lot of power and is designed for home use.