In Brief: Snow Joe SJ625E Review
The Snow Joe SJ625E Electric Single Stage Snow Thrower is an excellent tool for snow clearing. Having a clearing width of 21 inches, a snow depth of 12 inches, an excellent throwing distance of 20 feet, and a chute capable of rotating 180 degrees, this snow thrower is definitely designed to enhance your snow clearing process. It is efficient, easily controlled, and requires only electricity to keep it working at full blast.
Being an excellent brand when it comes to the manufacturing of corded electric snow throwers, Snow Joe has proved itself time and time again.
They are committed to providing you with tools that aid in giving you a clean, clear, and beautiful environment.
The SJ625E snow thrower is one such tool from Snow Joe.
It provides you with great power and easy mobility to clear layers of snow in little time. It is a tool that is efficient and easy to operate, and it gives excellent results.
Key Specifications of the Snow Joe SJ625E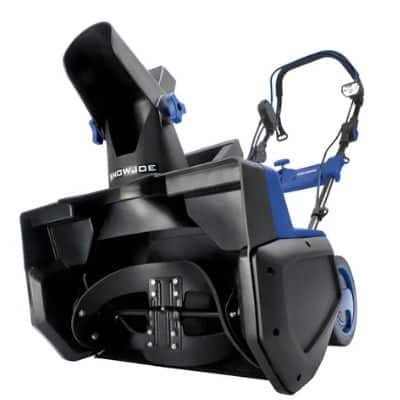 This model has a clearing width of 21 inches, which makes it possible to quickly get the driveway free of snow.
If you have a medium-sized driveway or walkway, this snow thrower is a very good choice. It will give you a perfectly clear surface in little time.
The snow depth of 12 inches makes it possible for it to clear snow even down to the pavement in very little time.
All you need to get this snow thrower functioning at full capacity is an electrical power source. It requires no gas and no oil, just an electrical outlet for plugging it in.
It is easily controlled and maneuvered thanks to the drive and turn designs that it operates with. This makes it comfortable and easy to use.
Watch the video here for more on its features :
Here is the long list of specs of the Snow Joe SJ625E Snow Thrower :
Specification

Model Number / Name
SJ625E
Powered By

Corded electric
Engine Power
15-amp
Stages
Single-stage
Clearing Width
21 inches
Ideal for how many inches of snow
12 inches
Warranty
2-year residential
Weight
35.7 pounds
Start Mechanism
Electric start
Other Features
Up to 20 feet of snow throwing distance
Unique Features
Let's take a look at some of the interesting features of this snow thrower.
Great Scraper Blades
These blades help provide you with clean pavement, completely scraping off all the snow from your pathway. It does this while leaving your lawn in perfect shape.
Amazing Wheels
The thrower works on an "easy-glide all-terrain wheels" drive system that makes it easy to maneuver and turn. No matter how steep the incline or how deep the snow, you will be able to get the job done with this drive system.
High Plowing Capacity
With this snow thrower, clearing snow is a walk in the park. This is because it is able to clear 800 pounds of snow a minute, ensuring quick completion of your snow-clearing task.
Power and Snow Clearing Capability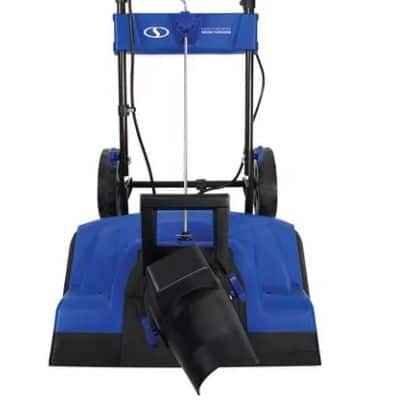 Powered by a 15-amp electric motor, this snow thrower comes with enough strength to blast through thick layers of snow in no time. All that you need is a constant power source, and you are ready to go once it is powered on.
The electric thrower has an amazing clearing range of 21 inches and a snow depth of 12 inches.
Coupled with a 20-foot throwing distance and 180-degree chute rotation, these features will give you a clean lawn in the least amount of time possible.
Ease Of Use
This unit operates with an electric start system that makes starting very easy and convenient. Once connected to the right power source, you are all set to clear your pathways in less than a minute with just one single touch.
Since the snow thrower does not require any extra fuel to function, it is ok to start up at any time, even on days when funds may be low. All that is required is a power supply, and you are in business.
This piece of equipment is also very readily and easily controlled, thanks to the excellent drive and turning systems that it operates on.
These provide you all the support needed to drive through layers of snow comfortably.
Ease Of Maintenance, Repairs, & Warranty
This piece of equipment requires next to zero maintenance. This is simply because it requires no gas, oil, or any other additives to keep it fully active and functional.
Therefore, you are worry-free when it comes to maintenance and unnecessary repair costs.
Committed to ensuring that your snow thrower performs at its peak, Snow Joe provides you with a 2-year warranty that covers factory faults and defects. You can easily contact Snow Joe for warranty services by calling 1-888-766-9563
Price Of the Snow Joe SJ625E
This snow thrower is quite affordable and cheap. It will conveniently save you some costs, especially if you are thinking of getting an alternative to a gas-powered unit, as it does practically the same amount of work.
Pros and cons of the Snow Joe SJ625E
What are the benefits or drawbacks of this snow thrower ? Let's find out.
Pros
Lightweight and easy to handle
Requires no maintenance
Quite durable
Fairly priced and affordable
Cons
Chute crank may be stiff
Clogs up with heavy, wet snow
Who Should Buy the Snow Joe SJ625E ?
This snow thrower is a great buy for you if you need a strong electric snow thrower that is as fit to do the task of a gas-powered snow thrower. It is also suitable if the cost of a gas-powered alternative is too high.
If you live in an area with light to moderate snowfall, this blower is simply what you need to get a clean, clear lawn in no time.
Our Recommendation
Snow Joe SJ625E is affordable, easy to operate and handle, and can be easily stored away for future use.
Having a wide clearing range and snow depth, this snow thrower from Snow Joe is definitely an excellent choice.