In Brief: Snow Joe SJ627E Review
Complete with a steel auger, rubber padding, and blades with rubber tips, the SJ627E can move up to 25 tons of ice per hour. It has a clearing width of 22 inches and can blow up to 13-inch deep ice. It has a flexible chute control that can be rotated through 180 degrees for your convenience. When compared to its heavyweight counterparts, the model weighs a mere 35 lbs. making it easy to move around.
16 years ago, the Sun Joe Company was formed with the sole aim of developing high-quality, affordable, and durable outdoor equipment to maintain your home's beauty.
Now, they have a whole line of outdoor equipment that includes electric, manual, and cordless tools like lawnmowers, snow blowers, and tillers.
Their products are powerful and serve to make your outdoor experience an interesting one. The SJ627E is a piece of equipment with plenty of functional features and competitive pricing.
Key Specifications of the Snow Joe SJ627E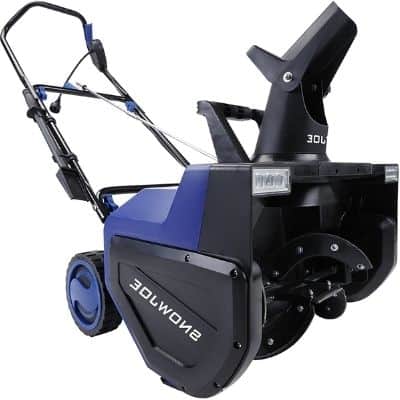 This machine is versatile. You can use it on mid-sized or large walkways and driveways. Its lightweight and compact size make it easy to move around even in tight spots. When not in use, you can easily store it away.
The Snow Joe SJ627E boasts of an all-powerful 15-amp electric motor with a clearing speed of 25 tons per hour. It has a clearing width of 22 inches that enables you to finish your work in just a few passes. It clears ice up to 13 inches deep.
With this model, you do not have to worry about finishing the clearing activity before dusk, thanks to the LED lights. The lights facilitate snow removal at any time, regardless of the lighting conditions.
Another key specification of this machine is its auger. It is made of heavy-duty steel, and its robust nature allows it to make deep cuts through ice in every single pass.
Worth mentioning is the chute control that lets you adjust the chute direction for your convenience. The SJ627E throws snow up to 25 feet away also features a chute cleanup tool to remove any snow buildup.
With no oil tune-ups or gas requirements, starting and maintaining this piece of equipment is a walk in the park. The compact wheels offer easy maneuverability in all winter conditions.
Here is the long list of specs of the Snow Joe SJ627E Snow Thrower :
Specification
Model No/name
SJ627E
Powered by
Electric engine
Engine power
15-amp electric motor
Stages
Single-stage
Clearing width
22 inches
Ideal for how many inches (depth of snow)

13 inches
Weight

34.6 lbs.
Start mechanism
Electric start
Other features
Chute control, headlight
Unique Features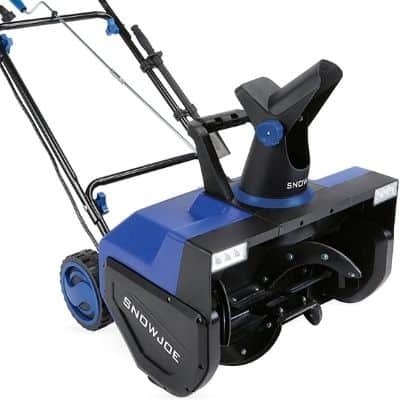 Let us have a peek at some of the unique features to expect when you purchase this product.
Safety Switch
Accidents are bound to happen as you go around your snow clearing business. Snow Joe had this in mind when they designed a safety switch solely for this purpose.
The switch serves to prevent any potential accidents from actually occurring.
LED Headlights
The SJ627E has LED headlights to give out superior illumination so you can remove snow comfortably even when it's dark outside.
Wide Cutting Angle
When it comes to the cutting angle, the SJ627 is the real deal. It features a 22-inch cutting width, letting you clear ice and snow in just a few passes.
Chute Control
With this model, you can rotate the chute in any direction through 180 degrees to suit your needs.
Large Tires
The seven-inch rear tires greatly improve maneuverability and transportation. They also have a unique tread pattern for exemplary traction in all snow conditions.
For more information about the working of this machine, watch this video :
Power and Snow Clearing Capability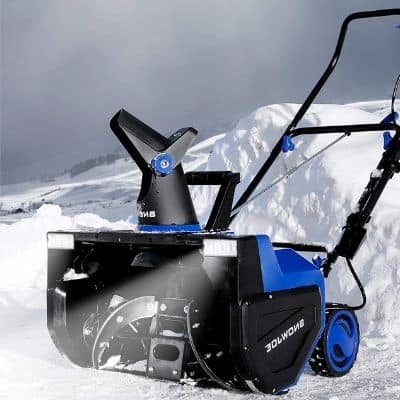 There are several aspects that accentuate this equipment's power. First, let's start with its 15-amp electric motor that powers it. The powerful engine pushes the machine forward as it tackles obstacles.
The steel auger is made of robust, heavy-duty steel to cut deeply through ice during each pass.
This, coupled with its wide 22-inch clearing width and the 13 inches of snow it can cut through, makes it a necessary tool in every household.
It also has a large tank capacity, meaning you won't have to stop mid-process to refill. This saves you time.
Ease of Usage
We found that using this machine is relatively easy. For one, assembling is simple, and so is starting the engine as you rely on a switch.
Also, its lightweight and compact design is beneficial in that you can move it around quickly. The chute control feature lets you choose the direction of disposal to suit your needs.
The tires, apart from aiding in movement, also offer solid traction regardless of the winter conditions. What's more? There is a tool available for removing snow buildup, and the LED headlights let you work anytime.
Ease of Maintenance, Repairs, and Warranty
With this machine, you will incur little to no maintenance costs thanks to its sturdy housing that prevents it from being damaged.
Occasionally, you might need to replace the shave plates as they are prone to wear or tear. The belt should also be inspected annually.
Moving parts such as the shaft and wheels also require oiling. You should also ensure to keep the exterior clean and check the tightness of nuts and bolts before taking it out.
With the SJ627, you get a full two-year warranty for your convenience. I must say this is quite good as some other products have a shorter warranty period.
During this time, you can return the product and original receipt in case of any defects.
If it comes to this, visit Sun Joe Company website and fill in an online warranty form the mail them. Call them on 1-866-766-9563 for any inquiries.
Price of the Snow Joe SJ627
The product is quite affordable compared to its one-stage counterparts. It offers you functionality and several other advanced features without going hard on your wallet.
While some people may opt for cheaper options, it is important to note that the SJ627 price is worth it.
Pros and cons of the Snow Joe SJ627
Here, we will look at some of the advantages and disadvantages of this option.
Pros
Made of durable material
Wide clearing width
Easy to operate
Low maintenance cost
Compact design
Environmental design
Cons
Not suitable for use on sloping surfaces
Who should buy the Snow Joe SJ627 ?
If you want a piece of versatile equipment for your medium or large-sized space, this could be a good place to start.
The machine is suitable for flat driveways and walkways with obstacles. People that live in areas with less frequent, lighter snowfalls could benefit significantly from this tool.
You should, however, not use it on gravel surfaces.
Our Recommendation
This eco-friendly snow thrower combines gas power and electric performance to offer unlimited performance.
The unit is suitable for clearing extensive walkways and driveways without worrying about gas, oil tune-ups, or tangled extension cords. Everything is possible with just the flip of a switch.
We love the SJ627 for its comfort and ease of usage. It was developed with the operator in mind owing to its adjustable controls and ergonomic design.
We like that it doesn't need pull-starting, and its engine is powerful. If you are looking in this direction, go ahead and make the purchase.