In Brief: Stihl HT 56 C-E Review
Stihl HT 56 C-E Pole Saw is a lightweight pruner with a unique shaft design and easy ignition feature. It has 0.34L fuel tank capacity and 0.8KW engine power to support its smooth operation. It is useful for pruning overgrown branches of tall trees. It is suitable for agriculturists, gardeners, homeowners, and DIY enthusiasts.
Stihl specializes in the production of power tools such as chainsaw, pole saw, and other outdoor power equipment that makes it easy to carry out tasks efficiently.
HT 56 C-E is one of the core products of this manufacturer. It is a pole pruner that allows you to quickly get rid of overgrown trees around you.
Key Specifications of the Stihl HT 56 C-E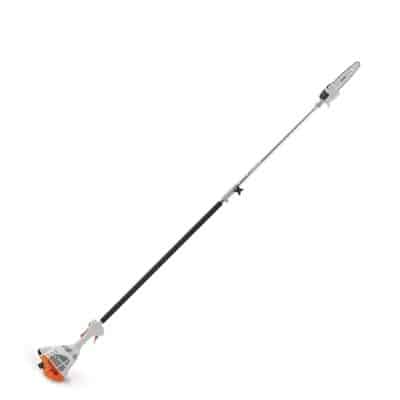 HT 56 C-E is an easy to handle product weighing just about 14.1lbs. It has a single-cylinder two-stroke engine with 0.8KW engine power that can deliver an idle speed of 2,800RPM, cut-off speed of 10,000RPM, and maximum output shaft speed of 7,900RPM.
The fuel system has an integral fuel pump and a tank capacity of 0.34L. The chain lubrication is controlled by a full-auto, speed-regulated oil pump with a rotary piston. It also has a gas power source.
HT 56 C-E has dual-bar lengths of 10" and 12" depending on the one suitable for your application. It has a 1/4" P pitch and a groove width of 1.1mm.
The video below shows how to use HT 56 C-E pole saw :
Take a look at Stihl HT 56 C-E Pole Saw long list of specs here :
Specification(unit)

Idle Speed (RPM)
2800
Cut-off Speed (RPM)
10,000
Engine Power (KW)
0.8
Bar Length (inches)

10"/12"
Pitch (inches)


1/4"
Bore (inches)
1.34"
Stroke (inches)
1.18"
Groove width (inches)
0.043"
Oil Tank Capacity (Liters) 

0.12
Fuel Tank Capacity (Liters)

0.34
Weight without bar and chain (Ibs)

14.1
Blade teeth
8
Unique Features
HT 56 C-E has features that enhance its functionality and makes it unique.
Easy Ignition
The ignition of HT 56 C-E is quite easy. It uses an electric magneto ignition system for an easy startup with a single simple pull. Aside from easy ignition, this system also permits smooth operation and prevents violent vibration.
Emission Control System
HT 56 C-E makes necessary considerations about maintaining a green environment with its emission control system.
The product works to ensure only a little or no exhaust emissions. It meets up with the emission standards of EPA and CARB to provide a safe environment.
Unique Shaft Design
As simple as it appears, the shaft design of HT 56 C-E is unique. This unique design allows for secure storage and transport. It also allows its versatility for various applications.
Design, Cutting, and Safety
HT 56 C-E has a unique design that ensures good cutting ability and operation safety for its users.
Design
The design of Stihl HT 56 C-E specifically enhances its efficient performance and effective delivery. It has an ElastoStart handle that ensures smooth starting with its built-in shock absorbing feature.
The ignition is quite comfortable with the inclusion of electronic ignition. Likewise, it also has a single-cylinder two-stroke engine.
Cutting
It has an 8-tooth 14P chain saw for effective cuts. It also has enough engine power to ensure smooth operation. It can offer a cut off-speed of 10,000RPM. The chain tensioner allows easy adjustment of the blade to enhance precise and accurate cuts.
Likewise, it has a toothed wheel that drives the blade, and it also includes a hock that helps you drive the branches of the tree away from you to allow you to see exactly where you want to make your cuts.
Safety
The buildup and mechanical structure of HT 56 C-E make provision for your protection against all operational hazards.
It has Rollomatic E mini guard structures with green labels that ensure a significant reduction in the kickback of the product.
It also features a chain guard (Scabbard) that prevents the operator from making accidental contact with the blade.
Ease of Maintenance, Repair, Warranty
Ease of Maintenance
The maintenance procedures of HT 56 C-E are stress-free and straightforward. Ensuring regular maintenance on your product will increase the serving term of your product and improve product efficiency.
Some of the maintenance procedures of HT 56 C-E include :
Ensure the cleanliness of the chain immediately after use to prevent rust.
Inspect oil level of the prune saw before starting to use it.
Check the chain of the saw for cracks within the links and any damage in the rivets.
Repair
If you are replacing any part of the product, ensure that it is directly from the manufacturer.
However, it is better to allow the manufacturer's service centers to handle the repair and replacement of your product to ensure safety and reliability.
Warranty
The warranty offers for HT 56 C-E include :
Two-years limited warranty for household, personal, and professional use.
30-days money-back guarantee.
You can get more information about the warranty, repair, and replacement service of the product by checking the manufacturer's official page at www.stihlusa.com. You can contact them via www.stihlusa.com/information/corporate/contact-us or call  1-800-467-8445 for more information.
Price of Stihl HT 56 C-E
HT 56 C-E is moderately priced. It is a suitable product for an average to the low budget buyer. Likewise, it offers high value for money with its efficiency and durability.
 Who Should Buy Stihl HT 56 C-E ?
HT 56 C-E is an ideal product for keeping nature and the green environment in shape without harming it. Therefore, it is a suitable product for gardeners, agriculturists, homeowners, and DIY enthusiasts.
Likewise, HT 56 C-E is useful for commercial and industrial purposes because it supports continuous use over a lengthy period. HT 56 C-E is ideal for professional application and easy to handle for beginners and amateurs.
Why We Like It
If you are a homeowner or an agriculturist and you intend to prune your trees with ease and keep them in beautiful shape without harmful emission to the atmosphere, Stihl HT 56 C-E might just be your ideal solution.