In Brief: Toro SnowMaster 824 QXE Review
The Toro SnowMaster 824 QXE has a powerful 252cc engine and the wide 24-inch clearing width and is an excellent snow blower. Even though people love winter and the fresh breath of air it brings, it comes with various inconveniences. For one, the snowing may completely cover your driveway or favorite rose bushes. With the right snow blower, clearing snow won't be much of a hassle.
The Toro Company has its headquarters on Lyndale Avenue, South Bloomington, and it is a leading provider of innovative outdoor solutions, such as golf and landscaping equipment.
Its tools are known for their high-quality and excellent performance.
The SnowMaster 824 QXE is one such tool.
Featuring an OHV 4-cycle engine with an electric start, this snow blower makes snow blowing enjoyable.
It can match your walking speed and provide better traction in any snow condition. Its maneuverability is excellent, and anyone can efficiently operate it.
Key Specifications of the SnowMaster 824 QXE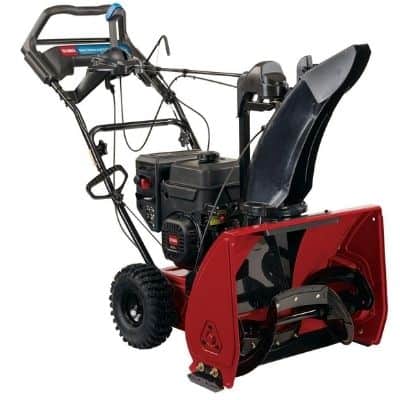 The 24-inch Toro SnowMaster 824 QXE clears through the most challenging ice and throws it up to 45 feet. It is budget-friendly and appropriate for thick ice.
This model features a robust 252cc OHV 4-cycle engine that is dependable and assures you of optimal performance and several years of service.
Starting it is very easy, as you just have to press a button and the machine will start automatically.
Also, the Quick Stick® chute control feature helps you change the direction of the chute and deflector quickly. Thanks to this powerfully-engineered auger, you can now tear through thick snow easily.
Check out this video for more :
Here is the long list of specs of the SnowMaster 824 QXE Snow Blower :
Specification
Model Number/Name
SnowMaster 824 QXE 24 in. 252cc Single-Stage Gas Snow Blower
Powered by
Gas
Engine power

Toro Premium 252cc OHV 4-cycle

Stages
In-line two-stage

Clearing width
24 inches
Ideal for how many inches (depth of snow)

40 inches
Weight
131 lbs.
Start mechanism

Electric start
Other features
Power assist, joystick
Unique Features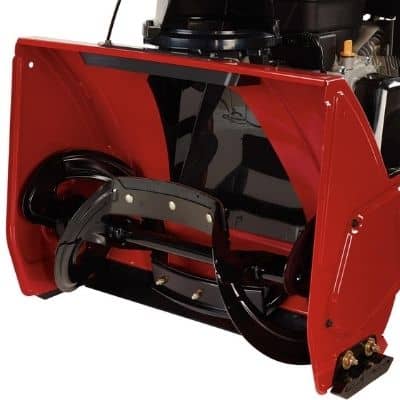 Below are some of the unique features that this machine offers.
In-Line Two-Stage Auger Technology
The open and tall auger housing is obstacle-free and minimizes clogging in deep snow.
The machine also features an all-steel rotor with a spiral design that breaks and gathers snow in the middle before throwing it via the chute opening.
Quick Stick Chute Control
With one swift and integrated control, you can change the direction and deflection of the chute.
Large Tires
The 11-inch Deep Lug Directional tires have the perfect tread pattern, spacing, and depth to provide reliable traction as you dig through the snow.
Electric Start
Toro had its users in mind when they manufactured the SnowMaster. They even added a push-button electric start for your convenience.
The feature functions quite well, and you simply have to plug in an extension cord to your snowblower before hitting the start button.
Automatic Steering
It is rare to encounter this feature in two-stage snow blowers, so this model is a must-have. With it, you do not have to pull a trigger as you engage turns.
It will turn automatically. Whenever this snowblower senses direction change, it locks the interior wheel to facilitate turning.
Power and Snow Clearing Capability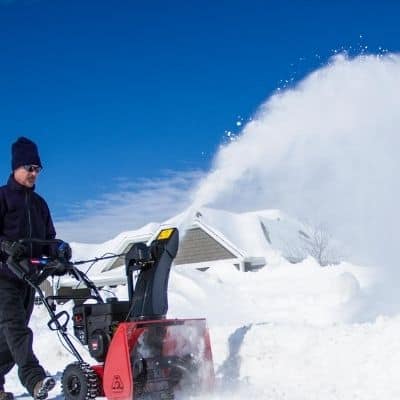 With the robust 252 cc 4-cycle OHV engine, you will need little effort to clear ice from your driveway. The model also has a clearing width of 24 inches, meaning it only needs a few passes and boom!
Your driveway is clear. With a fuel tank capacity of 3.1 quarts, you will be able to clear large volumes of ice without a refill.
Ease of Use
With dimensions of 55.4" (L) × 25.4" (W) × 43" (H) and a weight of 131 pounds, the SnowMaster is a lightweight machine that can be handled by any person regardless of their size. You do not need to exert a lot of pressure to get it moving quickly, and pulling into and out of tight spots is not difficult.
In addition, the huge 11-inch tires offer solid traction for all snow conditions. Furthermore, this machine comes with metal-reinforced skid shoes.
Also, it features an electric start so that you won't have a hard time roaring the engine to life.
With this model, engaging turns is automatic, as the snowblower can sense changes in direction. It is safe to say that it outdoes all the other two-stage models on the market.
Ease of Maintenance, Repairs, and Warranty
Maintaining and running this piece of garden equipment is easy thanks to the low maintenance factor it comes with.
The fuel capacity is 0.575 gal, and the package includes a fuel level indicator to help you monitor the fuel levels.
It isn't easy for this equipment to get damaged, even after hitting obstacles, thanks to its sturdy steel body.
This Toro invention has a 3-year limited warranty. Both the defector and lower chute are guaranteed throughout the machine's lifespan. If it requires repairs, you can simply take it to a registered service center.
Price of the SnowMaster 824QXE
Compared to similar equipment, the Toro product is quite pocket-friendly. Although you may pay slightly higher than other two-stage models, it will be worth every penny given the unique features it comes with.
Pros and cons of the SnowMaster 824 QXE
Here are the main pros and cons that make up the Toro SnowMaster 824 QXE.
Pros
Built to last
Easy to operate
Starts easily
Features chute controls that are among the best on the market
Robust engine
Features automatic steering
Cons
Personal pace system may fail on extremely sloped surfaces
Can't be used on gravel surfaces
Who Should Buy the SnowMaster 824 QXE ?
I'd recommend this snow blower for anyone whose driveway is made of a hard surface.
It is built for use on pavers, cement, cobblestone, decks, and patios, and it won't cause any damage to your driveway, as the parts that come in contact with it are rubber or poly.
It would, however, help if you avoided gravel given the auger's spinning speed.
People with medium-sized driveways will find this model to be a particularly fantastic tool. The driveways also have to be flat, as the snowblower doesn't function efficiently on steep inclines.
If you are searching for a machine for your very steep driveway, you might want to consider getting a self-propelled model with variable speeds. If your area receives light to moderate snowfalls, this is your product.
Our Recommendation
Judging from its performance, ease of use, specifications, and the numerous remarkable features, this product gives you great value for your money. For a two-stage model, the SnowMaster is quite affordable. We love it for its lightweight nature and ease of operation. It also cleans your surface and works primarily on flat surfaces. If this model suits your needs, you should go for it.