In Brief: Triton MOF001 Router Review
Triton MOF001 is a plunge router with dual-mode precision and 3-stage turret features. The 13.8lbs router has a powerful 2-1/4HP motor that delivers a variable speed of 8,000 to 21,000RPM to route through different hardwoods. The router is suitable for professional woodworkers, Jobsite contractors, and DIY enthusiasts.
Triton is a leading tool manufacturer that produce power tools to meet the needs of all categories of users.
Triton MOF001 is one of the top plunge router models from this manufacturer. MOF001 is a plunge router model that displays high efficiency and performance with powerful routing abilities.
Key Specifications of Triton MOF001
Triton MOF001 is a powerful plunge base router with a 13amp, 2-1/4HP motor that delivers powerful routing outputs.
The router's electric motor ensures a variable no-load speed of 8,000 to 21,000RPM. The router has a 1/4" and 1/2" collet sizes for a wider range of bit fitment.
The router weighs 13.8lbs which is a moderate weight for a router.
It delivers a maximum plunge depth of 2-5/16". It has a dimension of 10-4/5" x 6-1/2" x 11-1/5". This model also includes; table height grinder, multi-function fence, collet wrench, and extended base plate.
Here is video showing how to setup and use Triton MOF001:
Read the long list of Triton MOF001 specification below :
Specifications
Model No
MOF001
Powered By
Corded
Speed(RPM)
8,000-21,000
Brushless Motor
No
Power(HP)
2-1/4

Base Dimension(inches)
6-1/2"
Weights (lbs)
13.8
Base Type
Plunge
Plunge Range(inches)
0-2-5/16"
Unique Features
Dual mode precision
3-stage turret

Top Features to Look For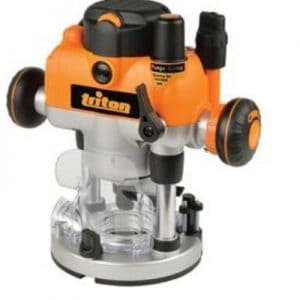 Source: Triton
The unique features of Triton MOF001 make it superior in terms of quality and efficiency.
Dual Mode Precision
The dual-mode precision is one of the features unique to Triton routers. This feature enables easy switching from plunge base to fixed base via a single button switch with rack and pinion mode.
3-Stage turret
The 3-stage turret is also one of the fascinating features of the MOF001 router. The 3-stage turret helps the operator provide accurate router depth into the workpiece. The 3-stage turret has direct scales that ensure precise and accurate pre-set cut depths.
Extensive Safety Features
Triton MOF001 has a safety switch shutter that locks close in bit-change mode to avoid power on. It has an automatic spindle lock that is activated during bit changes and when the power switch cover is closed.
Power and Performance
The features of the MOF001 influence its power and performance. The router has a powerful 13amp motor that enables it to perform routing actions efficiently.
The motor delivers a variable no-load speed of 8,000 to 21,000RPM that route through hardwoods of different toughness.
The router provides a soft start and variable speed for different cutting applications. It has a ½" and ¼" collet capacities that allows a wider range of bit changes. The motor maintains high speed under load to ensure top-notch efficiency.
The router has a micro winder that provides continuous depth adjustment through a full plunge range of 2-5/16".
This model has side air vents that lessens the intake of dust into its motor casing for effective performance. It features an electronic speed control that provides a fine finish on materials.
Ease of Usage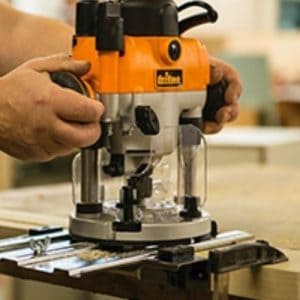 Source: Amazon
Triton MOF001 is very easy to use and handle because of its easily accessible features. The router has an over-molded handle that improves the operator's grip and control. Its brushes are easily accessible for quick changes.
This model has rack and pinion adjustment features for precise depth changes in fixed base mode. It has a safety switch shutter locks that prevent the router from switching on when changing the bits.
It features quick-fit pins that enable fast removal and fitment to the router's base. It has an automatic spindle lock that engages when you close the power switch cover. The router also has a removable plunge spring that ensures easy bit adjustment.
It has a multi-function fence that provides optimum control for cutting circles and hand-held usage.
Ease of Maintenance, Repair, and Warranty
Ease of Maintenance
Some of the simple maintenance procedures for Triton MOF001 include;
Always disconnect the router from the power source when it isn't in use.
Clean the router regularly.
Make sure you use the router for the proper application.
Keep the router away from water and ensure proper storage.
Repair
Triton has repair offer for all their registered products. They repair any of their damaged product at the cost of little or nothing. To enjoy this offer, you should visit any authorized Triton service center closest to you.
Warranty
The warranty offers for Triton MOF001 include;
30-day free guarantee offer.
3-year guarantee
The warranty offer covers the repair of the product as long as it is a registered and verified Triton product. It does not cover products that developed defects as a result of the operator's mismanagement or mishandling. You can get more warranty information here. You can also register your product here.
Price of Triton MOF001
Triton MOF001 router is quite expensive and might not be very affordable especially for low and medium budget buyers.
But the good news is, the router offers high power and outstanding features for its price. It has a high cost to value ratio and its cost also covers the additional accessories that comes with the package.
Pros and Cons of Triton MOF001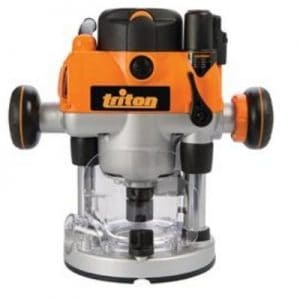 Source: Triton
Pros
Extensive safety features.
High performance and easy usage.
Dual mode ability.
Adjustable features for versatility.
Air vents for easy elimination of waste
Cons
The glass safety shield causes visual distortions.
It needs you to apply force to the rack and pinion side.
Relatively expensive.
Who Should Buy Triton MOF001?
Triton MOF001 is a plunge router with outstanding features. These features make the router a great choice for several routing applications. The router is useful to a wide range for users with high budgets.
The router is a great choice professional in woodwork and construction industries and Jobsite contractors.
Other categories of users such as DIY enthusiasts and homeowners can go for this router model if they need a high-performance product for their personal and commercial operations.
Our Recommendation
Triton MOF001 is an outstanding plunge router model with unique features and specifications. The router is cost intensive but offers a high value for money.
If you need the services of an efficient and powerful router model, Triton MOF001 should top your list.
Last update on 2023-12-03 / Affiliate links / Images from Amazon Product Advertising API