In Brief: Triton TRA001 Plunge Router Review
The Triton TRA001 3-1/4 HP Plunge Router offers plenty of power to tackle residential and commercial jobs alike. This machine offers a no-load speed range of 8000 to 21000rpm and comes in a fixed-based, corded option. The machine also offers a quick and easy shift from fixed to plunge as needed.
The Triton company began in 1976 and originally focused only on building workstations. Since then, the company has expanded and now includes power tools and hand tools as well.
This company cares about its customers and wants to offer accessible items at reasonable costs.
The Triton TRA001 plunge router represents the Triton company's commitment to accessible products.
This machine provides a user-friendly interface and simple, convenient design that allows precision controls and quick adjustments while working.
Key Specifications of the Triton TRA001
The Triton TRA001 plunge router provides a wide range of speed and fine adjustments for height and speed both.
It includes a single button operation feature that makes it easy to make changes as needed during operation.
Check out the Triton TRA001 Plunge Router in action here :
Read the long list of Triton TRA001 Plunge Router specs below :
Specification
Model Number/Name
TRA001
Powered By
Corded
Speed (rpm)
8000 to 21000
Brushless Motor
No
Power (hp)
3-1/4
Base Dimension
300mm
Weight (lbs)
14.1
Base Type
Fixed
Plunge Stroke
0-68mm
Unique Features
Single-button operation
Micro winder
Soft start

Accessories
Table height winder
Multi-function fence
Collets
Wrench

Top Features to Look For
The side air vents on this machine help keep it ventilated and cool while the single button operation function and micro winder feature improve the efficiency and results of the router.
Single-Button Operation
Thanks to the single-button operation function of this machine, users have no trouble switching between fixed-base and plunge routing options.
Additionally, the fixed-based function comes with a rack-and-pinion mode.
Micro Winder
The micro winder that comes as part of this setup allows users to continually adjust the speed and depth while the machine operates.
This feature provides fine adjustments as needed for a variety of projects.
Side Air Vents
This machine includes side air vents that keep it operating more smoothly and prevent it from overheating. At the same time, these vents cut back on the amount of dust and debris that makes its way inside the motor casing.
Power and Performance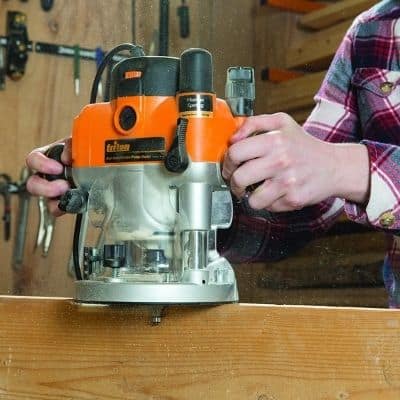 With a 3-1/4HP motor standard, this router offers an exceptional level of power.
It tackles a variety of wood routing tasks with ease and breezes through hardwood. Despite its increased power, it remains smooth and precise as well.
The machine includes an electronic speed control that keeps it performing admirably as well. Whether you use it in the fixed-base mode or the plunge mode, it offers quality results backed by its durable inner components.
Ease of Usage
Customers have no trouble using this machine, whether they have prior experience with routers or not.
The machine includes a simple button that allows switching between modes, and it comes with a micro-winder for continuous adjustment as well.
This machine also comes with pre-set cut depths to make projects run more smoothly.
It offers easy access to the brushes and interior of the machine for quick cleaning and dusting so it can remain in ideal condition for as long as possible.
Ease of Maintenance, Repairs & Warranty
The Triton company website provides replacement bits available for purchase. For other replacement parts, contact the company's customer service.
Customers should perform routine maintenance on this machine. Turn off the router and unplug it before working on it.
After every few uses, check to ensure the screws remain tight and tighten them if they become loose.
Check the power cord every time you use the product and have it repaired if the cord becomes damaged.
Use a clean, dry cloth to clean the housing on this machine and never use liquids or any cleaning products on it. Replace worn brushes as needed.
Take the machine to a professional repair technician for service at least once a year to maintain its quality and performance.
The Triton company provides a three-year extended warranty on this router. The warranty requires product registration through the Triton company web site.
Without registration, the product receives only a 30-day money-back guarantee.
The warranty includes repair and replacement of parts or the whole machine as needed, as long as user error remains absent.
It does not cover misuse of the product or any normal wear and tear. Expendables only receive the 30-day money-back guarantee.
For more warranty information, fill out the customer support contact form on the Triton company's website here .
Price of the Triton TRA001
The Triton TRA001 plunge router comes in at the somewhat high end of the average price range for plunge routers.
This machine costs roughly the same as or slightly more than most of its competitors with similar features.
The product comes with plenty of cutting and routing features standard. It also includes a powerful motor with a much higher HP output than many competitors.
As such, it provides plenty of value and justifies the somewhat high price point.
Pros and cons of the Triton TRA001
Pros
Offers precision controls perfect for most customers
Heavy-duty, long-lasting design with durable inner components
Quick and easy set-up
Powerful when used as a fixed-base or plunge router
Cons
Some customers may notice the plastic handle breaking easily
Too heavy for some customers
Who Should Buy the Triton TRA001 ?
The Triton TRA-001 plunge router works well for customers who have had some experience with woodworking and routing.
Since it includes multiple functions and several ways to operate it, the machine requires some previous knowledge to provide the best results.
Despite this, it also remains accessible enough for intermediate users to operate with no trouble.
The router holds up well to long-term use throughout the day or over many years of operation in both residential and commercial settings.
Our Recommendation
The Triton TRA-001 plunge router includes a powerful motor, a wide speed adjustment range, and precise height controls. It comes ready to use out of the box.
We recommend this machine for intermediate users who want to learn more about routing and perform more difficult tasks with a high HP product.
We also recommend it for advanced users who need a heavy-duty hand router.
Last update on 2023-10-01 / Affiliate links / Images from Amazon Product Advertising API