In Brief: Troy Bilt Mustang 50 XP Lawn Mower Review
The Troy-Bilt Mustang 50 XP Zero-Turn Riding Lawn Mower is simple to assemble, use, and maintain. You will instantly notice its 50" cutting width as well as its powerful engine.
In 1937, Troy-Bilt came up with its first residential rototiller. Since then, the company has spent over 80 years developing the most reliable, helpful, and rugged equipment it can.
Today it offers a wide variety of products, including riding mowers, walk-behind mowers, RZTs, tillers, and cultivators.
The company's product line also includes snow blowers, leaf blowers, string trimmers, and chipper shredders.
Innovations such as the zero-turn technology are just but a few of the things that make the Mustang 50 XP capable of mowing larger yards.
Considering its wide mowing deck, it is possible to mow your 2 ½ acres of lawn in just an hour. Some of its features include an electric PTO, a front axle, 24 HP* Briggs & Stratton engine, and reinforced heavy-duty frame.
Key Specifications of Troy Bilt Mustang 50 XP Lawn Mower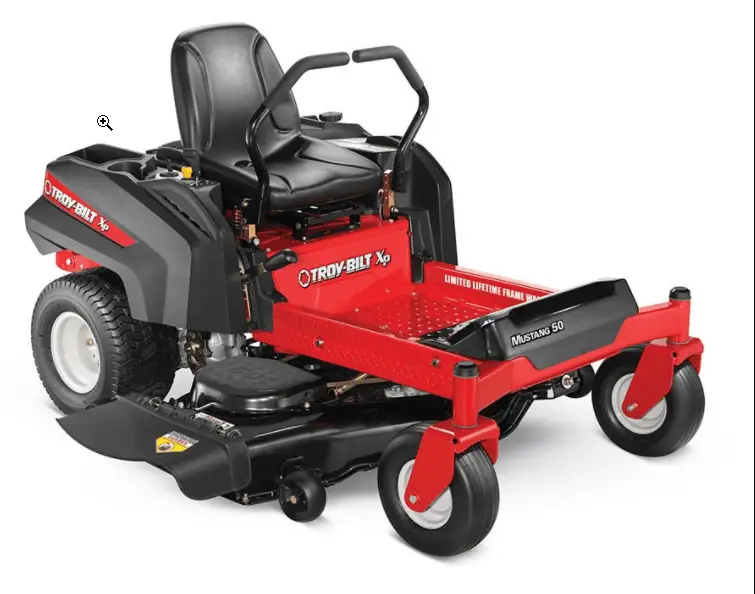 When it comes to this beast's key specifications, let us start with its toughness. The Mustang 50 XP's front axle is made of heavy-duty steel and easily handles rough terrain.
Another important specification to note is the machine's high speed, which makes it possible to complete tasks in the shortest time. This is made possible by its cutting deck that features Electric PTO control for easy and fast blade engagement.
Also worthy of being noted also is the lawn mower's maneuverability.
Its dual hydrostatic transmission provides the mower's zero-turn maneuverability with a maximum forward speed of 7m/h and a maximum reverse speed of 2.5 m/h. The machine's parking brake is integrated and allows for simple and safe stopping.
It shouldn't be forgotten that the mower has 5" anti-scalp deck wheels for protecting the lawn from any damage. This way, your yard will always be perfectly groomed.
The last specification we will talk about is the Briggs and Stratton engine that features an Integrated Cyclonic Debris Management System. This increases its durability as it traverses heavy debris conditions.
If you want to learn more about the lawn mower's operation, we suggest you check out this demonstration video:
Key Specifications –
Parameters
Details
Engine

Twin 24 HP* Briggs & Stratton engine
Fuel tank capacity

2.8 gallon
Drive System

Twin Hydro-Dual EZT transmission
Forward speed

7 m/h
Reverse speed

2.5 m/h
Cutting deck

50 Inches
Cutting mode

Side discharge
Front Tires

11" x 4"-5"
Unique Features
Here are some of the best features you can experience with this mower:
Two-way Adjustable Lap Bars
The machine's lap bars are large and ergonomically designed. They adjust to fit the rider's size and, when opened, they engage the mower's parking brake.
Dual Hydrostatic Transmission
This allows your mower to make a zero-degree turn, thus reducing the mowing time. The mower can do so with a 7m/h forward speed and 2.5 m/h reverse speed. You can safely stop by engaging the parking brake.
Comfort Features
When you purchase your Mustang 50 XP, it comes with high-back seats that are cushioned and lap bars to offer support and ensure your ride is smooth as you work on your lawn.
Fuel Tank Capacity
With 2.8 gallons of fuel, you can mow a 5-acre yard or bigger lawns. You do not have to constantly refuel. This saves you time.
Deck Wash Port
It makes it easy to clean up grass clippings that build up under the cutting deck. You can use your garden hose for the cleanup.
Power, Design, and Durability
Power
As one of the most important aspects you look for in a riding lawn mower, it will surprise you how powerful the Mustang 50 XP is.
Apart from its Twin 24 HP* Briggs & Stratton engine, it also features dual hydrostatic transmission that provides true zero-turn maneuverability.
The machine also features a heavy-duty front axle which easily handles rugged terrains as well as its 11" x 4"-5 "front tires and 18" x 6.5"-8" rear tires.
These features function in unison to ensure exceptional traction even on hilly landscapes and cutting of thick grass from eight different positions.
Design
The mower's modern design is one of the reasons we consider it one of the top riding lawn mowers in the market. Its weight is about 620 lbs. and it has a dimension of 8″(L) x 58″(W) x 34.5″(H).
Talking of its innovative design, you will definitely enjoy its lap bars that you can open to bring the machine to a stop as well as its comfortable seats. As for controls, there exists a systems monitor.
Durability
The Mustang 50 XP is built for life. It can stand heavy conditions thanks to its tough heavy-duty steel front axle and its standard grease fittings. Its cutting deck with deck wash also gives it durability.
Cut Quality and Available Options
When constructing this model, Troy-Bilt must have put in a lot of effort. This is evident in various areas of the machine.
For instance, high-quality belt pulleys instead of fragile plastic ones are used to power its long-life belts that are highly durable.
The durable frame and heavy-duty steel components, together with its durable wheels, are all a mark of quality.
The 50-inch cutting deck is considerably bigger than that of push mowers and is effective in mowing a large lawn,
Performance and Ease of Use
Some people love the lap bar seating. Others think controls would have been better. The power to effectively and efficiently mow lies in the lap bars.
Another thing we should talk about is the front casters' size. They can handle riding on clean lawns that have firm soil. They can also handle bumps. Yet, they can be an issue at times.
If your lawn has sandy soil or its soil has been softened by frequent rain, the casters may dig in and end up stuck. Although this happens rarely, it can be hectic if you are on the lowest side of a sloping lawn.
Small casters may not be able to handle big sticks that may be hidden in tall grass.
It is, therefore, important to thoroughly inspect your lawn before you start mowing. If you love the lap bar controls, you will enjoy using the Troy Bilt Mustang XP 50.
Ease of Maintenance, Repairs, and Warranty
As expected, a riding lawn mower requires you to change oil and replace filters. It is impossible not to notice the work that was put in during the making of the belts, pulley wheels, and belt materials.
While they may not need frequent replacement, you should inspect them before and after every mowing session. Furthermore, the blade system is self-cleaning.
It is advisable to always have a pressure gauge in your garage because tire pressure poses some problems.
Warranty
The model comes with a three-year residential limited lifetime frame warranty.
For any inquiries about product warranty, contact Troy-Bilt customer care on: (800) 828-5500.
The customer care team is available on weekdays from 8:30 am to 5:00 pm.
Website: Troy Bilt
Price of Troy Bilt Mustang 50 XP Zero Turn Riding Lawn Mower
The Mustang 50 XP engine's overhead-valve configuration helps it deliver significant power amounts while at the same time being fuel-efficient.
Compared to other Troy-Bilt lawn mowers such as the 42 in. 679 cc V-Twin OHV Engine Gas Zero Turn Riding Mower, you will find the Mustang 50 XP very affordable.
It brings more power and precision, too, compared to walk-behind mowers. Also, its design and overall technology make it an enviable model.
Who Should Buy It?
Its cost-effectiveness is amazing, making the model a suitable choice for anyone with a reasonable budget. The fact that this mower can cut through thick grass and maneuver in steep and hilly terrains has our minds blown.
Thus, it looks like a great choice for anyone with a sizable lawn and average mowing skills.
Why We Like It
To wrap up the review, we would like to say that there are several reasons why we recommend the Mustang 50 XP. Firstly, its engine is powerful and can be easily started.
Secondly, its rugged nature contributes to its durability. Additionally, it is easy to operate and can be used on even steep terrains. To add to that, it comes with great specifications.
Overall, it is an affordable and convenient lawn mower ready to do what it does best-mowing perfectly.