In Brief: Troy Bilt Storm 3090 Review
The Troy Bilt Storm 3090 is a unit that is built to last with a snow clearing width of 30 inches and a 21-inch intake height that effectively clears large volumes of snow. The machine is made of reinforced steel and many other features that make it durable and robust. The 357cc engine ensures that you can easily clear all snow with no effort.
Located in Valley City, USA, the Modern Tool and Die Company is the proud manufacturer of the Troy Bilt Storm 3090.
The company was started in 1932, and over the years, it has managed to acquire Troy Bilt, Bolens, and other companies.
The Troy Bilt Storm 3090 is powered by a 357cc engine and is quickly started by the push of a button. Moreover, it is highly efficient, even in cold temperatures.
The machine has stood out over the years, and this review will demonstrate why by discussing its outstanding features.
Key Specifications of Troy Bilt Storm 3090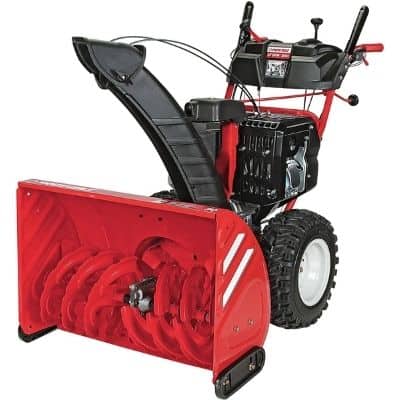 Here we give a brief overview of the specifications that you need to know before deciding on buying this unit.
The machine has a large fuel tank, and this allows you to work on a large area before the next refill. It also has heated grips for extra comfort as you perform tasks in cold temperatures.
The polymer skid shoes present prevent the machine surfaces from scuffing. The 16-inch × 6.5 inch X Track tires provide enough traction, easing the machine's movement in heavy snow.
It has reinforced steel housing for durability, and this machine can serve you for a long time.
It also has an extended chute design to minimize blowback of snow discharge.
Check out this video for more about this snow thrower :
Here is the long list of specs of the Troy Bilt Storm 3090 Snow Thrower :
Specification
Model Number / Name
31AH55P5766
Powered By
Gas-powered
Engine Power
357cc
Stages
3 stages
Clearing Width
30 inches
Ideal for how many inches of snow
18 inches
Warranty
Two year limited
Weight
279 lbs.
Start Mechanism
Electric / Recoil
Other Features
21 inches intake height

Unique Features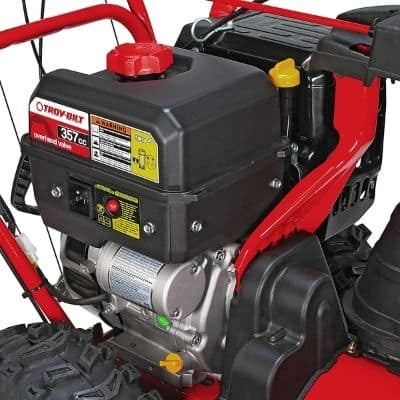 The features that make this snowblower stand out from the other snow blowing machines include the following.
Touch and Turn Power Steering
With a trigger controlled power steering, you can adjust direction with one finger. The self-propelled drive has six forward and two reverse speeds for efficient movement.
Just One Hand Operation
Controlling the machine is easier as with the help of one hand, you can effectively adjust controls without stopping.
Overhead crank chute control
This feature allows you to adjust the direction of snow discharge. In the event where you need the snow to be discharged in a particular area, it proves to be of great help.
Power and snow clearing capability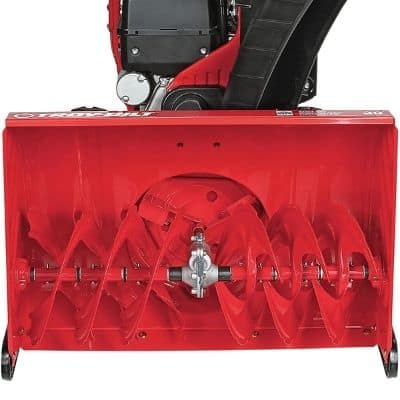 It is important to look at the power capability of any machine before buying. This snow blower is powered by a 357cc engine that has a fuel capacity of 5Qt. It produces sufficient power to work on large areas.
The snow clearing capability is another factor that you need to consider. This machine has a 30-inch snow clearing width sufficient for large areas. Its intake height is 21 inches, which allows the handling of large volumes of snow.
The polymer chute lets you place the snow in any direction as it covers an angle of 200 degrees.
Ease of Usage
The machine comes with some features that make your daily interactions easier, requiring you to put in less effort.
One of these aspects includes heated grips that provide extra comfort in cold weather. The recoil start has a wide fit grip making starting easier even when wearing heavy gloves.
It has an extended chute design to minimize blowback of snow discharge on the operator. There is a remote pitch control lever on the dashboard that allows you to change the snow discharge height.
Ease of Maintenance, Repairs, and Warranty
When using this machine, expect to encounter minimal problems.
Maintaining the device is easy as all that is required of you is refilling the fuel tank, checking and changing oil, tightening of loose nuts, replacing broken headlights, replacing worn-out tires, and proper storage of the machine.
In case you encounter serious damages, don't hesitate to ask for professional help.
Another good reason to get this machine is that it comes with a two year limited warranty period.
In case you encounter any operational problems during the first two years, feel free to return the machine and get another at no extra cost.
If you have any queries or if you need any professional assistance, contact 1-800-828-5500 or visit the official website : Troy bilt.com for more information.
Price of Troy Bilt Storm 3090
The Troy Bilt Storm 3090 is an affordable machine and fits your budget. There are many machines out there but considering what this snow blower does, it comes out as the best choice.
Pros and cons of Troy Bilt Storm 3090
Here are the good and bad aspects that comprise this unit in a quick and simple format.
Pros
Heated hand grips
Easy to handle
Durable
Has both electric and recoil start system
Two years limited warranty
Cons
Some customers have complained of problems with the lighting system
Not efficient on gravel surfaces
Who Should Buy Troy Bilt Storm 3090 ?
This machine is designed to work on areas experiencing thick and heavy snow. Those living in the Snow Belt don't hesitate to get this machine.
The engine produces a lot of power and is, therefore, highly efficient in huge areas.
This snow blower is cheap and fits your budget well. It is also important to note that the machine is not the best choice when working on gravel surfaces.
Our Recommendation
As you can see from the features discussed of the Troy Bilt Storm 3090, it is a unit worth investing in. This snow blower is consistent and has been over the years.
The machine is built to last and has a two year limited warranty period. We recommend the Troy Bilt Storm 3090 to those who want to make yard work less of a chore.