In Brief: Troy-Bilt Vortex 2490 Review
With an electric start and powerful 272cc 4-cycle engine, the Troy-Bilt Vortex 2490 is a piece of robust gardening equipment. Its weight stands at only 215lbs making it light enough to move around and maneuver in the tightest of places. Considering the 24-inch clearing width, it will take you just a few minutes to get the snow out of your driveway. A few passes are all you will need. This Troy-Bilt invention throws snow up to 40ft. and is fuel-efficient, not forgetting how easy it is to handle it.
With offices all over Ohio, Tennessee, Arizona, and Mississippi, Troy-Bilt is headquartered in Valley City, Ohio.
Their focus since 1937 has been making yard work the best work. This they do by manufacturing rugged and dependable yard equipment.
The Vortex 2490 is one such tool. Accompanied by great features, the powerful machine aims at making your snow blowing experience memorable.
Key Specifications of the Troy-Bilt Vortex 2490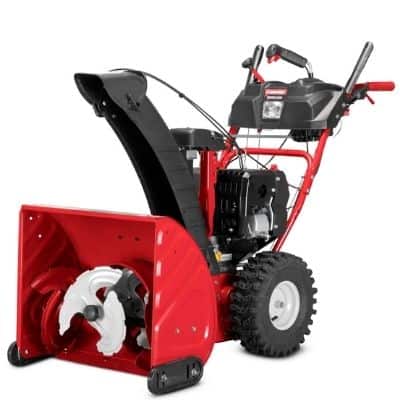 The blower has a clearing width of 24 inches to enable you to finish your work in the shortest time with just a few passes. It can throw snow up to 40ft.
It also features an all-powerful OHV Troy-Bilt 272cc 4-cycle engine that powers it as it slices through the toughest snow.
With dimensions of 48.25" (L) x 26.75" (W) x 32.50" (H) and its weight at 215lbs, the model is easy to use as its compact size allows it to move through even tiny spaces. Also, it doesn't take up a lot of space when not in use.
It is also important to note that the machine features an electric start.
You only have to press a button before the engine roars to life. Its 5-qt fuel tank capacity allows you to mow the largest spaces without stopping to refill, saving you time.
The Vortex 2490 also has heated grips. The 4-way joystick allows the chute to be rotated through 200 degrees for the operator's convenience.
In addition, a single-hand operation is possible, and the model features large X-Trac tires for solid traction in all snow conditions.
Check out this video for more about this snow thrower :
Here is the long list of specs of the Troy-Bilt Vortex 2490 Snow Thrower :
Specification
Model No/name
Vortex 24 in. 272cc Three-Stage Electric Start Gas Snow Blower with Power Steering and Heated grips
Powered by
Gas
Engine power
272 cc 4-cycle Troy-Bilt engine
Stages
Three-stage
Clearing width
24 inches
Ideal for how many inches (depth of snow)

18 inches
Weight
215 lbs.
Start mechanism
Electric start
Other features
Chute control, headlight, skid shoes, power steering
Unique Features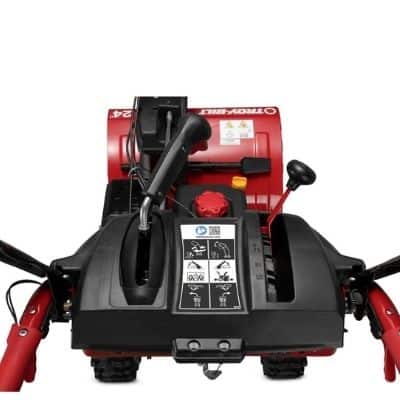 Let's look at some of the unique features you should expect from this model:
Heated Handgrips
While they may not be a solid alternative to gloves, they will help keep up blood circulation in your hands.
Single Hand Control
This gardening equipment has individual lever controls on either side of the handlebar. One serves the purpose of engaging the impeller or auger while the other engages the wheel traction.
With this feature, you can hold down all the controls using one of your hands, leaving the other free to adjust the chute controls.
Multiple speeds
This snow thrower comes with six forward speeds and two reverse speeds. This way, you can vary ground speed depending on the prevailing snow conditions and therefore work faster.
Chute adjustment
There is a joystick on the control panel that allows you to change the direction of horizontal discharge and the height of vertical discharge. All this is done using a single lever.
Headlight
With the headlight, you can work any time you deem fit. The headlight provides superior illumination, letting you blow snow even when it is dark outside.
Freewheel Steering
The equipment has triggers under the handlebars that engage one or both wheels to facilitate easy sharp turning.
Power and Snow Clearing Capability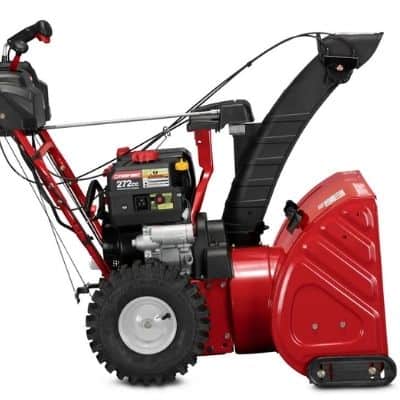 Take the Vortex 2490's 675-SU OHV 272 cc Troy-Bilt engine and combine it with 24-inch clearing width and ability to throw snow over 40 ft., and you have an all-powerful tool.
With a fuel tank capacity of 5 Qt, you won't have to make exhausting stops to refill. Besides, what better equipment to cut through 18 inches of snow than this beast?
Ease of Usage
It was love at first sight with this product owing to how easy operating it is. With this snow blower, there is no need for frustrating pull-starting as it features an electric start.
Your only task will be connecting it to an external cord and pressing a button. This way, children and the elderly can use it as it requires little effort.
Have I mentioned its multiple speeds? Well, there you have it. You can adjust according to the snow conditions and even use it on sloping surfaces.
The chute control also is easy to grab, and you can rotate the chute through 200 degrees for your convenience.
You do not have to worry about the equipment sliding and losing control as the extra-large X-Trac wheels are there to ensure excellent traction.
You should also remember that you can easily move it through tight spaces because of its compact size and stash it away whenever it is not in use.
Ease of Maintenance, Repairs, and Warranty
The cost of maintaining and repairing the Vortex 2490 is relatively low. Because of its sturdy heavy-duty steel frame, the Vortex 2490 will rarely need repairs.
Your only job will be ensuring it is in good condition and replacing the items that are subject to wear and tear, such as the skid shoes and shave plates. You should also ensure the wheel and auger shaft are lubricated regularly for effective functionality.
Here are some other maintenance tips to prolong your snow blower's life :
Always check to ensure the bolts and nuts are tightly-screwed
Disengage all controls before cleaning, inspecting, or carrying out repairs
Do not use it on gravel driveways
Store the snow thrower away from fire
Ensure the exterior is always clean
The product comes with a two-year limited warranty and a five-year limited auger gearbox warranty.
This way, you can return the product in case of defects, but you must present both the product and the original receipt. You can visit their website-Troy bilt.com and fill their online warranty form.
Price of the Troy-Bilt Vortex 2490
I'd say the Troy-Bilt Vortex 2490 comes at a pretty decent price considering all the awesome features you get.
Even though others may go for other three-stage models that are cheaper, I assure you that this gardening equipment is worth every extra dime.
Pros and cons of the Troy-Bilt Vortex 2490
Let us look at the upside and downside of this tool :
Pros
Clears snow quickly
Sturdy built
Easy to operate
No pull-starting required
Features numerous cool features
Can be used on sloping surfaces
Cons
You can't use it or dirt or gravel surfaces
Who should buy the Troy-Bilt Vortex 2490 ?
Anyone in need of convenient snow blowing could find this an important addition to their gardening equipment.
Senior citizens will love it as it doesn't require sweat-drenching pull-starting, all thanks to its electric start.
People with large sloping driveways will also benefit greatly from this tool. The steel housing provides the ruggedness and durability for years of service, so if you want a piece of equipment that stands the test of time, there you go!
Our Recommendation
From its amazing features to its snow blowing power, we are completely in awe of Troy-Bilt Vortex 2490. Operating it is easy, and you will incur low maintenance costs.
Also, the manufacturer offers a warranty for this product, meaning you can return it if dissatisfied.
Anyone can use it, and purchasing it is signing up for long years of servitude. We think you should get it if it suits your needs and budget too.